I first met Scott when I went to interview him about one of the kids he had helped learn to swim.  The young boy, Jayden, has autism and Scott was one of the instructors who played a key role in teaching Jayden to swim and develop confidence in the water. (You can read Jayden's story in our blog article Breaking through the barriers of autism.)
Scott loves helping people.  He turned his passion for swimming and staying active into a rewarding job as a lifeguard and swim instructor.  Here are Scott's own words about his experience and work with NVRC.
What classes do you teach? 
At Karen Magnussen we teach parent-participation, pre-school and school-age swim classes as well as private and adapted lessons. 
How long have you worked for NVRC? 
I have worked for NVRC for two years. I started out co-teaching and leading birthday parties while I was finishing lifeguarding courses. 
What is your background experience and education? 
I volunteered as a swim instructor with West Vancouver Aquatics and as a coach for a program called Soccer for Everyone. The program helps children with special needs be active and get involved with sports. I am currently in my second year of engineering at SFU. 
What inspired you to work with NVRC and become an instructor? 
I have always liked being active and teaching. Lifeguarding allows me to work while doing something I enjoy! 
What do you enjoy about teaching?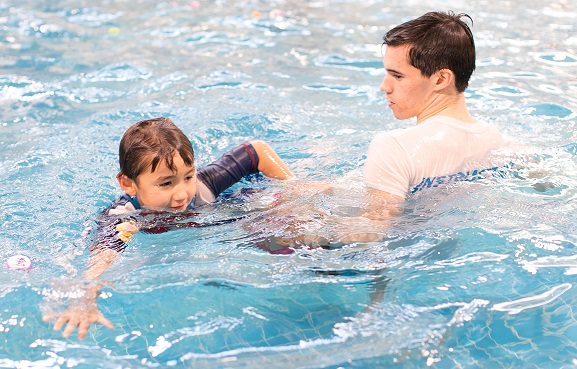 I love the energy that I can put into lessons - they can be as fun for me as they are for the kids! My favourite part about teaching is seeing the swimmers progress over their lesson set. It can be a very rewarding experience, especially if I am able to teach the swimmers for more than one set. This fall, a brother and sister I have been teaching since they were learning to put their face in the water were swimming lengths across the pool. I am super proud of their hard work.
I also teach adapted lessons for a family with two young boys. The boys have made incredible progress over the past years largely due to amazing support from their parents. I went to two swim meets with the boys as a coach and this fall the older brother came first in one of his events! The swim meets have been a highlight of my time with NVRC. 
What would you say to someone who was thinking about becoming an instructor with NVRC? 
I would absolutely recommend becoming a lifeguard/swim instructor with NVRC. The work we do here is incredibly enjoyable and rewarding and you gain valuable first-aid knowledge and experience along the way. The staff are all super friendly and helpful and I've had a blast being part of the team these past two years. 
What recreation and culture activities do you enjoy? Do you have any special hobbies? 
I have been playing soccer ever since I could walk and I am currently playing on a team with some other lifeguards. I also love to swim and run. I used to compete in track and field and cross country events for my school.