Tierra is a busy youth.  With a range of hobbies including skiing, hiking, reading, piano and taking care of her four pet rabbits, this Grade 12 student stays extra busy with volunteering in her community.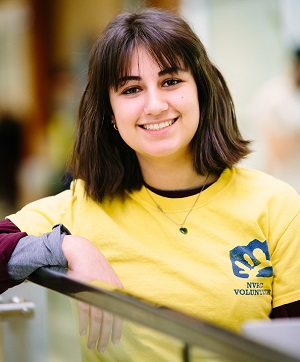 Volunteering with NVRC
Tierra's been a volunteer with NVRC for over two years and has helped out with spring break camps, birthday parties, special events and most recently the after school Play Program at Delbrook Community Recreation Centre. 
The Play Program
The Play Program is her favourite because she gets to work alongside other volunteers and together they decide what play activities to lead with the kids visiting the centre.  Tierra said, "It's nice to collaborate with the other volunteers and lead games and crafts with children. Plus, the schedule is flexible and I appreciate that."
Great Experience
Volunteering has been a rewarding experience for Tierra.  Not only has she discovered how much she enjoys working with children, but she's also met lots of new people and made connections in the community, something she wanted to do before graduating from high school.
Advice to Others
Tierra encourages other high school students to volunteer.  "It's a great way to learn new things like how to work with others and develop patience with children," Tierra explained.  "It's so great to see all the happy faces and know you made their day a little better."
What's Next for Tierra?
Tierra really loves science and plans to attend the University of British Columbia later this year where she will study engineering.
Interested in volunteering with NVRC?  Visit our Volunteering  webpage now.