How Otto Wetzlmayr worked his way back from a debilitating illness.
"For people with neurological loss, there is so much to be gained in water therapy. I can't recommend it enough." – Otto Wetzlmayr
Courage amid misfortune 
In the summer of 2018, Otto was an active 67-year old who enjoyed good health. He and his wife were traveling in Austria, visiting family and friends. The happy trip changed to a nightmare when Otto started experiencing double vision in one eye and paralysis in his leg. He did not notice that he had been bitten by a tick when the family visited a farm earlier. By the time he returned home to Canada in late August, his health had deteriorated rapidly. Crippling back pain resulted in emergency surgery, but the surgery did not help his condition. He grew weaker, losing his ability to walk and swallow. By late fall, Otto's condition had worsened. He applied for, and was granted, doctor-assisted suicide. Otto chose his date, November 13th.
"Thirteen is my lucky number," he tells me with a big laugh. 
We are having a cup of tea in the lobby of Delbrook Community Recreation Centre, overlooking the pool. He goes on to tell me that his wife asked him to defer his date with death because they had tickets (purchased months earlier) to a John Mellencamp concert that night. Although Otto was too ill to attend the concert, he postponed his date. 
Slow recovery
Deemed an "undiagnosed neurological patient" for four months, there seemed nothing more the healthcare system could do for Otto, until a neurologist at Vancouver General Hospital diagnosed him with European Lyme Disease or Borreliosis. Unlike North American Lyme Disease which presents arthritis-type symptoms, the Borrelia bacterium attacks nerve cells and, if left untreated, causes rapid neuropathic degeneration. Otto became the first person in British Columbia to be diagnosed with European Lyme Disease.
"Lucky me," he says with another laugh. Its apparent Otto is not someone who gives up easily. He chooses to be philosophical. "Sometimes life gives you bad luck and sometimes good luck. You have to learn to deal with all of it."
After finally receiving the antibiotics he needed, Otto was left with a lot of nerve damage and a long road to recovery. In January 2019, Otto started physiotherapy several times a week. He was determined to fight for his health. More than anything he wanted to walk again. 
In October 2019, his physiotherapist referred Otto to the Specialty Aquatic Rehab Program at Delbrook. There, he met aquatic rehab specialist Billi Behm. "She is amazing," Otto says. "The whole program is amazing." 
The 'Miracle' of Aquatic Rehab  
In his first session, Otto was wheeled in a wheelchair into the water. Not having walked in over a year, with assistance from Billi and a flotation belt, Otto started walking in water. 
It was an emotional day for everyone, including his wife who had been watching from the side of the pool. Otto recalls being "overcome by an enormous sense of gratitude. I couldn't believe it." Otto credits Billi's "incredible empathy and knowledge" for his major progress. "I can't tell you how important freedom is to a person with disability. I only wish I started sooner."
Over the course of six weeks, working together with Billi twice a week, Otto has made great gains. He hopes to be able to walk on land soon, using his four-wheeled walker. 
Otto has referred three people to Billi for Aquatic Rehab already. He strongly recommends anyone with mobility issues to try it "because Billi is your partner and will work together with you. You will rebuild your confidence and overcome fear of falling." Grinning, he adds, "You will love the freedom in the water. It is so much fun!"
The benefits of therapy in water 
In the Specialty Aquatic Rehab Program, a highly trained specialist personalizes each half hour session according to individual needs. Working in waist deep water, each client is assisted with flotation aids to stretch and walk forwards, backwards and sideways. Gradually, stepping up and down the pool steps using the railings might be introduced. 
Unlike group therapy sessions, these are one-on-one sessions with an Aquatic Rehab Specialist. Caregivers are required to attend if assistance is needed in the change room or entering the pool.
Hydrotherapy (water therapy involving submersion of the body in water) has many clinically proven health benefits, including:
Decreases pain – warm water suppresses sympathetic nervous system and decreases nerve ending sensitivity 
Relieves muscle tension – the buoyancy of water supports aching muscles and eases movement, improving range of motion
Decreases joint compression – build strength without stressing the joints
Promotes relaxation – warm water naturally relaxes muscles and stimulates the release of endorphins, nature's own stress fighter
Encourages detoxification and lymphatic drainage – hydrostatic pressure, turbulence and buoyancy help the flow of blood back to the heart
Improves mood – enhances quality of life
Words of inspiration
Otto says it has taken him over a year to deal with the toll of his illness and he has good days and bad. Recently, he experienced a setback which has required him to take a break, but he plans to return to the pool with Billi for the rest of 2020. "She is truly a wonderful person to work with, and has given me a lot of confidence to fight on."
As we wrap up our meeting, I ask Otto if he has any words for someone living with illness and disability. Otto smiles. "Accept what life gives you. Remember that you are not alone. Also remember that nobody can help you until you start helping yourself and opening up to be helped by others."
About Specialty Aquatic Rehab 
The program offers one-on-one therapy at the Delbrook and Karen Magnussen Community Recreation Centres. The Winter 2020 rate for thirty-minute sessions is $37 and suitable times can be arranged.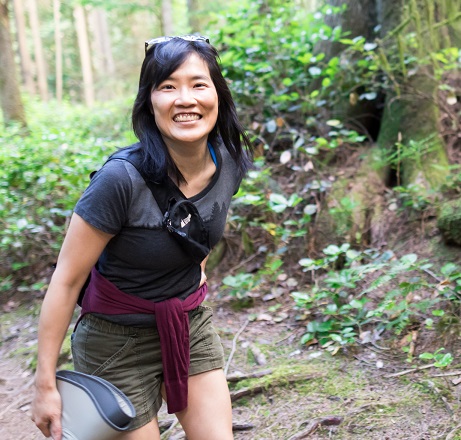 Wiley H.
A long-time North Vancouver resident, Wiley works as a technical writer and is the current newsletter editor for the North Shore Writers' Association. She spends her free time reading, hiking and discovering new things to try at North Vancouver Recreation & Culture!