While I've managed to keep relatively active during the closure of our beloved community recreation centres with daily walks and online yoga, I have really missed exercising in a community setting with actual people. When the NVRC announced the Outdoor Registered Programs starting June 8th, I was ready to sign up. First up, an outdoor fitness class to reawaken the muscles.
Trails and Entrails – a HIIT workout at William Griffin
For my first outdoor class, I decided to jump right in with a challenging workout. As a writer, I couldn't resist the whimsically graphic name: Trails and Entrails! 
After I registered for the class, I received a welcome email from the instructor Shawn with some tips on what to bring to class: a water bottle and a timing device. Also, unless there was a downpour, the class would go ahead showers or shine.
Rediscovering community
I arrived at the north end of William Griffin field early to find that I was not alone in my eagerness to exercise with some company. I recognized someone from my Harry Jerome spin class, someone else from the community, and it immediately felt like a reunion. A group of six hearty souls made up our class and we all started chatting. Quickly, everyone connected over how much we've missed working out together, being in the presence of others doing the same thing, encouraging each other through the tough bits, sharing a good laugh. 
We exchanged experiences of the last few months. We listened to each other's difficulties and laughed over how nice it was to be with people other than our immediate families. Most of us had tried to maintain our fitness by working out on our own, but we all agreed it wasn't the same as exercising with others. While online exercise videos are a wonderful resource, they cannot replace the power of community for support, encouragement, borrowed motivation and accountability. 
Safety first
After a brief introduction and quick attendance, Shawn oriented the class in the latest health and safety measures to ensure physical distancing (6 feet apart) throughout the entire workout. He had set up orange cones on the field for everyone to easily maintain safe space. There would be no equipment to touch. There was even provision for us to drop any extra gear or clothes in a secure corner (also safely spaced).
Time to work up a sweat
The one-hour class is a high-intensity interval training (HIIT) class with exercises that can be modified for a lower impact workout. 
We started with a 22-minute, self-paced warmup, a jog or walk along the Mosquito Creek trail. The green canopy overhead and the sound of the burbling waters accompanied us, as we revved up our bodies and made our way southward for eleven minutes (using our watches or phones to time ourselves) and then looped back to the field. Then the workout really began!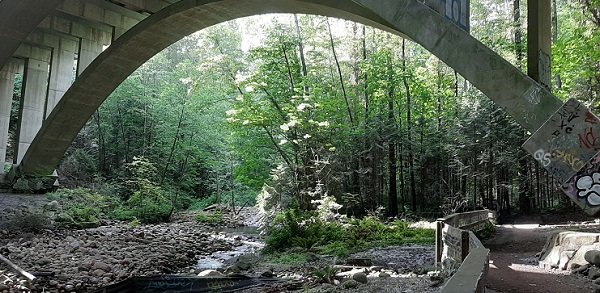 While we were warming up on the trail, Shawn had stayed behind to set up. We returned to the green field to the sound of energizing music to keep us moving. 
With good humour, easy-to-follow demonstrations, and ample encouragement, Shawn put us through a twenty-minute interval training program. For every exercise, he showed variations from high to low impact. Our workout included four exercises (flutter-kick squats, high knees, burpees, jumping jacks) in repeating sets of descending duration. Each exercise in the first set was timed to 40-second intervals, then 30 seconds, then 20, and finally 10. Between each set, we rested for forty seconds. Each time, Shawn would check in with everyone: "Good? (thumbs up), Okay? (thumbs horizontal), or Terrible? (thumbs down)." Although I heard a lot of laughter and groaning (including my own), most of the thumbs pointed to the sky. 
By the end of the interval training, I was bathed in perspiration. For the final minutes of class, we cooled down with seated stretches on the turf. It felt good to stop, but it felt even better to have worked out hard and re-engaged with others. The challenging workout unlocked endorphins which flooded into my body. A certain buoyancy came over me, a feeling that has been scarce these last many months of stress, social separation and limited engagement. Judging from the big smiles around me, everyone seemed to share a similar relief. I can't wait for my next class.
Registering for outdoor classes
The NVRC is now offering over 50 different outdoor classes each week, including fitness, sports, tennis, arts and other fun activities for families and a range of ages. Learn more.
NVRC staff have developed extensive health and safety measures, including limiting class sizes to ensure physical distancing and participant confirmation that they are not sick, have not been around others who have tested positive for COVID-19 or are self-isolating, and have not returned from travel outside Canada in the past 14 days. View all health and safety measures here.   
Pre-registration is required for each individual class. Drop-ins will not be allowed in order to manage class size and physical distancing. Registration for each week of classes starts on the Monday one week before. Participants can register online at nvrc.ca or by phone at 604-987-7529. NVRC's indoor facilities remain closed and in-person registration is unavailable.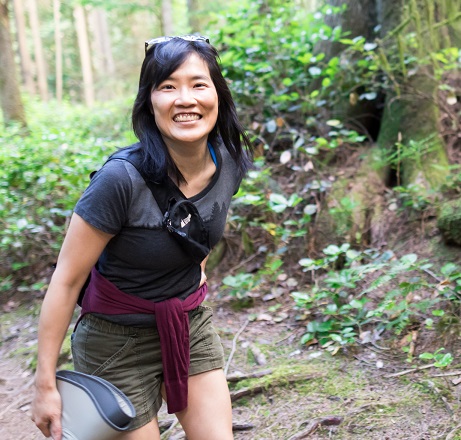 Wiley H.
A long-time North Vancouver resident, Wiley works as a technical writer and is the current newsletter editor for the North Shore Writers' Association. She spends her free time reading, hiking and discovering new things to try at North Vancouver Recreation & Culture!