Read what inspires her to share her passion for fitness.
For Nancy, exercise and fitness bring many rewards.  She's been a fitness instructor for over 30 years with NVRC teaching a number of classes every week and it never gets old.    She continues to be delighted and amazed by the sense of community here.  She's also seen first-hand the significant health benefits participants achieve. Whether it's the grandmother who is now strong enough to pick up her grandchild or the older person who is now confident walking down the street and is sleeping better, Nancy knows firsthand how exercise can make a positive impact in people's lives.  
Here are four reasons Nancy wanted to become a fitness instructor – in her own words:
Desire to be of service to the community
As a physiotherapist, I felt that, while I contributed to the health of my patients on a one on one basis during treatments, there was a lot of common sense health information that could be shared in a group situation and reach a larger population. This was in the mid-1970s and there was a lot of misinformation and occasionally dangerous fitness advice coming out of an array of sources - gyms, videos etc.  
The joy of teaching
It is always satisfying to see someone benefit from something that you have passed on to them.  Whether it is an ah-ha moment or the added self-confidence gained from some new knowledge or strength, there is an undeniable rush thinking that you were part of that.  I remember one women telling me:  "I am no longer afraid to step off of a curb because my balance is so much better."  That was inspiring.
The pursuit of excellence
The pressure to "do it right" is ever present when you are in front of a group or anyone looking to you for direction.   I always love watching someone do something that challenges them…be it a sports figure or a child or a participant.   It just makes me want to be better and every step I take in that direction adds to my overall wellbeing.  
The desire to be a good example to my children
I wanted to be a role model for my children.  Taking a leadership role in fitness was one way to do that.   It was leading by example.  My motto was always:  "Nothing looks as good, as healthy feels".  No matter what was cool as they grew up, I wanted them to feel good about themselves and wholesome, physical activities was a big part of that.  As I started to have my own children, the happiest families that I saw were those that were active on a regular basis and did things together.  As they grew older, this lesson persisted and they are all fit and active adults.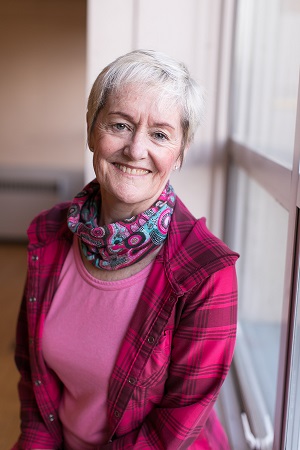 Nancy is a retired physiotherapist who retrained to become a financial planner.  When not working or teaching fitness classes with NVRC, she can be found keeping up her fitness by skiing, biking and walking in the great outdoors!