June is National Indigenous History Month. As a settler, I have a lot to learn about the true history of Canada, to honour the rich diversity of First Nations, their strength through enormous sufferings, and celebrate their cultures and achievements. So, it was a privilege and a treat to attend the Kw'shétsut Indigenous Knowledge Sharing Workshop and spend time with Squamish Elder Sam Seward. Not only is Sam full of stories from his Squamish and Snuneymexw heritage, he has much joy and wisdom to share. A multi-talented artist, Sam loves mixing it up. At 65, he juggles acting, weaving, fishing, lacrosse, playing with his grandchildren, and the occasional bit of carpentry. In recent years, he has taken to re-learning the Squamish language. "Never be afraid to try," says Sam, "Never stop learning." Keep reading to find out about upcoming workshops!
Free Indigenous art workshops for children and youth this June
NVRC and Presentation House Theatre collaborated to bring 4 Indigenous art workshops for children 6-12yrs and youth 13-18yrs this June on the theme Kw'shétsut (to play, to have fun). In accordance with public health safety guidelines during the pandemic, indoor numbers are limited – register for a spot now!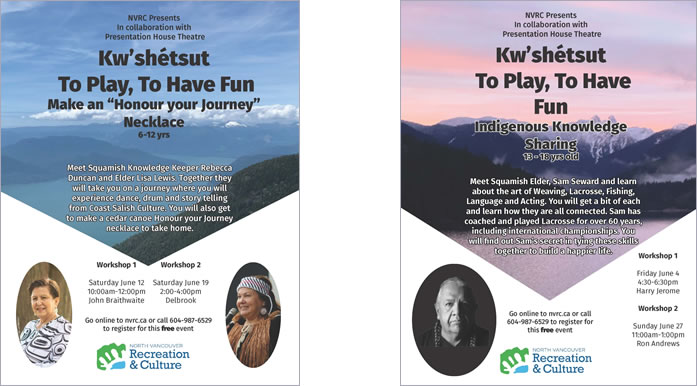 Meet Squamish Elder Sam Seward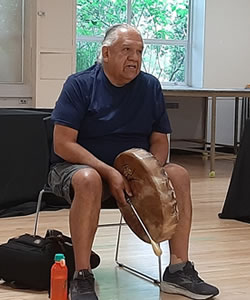 To describe Sam Seward as multi-talented is an understatement. A Squamish Elder, Sam's talents span the arts, sports, cultures and languages. "I'm interested in many things," says Sam. "I'm 65 now, but I think it's important to keep learning in life." A Red Seal carpenter by trade, Sam still helps out friends and family, but these days he is busy with acting, weaving, and lacrosse coaching – that is, when he is not playing with his grandkids, fishing, or learning Squamish. "I like variety," Sam explains with a grin. "I think it is why I'm happy with my life." 
Sam plays evocative roles in Forum Theatre and finds the interactive art form (where audience members are allowed to interact with actors) healing. In addition, he has appeared in various films, including "Catch the Fair One" which is part of the 2021 Tribeca Film Festival.
Of Squamish and Snuneymexw heritage, Sam knew languages in both as a young child. Unlike his parents, he was spared the residential school system, going to day school instead. "Our people were punished for speaking our language," Sam says of his family who attended residential school. In recent years, Sam has taken up the Squamish language with a mentor, who considers Sam a "silent speaker." Having spoken Hulquminum as a child, the sounds and structure of Squamish are returning quickly to him. Sam says he now often dreams in Squamish. Along with his language, he is relearning his Nation's history, songs, and stories. 
At the workshop, Sam drums and shares his many incredible stories, and shows us his beautiful woven blanket creations. He recently finished a ceremonial shawl for his son, which took him one hundred hours. "I weave every day, but some pieces can take a while."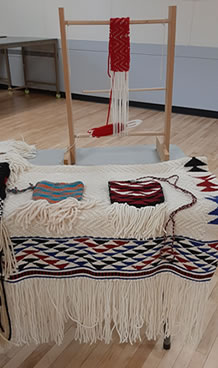 Sam describes an organic and fluid process to his work. If his grandchildren come over to play while he's weaving, he will put the weaving aside and spend time with them. He also makes time to fish with his son (using the traditional net and gaffe hook) as well as coach his favourite sport. 
Sam started playing lacrosse when he was just five years old. He went on to excel at the sport, competing in numerous lacrosse championships, including five provincial, one national, and the 1980 world championships where the team placed second. "I was 24 and it was a big thrill," recalls Sam. Even though he could have continued at the national level, due to pervasive racism, Sam returned to his local team. "I've always enjoyed playing for the North Shore Indians more." He mainly coaches now but still plays occasionally. From the brief demonstration he offers at the workshop, Sam's stick skills remain deft and impressive.
When asked which of his many gifts he enjoys most, Sam smiles. "I enjoy it all – singing, dancing, weaving, acting, lacrosse, language. They are all connected. To me, they are where the mind and heart come together for that good feeling." 
Sam's beautiful weavings can be found on Instagram @sammyseward. 
Plans for more Indigenous workshops as regular programming
NVRC plans to gradually incorporate Indigenous workshops into year-round programming, to facilitate learning and celebration of the vibrancy of Indigenous arts and cultures in our community. The overall aim is to bring what has too long been marginalized into the mainstream. 
Since the start of the Truth and Reconciliation Commission of Canada in 2008 and its findings in the 2015 Calls to Action Report, many heart-wrenching truths and stories have come to light. As new atrocities from Canada's colonial history continue to surface, it is more critical than ever for non-Indigenous settlers to continue our learning and appreciation for the Indigenous peoples who were here before us. 
Resources for Indigenous History, Arts and Cultures
There are many great resources to learn about the history, heritage and diversity of Indigenous peoples in Canada. 
Here are just some suggestions to honour Indigenous History Month and all year round:
Learn about the painful history and impacts of residential schools in Canada.
Make a donation to the Indigenous Residential School Survivors Society, which is offering support to survivors, families and Indigenous communities at 1-800-721-0066.
Take a virtual trip and experience Indigenous culture through free online workshops offered by Indigenous Tourism BC.
Join Full Circle's Talking Stick Festival for their Summer Sojourn, featuring online events and gatherings through the month of June to celebrate the enduring spirit of Indigenous people with dance and song and words.
Read books by Indigenous writers. Two recently announced BC winners of the Governor General's Literary Awards would be a great choice: Kamloopa: An Indigenous Matriarch Story by Kim Senklip Harvey, and Five Little Indians by Michelle Good. For further recommendations, Indigenous-owned bookstore Massy Books has a fantastic list.
June 21st is National Indigenous Peoples Day – learn about the languages, cultures and contributions in a virtual celebration hosted by North Vancouver District Public Library.
Attend a public cultural event, often listed on the website of Indigenous communities. Showing appreciation of a community's culture is respectful. Research the protocol associated with the event. For example, if you attend a public powwow, know that drinking alcohol is strictly forbidden, understand the protocol around touching the regalia (called regalia, not costume) or taking photos. When in doubt, ask first.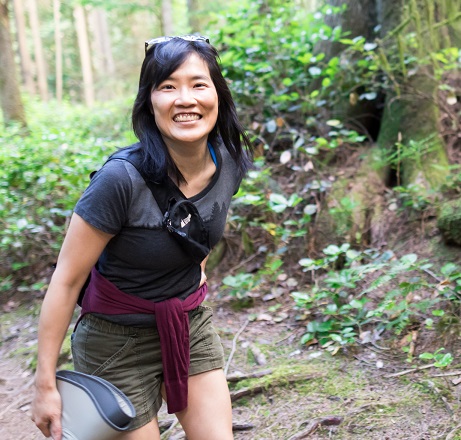 Wiley Ho.
A long-time North Vancouver resident, Wiley works as a technical writer and is the current newsletter editor for the North Shore Writers' Association. She spends her free time reading, hiking and discovering new things to try at North Vancouver Recreation & Culture!