Choosing a direction for the year ahead.
It's that time of year when many of us take stock of the year that was and set goals for the new one ahead. But, what goals should we set when the world feels so topsy turvy? Amid so much uncertainty, it's only reasonable to feel overwhelmed right now. So, instead of adding more stress with a resolution that might get thrown off by pandemic circumstance, try focusing on an intention for 2022. Read on for a gentle way to usher in the new year.
Intention versus resolution
Even in the best of times new year's resolutions rarely stick. Statistics show that 80% of resolutions are abandoned by mid-February. Studies suggest we often set ourselves up for failure when we set overly ambitious or unrealistic goals. 
Right now, things are far from regular. Given how unsettled life has been lately, it is extra necessary that we be kind to ourselves and each other. For many of us, it might feel more loving to set an intention (rather than a resolution) for the coming year. Unlike a rigid and unforgiving resolution that feels bad if we break it, an intention is a gentle signpost to point us in the right direction. If we take a detour now and again, it's not the end of the world. Simply recall your intention and keep going. 
A mindful intention 
Choosing your new year's intention can be a great way to honour and appreciate life. The following is a guiding exercise that can be done solo or with your family. Grab a pen and paper and let your mind wander.  
Reflect on the past year
It's been one heck of a year with many highlights and lowlights. Consider where the world is today versus twelve months ago. What have been your brilliant moments? Your dark ones? Take a minute to reflect on 2021 and marvel at how you've made it through.
What are you grateful for?
This is an excellent question to ask every day. An attitude of gratitude is one of the best ways to keep life in perspective. Studies show gratitude keeps anxiety and depression in check, lowers blood pressure, and improves sleep quality. 
What would you like to cultivate more of in your life?
This is not a "thing" question. This is about a quality of life that brings you joy and meaning. Once you identify this, it naturally guides you towards habits, relationships, and environments you want more of in your life. 
What would you like less of in your life? 
Same as the question above, consider what subtracts from your quality of life. How can you steer away from habits or situations that drain you?
Capture your intention in a word or phrase
Choose a word or phrase to sum up your new year's intention. Having a simple word or catch phrase will serve as a touchstone to remind you to come back to your objective when the going gets tough.
What intention have you arrived at? 
For me, the intention I've identified is hope. Hope feels like the antidote to fear and despair, a life raft in a storm. It can act as both a map and a destination, allowing for possibilities we have yet to imagine. Cheers to an intentionally hopeful and meaningful new year.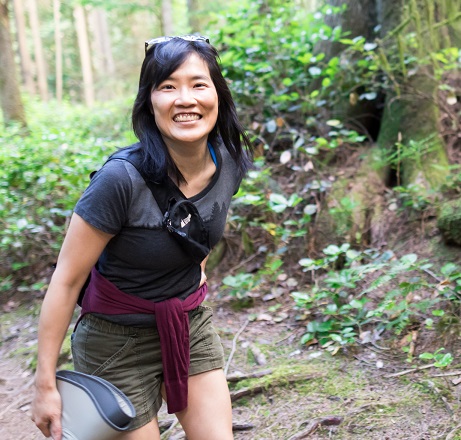 Wiley Ho.
A long-time North Vancouver resident, Wiley works as a technical writer and is the current newsletter editor for the North Shore Writers' Association. She spends her free time reading, hiking and discovering new things to try at North Vancouver Recreation & Culture!