As part of the Canada-wide Homelessness Action Week, John Braithwaite Community Community Centre is proud to be hosting North Shore Connect Day on October 17th, 2019.
If you or someone you know is in need of health and community services, drop by the centre for lunch and health services from 9am – 2pm.
Homelessness Action Week
In mid-October every year, communities across Canada host events to raise public awareness, rally for grassroots solutions and help those without homes. Although many of us on the North Shore enjoy a high standard of living, there are also many of us who are struggling. 
If you, or someone you know, could benefit from a little community love and free or low-cost community services, come and connect on October 17th.
Community partnership 
The North Shore Homelessness Task Force is a partnership-based approach to ending homelessness on the North Shore. In collaboration with numerous local organizations, Connect Day 2019 aims to bring community to those who need it most. 
Local organizations will set up tables inside the John Braithwaite Community Centre to offer guests information about their services, takeaway items (such as socks and toques) and free services (such as flu shots, foot care and haircuts).
Connect Day services 
The following services and information booths will be offered on Connect Day 2019.
Health services:
Immunizations/flu shots
Stop HIV/HIV testing, as required
Naloxone info/education
Diabetes testing and education
Lung testing and tobacco cessation
Foot care
Other services:
Breakfast pastries and fruit
Hot lunch
Haircuts 
Information booths:
Canadian Mental Health Association
Harvest Project
Hollyburn Family Services Society
Lookout Shelter
North Shore Crisis Services Society
North Shore Neighbourhood House Food Bank 
North Vancouver Libraries
North Vancouver Recreation & Culture 
Quest Food Exchange
St. Andrew's United Church
Salvation Army
Turning Point
Vancity
Testimonials from guests and staff
Connect Day is an annual community event that began in 2009. Last year, approximately 115 guests attended Connect Day to receive services, connect with organizations in the community and to share a warm meal together. 
One of the guests of Connect Day has this to say about their experience:
"Firstly, I'm very appreciative of the people that supported this service to help those in need. There are a lot of resources that became beneficial for me and helped me stay on top of what's going on in the community. I'm grateful for the services that were provided such as haircuts, flu shots, free items, and lunch with the people in our community. I do hope the services continue, as we have a lot of people that are in need who would benefit from things like this."
NVRC staff who have helped with the event say:
"The NVRC is proud to support Connect Day at John Braithwaite Community Centre.  The event provides access to many important services such as flu shots, immunizations and diabetes testing for the most vulnerable members of our community.  It provides staff an opportunity to connect with community members and share information on recreation and culture programs and services, including the NVRC financial assistance program, low cost services and the shower program." – Janet Wallace, NVRC
"I meet with many residents of North Vancouver who are struggling to afford to live in our community.  My clients greatly appreciate and benefit from the services offered at Connect Day, especially easy access to a flu shot, free meal, foot care and a haircut.  It is very satisfying to see the impact of this event on my clients." – Vida Sandoughdar, NVRC Leisure Access Counsellor 
Sources: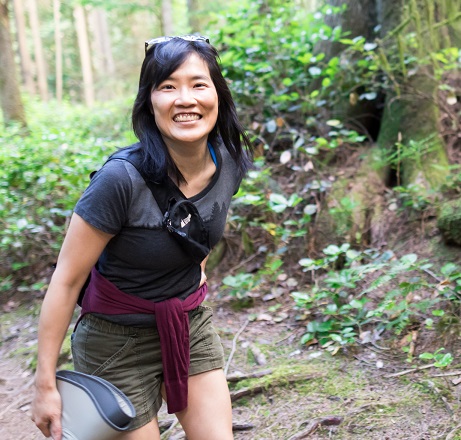 Wiley H.
Wiley is a long-time North Vancouver resident. She works as a technical writer and is the current newsletter editor for the North Shore Writers' Association. She spends her free time feeding her twin passions of creative writing and hiking. She recently discovered a potential third passion - the pottery studio at the Delbrook Community Recreation Centre.