Rhonda Kagna transformed her personal passion into a rewarding career.
For some, exercise is a means to an end.  A necessary evil to stay fit and healthy.  While that goal applies to Rhonda Kagna, her commitment to fitness is much more than that. It helps her deal with stress, stay grounded and connect with others in a meaningful way.  
"I have always made time to work out," Rhonda said.  "Even when life was busy and stressful it was the one thing I could always do to care for myself, which made it easier to cope with everything else.
Now 54, Rhonda acknowledges the past 30 years have not always been smooth sailing.  She navigated through the premature birth of her first child, then divorce and struggles as a single parent, all while managing a stressful career in the stock market.  When she found a new and happy relationship, Rhonda then faced years of fertility issues.  Today, with three healthy children and a thriving career as a fitness instructor and personal trainer, Rhonda believes her fitness regime has played a key role in her personal and professional wellbeing.
"Working out is cheaper than therapy," she laughed.  "It gives me time alone to focus on myself and what I need. I never saw myself as an instructor.  The thought of talking in front of a room full of people is way outside my comfort zone."
Midlife crisis managed
Two years ago, when her youngest child was in high school and the other two had moved out, Rhonda decided to put her passion to work and become certified as a personal trainer and fitness instructor.  She called it her "midlife crisis."
"I was starting to feel isolated, as many of my friends went back to work fulltime and my kids didn't need me as much as they once did.  I wanted to do something meaningful that was also flexible," she said.  "When I brought up the idea to get certified as an instructor, my husband and kids thought it was great – with all the time I spent working out, now I might get paid for it!"
Rhonda's first "gig" as a NVRC instructor was as a sub for an Aquafit class at Delbrook Pool.  Amazingly, she didn't learn to swim until she was 39 years-old, but when she did, Rhonda found she loved the solitary feeling of moving through the water and being alone with her thoughts.  Her fitness routine now includes weekly swimming in the Master's Program.  At first Rhonda wasn't too sure about teaching Aquafit, and was surprised to find how much she enjoyed it
"I know the effort and determination it takes to put on a bathing suit and cap and then hop into a cold pool," Rhonda said.  "I would look at these women, some in their eighties and nineties, and be so inspired.  They came every week, they laughed and enjoyed their time in the water together.  It was as much a social outing as it was exercise for them.   I realized how important fitness is for social connections as well as physical wellbeing.  I like being part of that."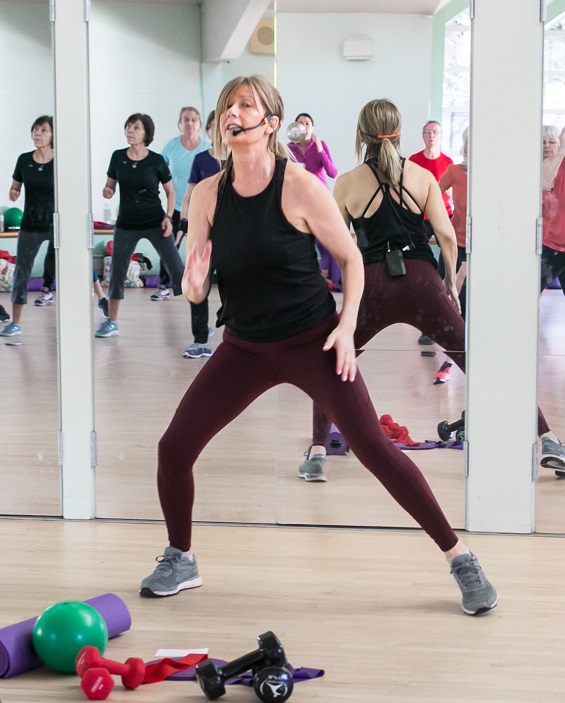 Keeping things interesting
It wasn't long before Rhonda was a regular instructor for NVRC, teaching Aquafit, spin, muscle fusion and barre classes.  Perhaps her openness about her personal challenges and the role fitness has played in her life is one of the reasons her NVRC classes are so popular.  Participants find her approachable and inspiring.
"Rhonda is amazing," said 60 year-old Denise Dimock.  "Her workouts are challenging, but she makes it fun.  She never seems to be too serious so everyone is relaxed.  Except the next day, when you realize how hard you worked out because of how sore you are!"
In addition to the hours spent teaching, Rhonda puts in a significant amount of time preparing for her classes.  She likes to change up the music and the routine to keep things interesting for participants.
"It is great walking in and seeing the same faces every week," Rhonda said.  "I love the energy I get from the participants.  You don't know everyone's story but I feel like I'm giving them something for that hour.  It inspires me to be creative.  
Making a difference
It is no surprise that Rhonda has shared her passion for fitness with her family, encouraging her kids to always find time for exercise as a strategy for maintaining good mental and physical health.  
"It's important to me that my kids have healthy ways to cope with their life challenges," she said.  They're all very athletic in their own way.  I'm so happy they have made fitness a part of their lives."
As her kids became more independent, becoming an instructor helped Rhonda redefine herself, while providing the opportunity to balance work and family commitments.  She enjoys working for NVRC and loves supporting others to achieve their health and fitness goals.
"I can't believe all the things NVRC does to make fitness accessible for everyone," she said.  "They bring instructors together for in-house programs to help us do well, and give us tools to improve the experience for participants.  It also gives us a chance to connect as instructors and get to know each other.
Rhonda is aware of the important role that fitness has played in her life and is grateful for the opportunity to share her passion with others.
"I feel like I'm making a difference," she said.  "What more can you ask of a career?"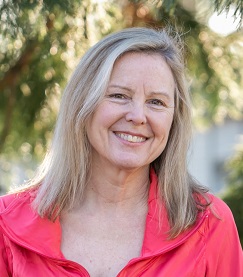 Michelle Perrault
A North Shore girl at heart, Michelle has fond memories of Saturday night skates at the NVRC ice rink (now Harry Jerome) and swimming lessons at William Griffin (now Delbrook) pool. More recently, she enjoys hiking and biking the trails of Mount Fromme and the Seymour watershed. She lives in Lynn Valley with her two adult children, two dogs and wonderful friends and neighbours.