From exercise videos to resources for mental wellness, our blogger Wiley has found great ways for everyone including those living with a chronic illness to  stay active and well at home.
During the COVID-19 pandemic, we all need to pay extra attention to self-care. Physical and mental well-being are a huge part of that, but it is a challenge right now with the closure of our beloved community recreation facilities. For those of us with chronic health conditions (such as arthritis, asthma, cancer, dementia, diabetes, heart disease, Parkinson's, joint or back pain), this is an even greater challenge. Here are some suggestions and online resources to help you stay active, healthy and well when you are spending more time at home.
Exercise helps with chronic conditions
If you have a chronic illness, exercise provides many health benefits. Aerobic activity, strength training and flexibility exercises all have a role in helping to manage symptoms. Regular exercise helps to improve heart health, lower blood pressure, lower blood sugar, increase strength and endurance, reduce pain, lift mood and improve quality of life. 
In general, try to accumulate 30 minutes of physical activity per day at least five days a week. You can break up the time into short chunks spread throughout the day. If you're not able to do this much, do as much as you can. Any activity is good. Start with moving more and sitting less. 
A walk a day…
Walking is still the leading recommendation for low-impact aerobic activity that naturally strengthens your bones and muscles and lifts your spirits. Please practice social distancing while outside (2 m apart)! If you have arthritis, consider taking a warm shower before you exercise (heat relaxes joints and muscles). If you have asthma, keep your inhaler with you.
Stretching
Stretching helps to maintain flexibility, joint range of motion and the ability to perform daily tasks. Here are some great videos to help you stretch:
Online Exercise Videos for Beginner and Intermediate Levels
Here is a great list of low-impact exercise videos to keep active from home! 
Tai chi
Considered a moving meditation, tai chi is a martial art that is performed slowly to strengthen the body and mind. Here are a couple of videos to get you started:
Mental wellness suggestions and resources
Virtual workout with a friend: If you hate exercising alone, consider a virtual workout with someone else from home (using various social media apps, like Zoom, Skype, Hangouts, FaceTime, etc.)
Enjoy the garden: Whether you're a gardener or just love a garden, spend some time among the blooms and birds for a boost to your sense of well-being.
Meditation: Reduce stress and anxiety while you increase self-awareness, attention span and cognitive function. Regular practitioners also enjoy better sleep.
* Meditation for Anxiety - Yoga With Adriene
* 5-Minute Meditation You Can Do Anywhere
* 5-Minute Calming Meditation (With Guiding Voice)
Sleep: Getting good rest is essential to overall well-being and good health. 
* Top 10 Tips for Healthy Sleep
* Cardiac Rehabilitation Sleep Guide 
Manage Your Mental Health During COVID-19: It's important not to consume too much news every day and to stay connected with other people. Call your family, friends and neighbours. Remember that you are not alone. Here are some great resources for staying resilient:
* Managing Stress: English video | French video
* Free Managing Your Mental Health During COVID-19 online course from University of Toronto, 100% online, flexible deadlines, beginner level, 8 hours
* If you or someone you know are in need of some extra support right now, Canadian Mental Health Association (North/West Van) has programs and services to help.
If you are in distress and need help right now, call 310-6789 (do not add 604, 778 or 250 before the number) 24 hours a day to connect to a BC crisis line, without a wait or busy signal. 
Remember that we are all in this together. Be as active as you can. Be kind to yourself. Stay safe and be well!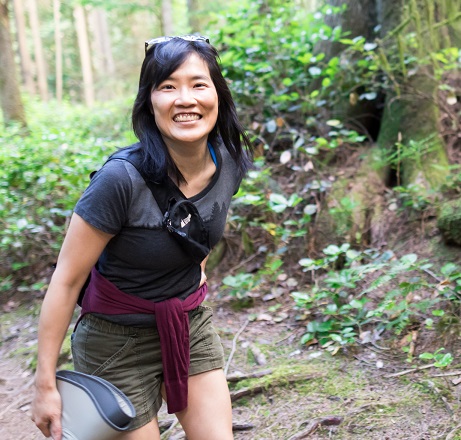 Wiley H.
A long-time North Vancouver resident, Wiley works as a technical writer and is the current newsletter editor for the North Shore Writers' Association. She spends her free time reading, hiking and discovering new things to try at North Vancouver Recreation & Culture!