Ideas for staying safe, active and connected during unsettling times.
With so much news bombarding us daily about the current global pandemic, it is challenging to stay calm and optimistic. With many events cancelled, public institutions closed, businesses struggling and everyone practising social distancing, I've been fighting feelings of gloom and panic.
Amid all the news, I received an uplifting text from my sister who lives halfway around the world: The outdoors, music, art, books, family and hope have not been cancelled. 
Creative ways to connect and take care of each other
We are all being asked to stay home and practice social distancing and self-isolate if we have symptoms of illness (fever, cough, sore throat, etc.). While these necessary measures are critical to help prevent the spread of the Coronavirus (COVID-19), they can feel alienating. We are naturally social beings. 
But, we don't have to be completely alone. 
In the past few days, I've witnessed and learned some creative ways to maintain social connection and help others during this ongoing crisis. 
While our governments are working at the policy level to protect Canadians, community leaders are helping too. Many employers are looking out for their staff and maintaining employment by enabling work from home. Our arts community, which is being hit hard with cancellations, continues to do what they do best: inspire. For instance, the Vancouver Symphony Orchestra performed a Beethoven concert on March 15th which is available for free streaming
here
. 
Neighbours are helping neighbours
Walking around my neighbourhood, I saw people visiting each other in their gardens, standing or sitting a safe distance apart. I came across kids collecting pinecones in the park and making a game of it. Community members are exchanging phone numbers and looking out for our elders. One of my neighbours dropped off a bag of groceries outside the door of someone under self-isolation. I scheduled a video chat with friends in lieu of a visit. Each of these small acts are moments of social connection. They are reminders of how each of us can contribute to a caring community, especially during crisis. We are capable of wonderful humanity when we get creative and think beyond ourselves. 
Staying active and healthy close to home 
Having to stay close to home has some unexpected upsides, like time to reconnect with close family members and honouring what's truly important to life. It also enables us to catch up on rest and rediscover the joys of our own backyard. 
Here are just a few ideas for enjoying this unusual time:
The great outdoors – Fresh air and social distancing are compatible! Keeping an appropriate (2-metre) distance from others you can enjoy the outdoors and stay healthy and active. We are fortunate to live close to so many parks, mountains and the sea. Go for a stroll, bike ride or hike. Click here to view NVRC's Guide to 20 Walks and Trails on the North Shore.
Command your technology – Unlike previous generations, we have the privilege of being able to stay connected with our loved ones almost anywhere in the world. Use your social media to stay connected to friends and family. 
Pay attention to your mental health – Being barraged with newsfeeds all day long is not good for anyone's mental health. Try and limit your news intake to once a day from a credible source. Share your feelings with loved ones. Try journaling or meditation to manage negative emotions.  Check out these World Health Organization tips for dealig with stress. 
Telecommuting – For those of us able to work from home, appreciate the great savings in commute time and stress.
Home workouts – There are great home workout routines available online. Search for ones that require little to no equipment. Exercise helps with stress management and better sleep.
Public art crawl – North Vancouver has over 150 original public art pieces, most of them outdoors. Click here for a map and descriptions of our incredible public art collection.
Cook together – Plan a special menu and cook together.
Have a board game tournament – Set up a marathon board game day – great for a rainy day.
Support local restaurants with a meal delivery – Many restaurants struggling to stay in business are offering take out and meal deliveries. This is a great way to support our community small businesses. 
Catch up on your reading – Dive into a book and rediscover the joys of a good story.
Catch up on your favourite television shows – Snuggle up for some cozy couch time.  
Create – Whether you love to make music, draw, write, garden, etc., etc., let your creativity flow for natural stress relief and fun. 
Home improvement – This unplanned lull might be a good time to finally undertake a home improvement or maintenance project.
Savour the moment – Whatever you decide to do (or not do), reflect on all that you still have in your life and what you are grateful for.
During this difficult time, let's all stay calm and look out for each other. Let's also remember that hope, love and creativity can never be cancelled. 
Public Health Information
For recommendations on protecting yourself and your community from COVID-19, and to use an online self-assessment tool, visit: 
bccdc.ca
.  The self-assessment app can be downloaded here: 
bc.thrive.health/
For non-health questions about COVID-19 call 1-888-COVID-19 or visit:
gov.bc.ca/covid19
For more information regarding the coronavirus (COVID-19), visit these websites: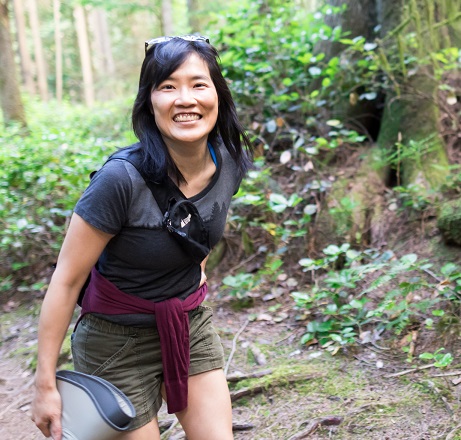 Wiley H.
A long-time North Vancouver resident, Wiley works as a technical writer and is the current newsletter editor for the North Shore Writers' Association. She spends her free time reading, hiking and discovering new things to try at North Vancouver Recreation & Culture!