Meet the award-winning Capilano Youth Advisory Committee.
"Young, smart, exuberant and caring" only begins to describe the group of teens who make up the Capilano Youth Advisory Committee. They are budding community leaders who volunteer their time, talent and energy to enhance programs and initiate events for youth in the community. This year they were awarded the 2019 District of North Vancouver Youth Award (Outstanding Youth Team)!  
Why fit in when you were born to stand out? 
– Dr. Seuss
The Capilano Youth Advisory Committee (CYAC) meets once a week after school at Delbrook Community Recreation Centre. The group of secondary school students comes together to create, plan and coordinate special events for youth and families in the community. Meetings are chaired by Chill Yin Lee, Recreation Programmer and Youth Coordinator for North Vancouver Recreation & Culture. The youth members are responsible to take meeting notes, create and coordinate events and be accountable to their commitments.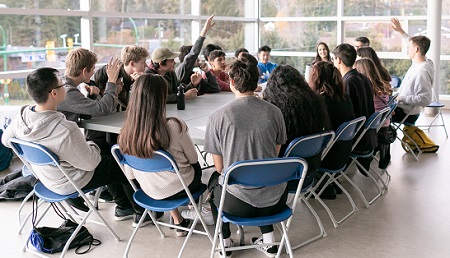 Brainstorming ideas and solutions is a big part of each meeting. Everyone is encouraged to participate and every voice is respected, even as the members sometimes disagree. It is all part of learning how to work together towards common goals. It's evident from the free-flow of ideas – from great to wacky – that the group is comfortable and enjoys being there. More than accumulating volunteer hours toward school credits, each member gains much more in the way of leadership, public speaking, conflict resolution skills and community building. 
The meetings end with a round table check-up, where everyone gets a turn to share something from their week. Judging from the jokes and laughter, it's a bonding way to wrap up a meeting. 
Youth for youth – in action 
The CYAC was formed just two years ago in October 2017 with 5 members. Since then, the group has grown to 21 members and has successfully run youth events (for grades 5-12), from Dodgeball and 3-on-3 Basketball to late-night swimming parties, plus charity events and BBQs. 
This season the CYAC is planning a basketball tourney (Nov 8-11), a "Moonlight Splash" (Nov 30) and a Christmas festival and charity event (Dec 14). The members are busy making posters and promoting the events on social media, as well as coordinating schedules, locations and prizes.
Youthful impact
Following a meeting, several CYAC members volunteered to answer a few questions for this article. Shahaab, Dennis, Charlotte and Niki are in their senior year at Handsworth Secondary and returning CYAC members. They beam with pride when congratulated for their District Youth Award. 
When asked what they like most about CYAC, the responses came easily: "Seeing the kids enjoying our events…creating connections with people you never thought you would…teamwork…collaboration." 
They say volunteering with CYAC has given them confidence and new skills, such as planning, organizing and the ability to focus on goals to see them through. When asked to name their favourite community role model, the answer was unanimous: "Chill!" 
"Chill has the best name – he really lives up to his name. He provides great support to us. And, if an event doesn't go well, he just encourages us to learn from the mistakes."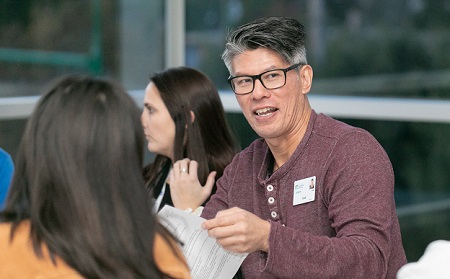 Leading by example
It's evident from the way the CYAC members interact with Chill that he garners their respect. Similarly, Chill enjoys working with them. 
He says, "CYAC is one of my favourite jobs of the week.  It's great to see the youth grow in their leadership skills and grow more confident as they gain more life experiences. The members truly want to make a positive difference in their community through the special events we put together."
Chill strives to inspire, as well as empower, the youths he works with: "I hold members accountable for their attendance, speaking up, and following up with tasks assigned to them. I try my best to keep them engaged and make the meetings fun. We have 21 members, so something must be going right." Indeed!
Calling youth community leaders!
The Capilano Youth Advisory Committee (CYAC) welcomes youths (grades 8-12) from across North Vancouver to come out and join a dynamic and fun group, to shape new initiatives and programs for young people in the community. The CYAC is an excellent place to learn leadership skills, be creative, and gain volunteer experience. Group meetings are one-hour weekly after school at Delbrook or Harry Jerome Community Recreation Centre.
For more information, please contact:
Chill Yin Lee, Delbrook at 604-983-6327 or email
Jennifer Folkersen, Harry Jerome at  604-983-6414 or email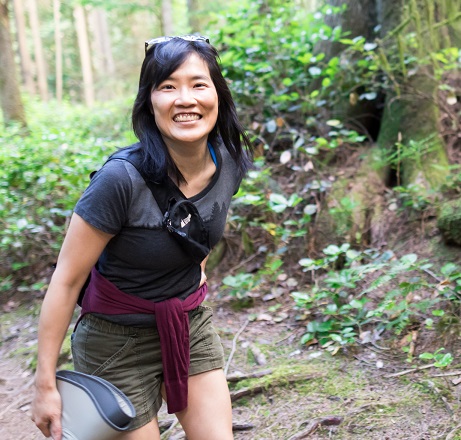 Wiley H.
Wiley is a long-time North Vancouver resident. She works as a technical writer and is the current newsletter editor for the North Shore Writers' Association. She spends her free time feeding her twin passions of creative writing and hiking. She recently discovered a potential third passion - the pottery studio at the Delbrook Community Recreation Centre.