Meet Alan Formanek, Vancouver International Mountain Film Festival's Founder and Director.
Thrilling! Awe-inspiring! Amazing! More! are the common reactions from festival goers at the annual Vancouver International Mountain Film Festival (VIMFF). What began as a five-event show in 1998 has grown into a much-loved, 10-day international festival today. 
VIMFF is the brainchild of Festival Director Alan Formanek. When asked why he thinks VIMFF has become such a popular event, Alan says, "People come to be inspired, to see what's humanly possible." (Photo above: Summer rock climbing in Cliffbase, the island of Hvar in Croatia. This amazing route is called "Lost in Bosnia" and is one of Alan Formanek's all-time favourites, rated at 5.12d)
The Centennial Theatre is proud to be VIMFF's first venue when the festival first kicked off over two decades ago. This year, the festival has expanded to 10 locations to accommodate 38 events, featuring mountain film screenings, live multimedia presentations, photography exhibitions, workshops and seminars.
The outdoors beckons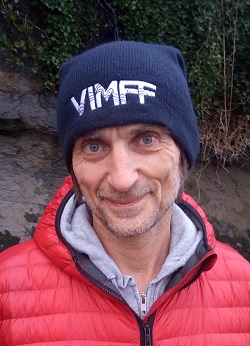 An avid rock climber, skier and mountain biker for over forty years, Alan cannot imagine life without the mountains. He attributes great magic to them, saying, "Everyone needs nature. Being out in the mountains makes you feel open, vulnerable, awed."
His interest in climbing goes back to 1977 in the former Czechoslovakia where he grew up. "It wasn't so popular then – or as safe as it is today," Alan chuckles. "It was considered a crazy thing to do." 
Winter bouldering at Juniper Point in Lighthouse Park, West Vancouver. 
On a sunny day, this small wall acts like a heat collector and can feel warm even in sub-zero temperatures.
In 1992, Alan immigrated to Canada with his family and settled in North Vancouver's Central Lonsdale area. His choice of location was not accidental. The mountains beckoned to him where he continued his love for climbing, skiing and mountain biking. 
Competing with his love for the outdoors is his passion for story, photography and film. When he lived in Europe, he went to mountain festivals there. After he moved to Canada, he would drive nine hours to attend the Banff Mountain Film Festival. Then it hit him: Why doesn't a city by the mountains like Vancouver have its own mountain festival? Why don't I start one?
So, he did.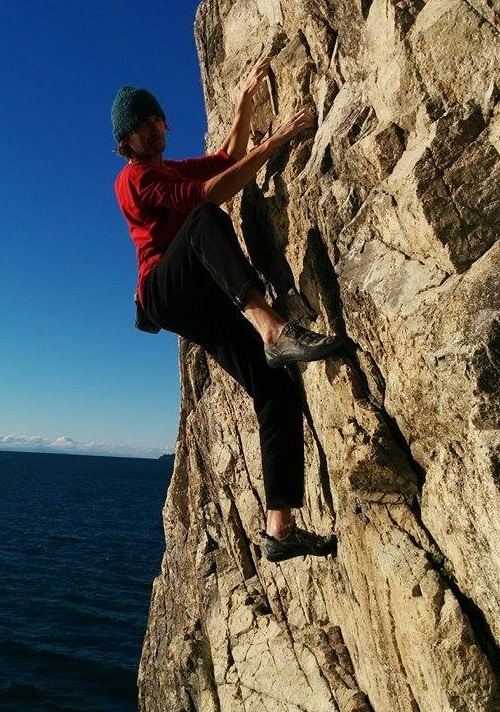 The birth of VIMFF 
Alan knew there were outdoors enthusiasts like him in the city. He had adventured with them. He worked with some of them at Mountain Equipment Co-op (MEC). He had a hunch there would be a ready local audience for mountain films, especially in North Vancouver with its proximity to breathtaking mountains.  
In 1998, Alan, with help from his former wife Anina, MEC colleagues and climber friend Beatrice Winsborrow, started the first VIMFF. The festival was tiny, 5 shows over three days. It lost money. Undaunted, Alan pursued his vision of creating a community mountain festival that would attract international attention and, more importantly, adventurers with stories to tell. 
The second year of the festival broke even. By then Alan was starting to figure out the importance of securing corporate sponsorships and optimizing ticket sales. He remains grateful to his early sponsors – the Edge Climbing Centre (now Climb Base5), MEC and Arc'teryx – as well as to the welcoming venue and staff of Centennial Theatre. 
Alan says Centennial Theatre was the ideal venue to start VIMFF, with its central location, ample seating and parking, and reasonable rental rates. "Centennial is our first home," he says. "It's VIMFF's cradle. It remains our home and one of our main venues today." 
Photo above:  Winter bouldering at Juniper Point in Lighthouse Park, West Vancouver.  On a sunny day, this small wall acts like a heat collector and can feel warm even in sub-zero temperatures.
Growing in new directions 
As VIMFF launches its 23rd festival in2020, there is little doubt it has grown into an international phenomenon attended by elite athletes and general enthusiasts alike. Festival goers love it for its celebration of all things outdoors, which enlighten and entertain audiences of all ages. 
From its humble beginnings, VIMFF has always been driven by people with a passion for sharing stories. Now spread out over ten locations around Vancouver and North Vancouver, it is surprising that the whole thing is run by a group of about thirty people. Alan, however, isn't surprised. He says, "I have amazing people around me. They are very passionate and very competent. This festival attracts the right people."
VIMFF now offers year-round special events too, such as the 5-day Speaker Series every fall plus travelling shows to 100+ communities across Canada, the US, Europe and Asia. Other initiatives include the VIMFF Photography Competition, the VIMFF Arc'teryx Film Grant, the VIMFF Adventure Grant and the Tim Jones Community Achievement Award.
Alan believes VIMFF has a faithful following because, as he says, "People come to be inspired, to see what's possible. People need nature. It's fun to share experiences and meet friends. Film is such a powerful medium to bring experiences alive with its combination of story, music and drama."
A few ideas for the future
Alan is not one to sit on his laurels. When asked if he has plans for the next decade, he laughs and says, "The next hundred years!" 
He believes there is still room to grow the festival. He has ideas to set up a year-round office in Lower Lonsdale, a "core location" where new events can take place, such as guest presenters, special shows or workshops. He also dreams of moving into other neighbourhoods like Kitsilano or areas of Burnaby. "Maybe a mountain book festival to feature all the great adventure writers out there – readings, workshops, maybe even in pubs." His ideas flow quick and thick. It is clear that Alan's enthusiasm for the festival he founded has not waned.  
Festival goers
"VIMFF is not just for the hard-core mountain athlete," says Alan. "It's for anyone interested in inspiring speakers, nature, adventure and gorgeous films."
There are 38 events to choose from this year. From award-winning films and informative presentations to workshops on adventure writing and photography and even a local North Shore adventure mountain run, there is something for almost everyone. 
When asked which events he is most excited by, Alan lets out a long breath. "There are too many."
Get your VIMFF tickets today!
VIMFF runs from February 21 to March 1 this year at Centennial Theatre. The festival kicks off with Opening Night featuring a live presentation from Shelma Jun, the founder of Flash Foxy and the Women's Climbing Festival, plus the best mountain films of the year. Baby is coming home! 
Get your VIMFF tickets early, as shows often sell out. For the full program, click here.
If you cannot make these dates, watch for VIMFF's other year-round special events.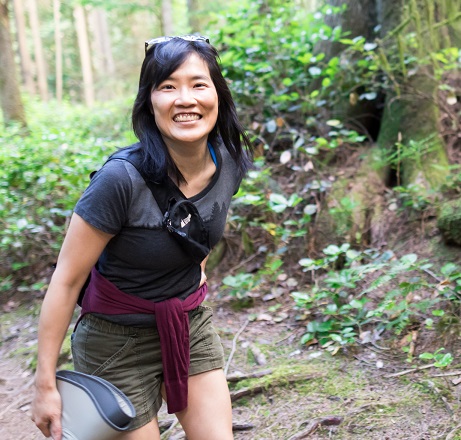 Wiley H.
A long-time North Vancouver resident, Wiley works as a technical writer and is the current newsletter editor for the North Shore Writers' Association. She spends her free time reading, hiking and discovering new things to try at North Vancouver Recreation & Culture!