Having a strong core is more than about having a shapely middle (although that's nice too), it's about building deep strength to support our entire body and improve daily living. NVRC's Pilates Fusion program targets core strength, agility, range of motion and balance, all of which help in everyday activities and injury prevention. In these stressful times, a strong physical core can also bolster inner resiliency. 
Strength from within
As I age, I've been noticing subtle changes to my balance – physically and emotionally. And like everyone living through this difficult moment, I'm struggling to stay strong and positive. I have found the best strategy involves paying attention to my body, mind and spirit.
I know that having a strong core is vital for good posture and fall prevention. I also know that regular exercise and a sense of community help to fortify good mental health. 
When I heard about Pilates Fusion, I signed up for the Tuesday morning course at John Braithwaite Community Centre. I was drawn to the combination of disciplines – Pilates, yoga, and martial arts – in one 60-minute class.
A fortifying and relaxing class
With a beautiful view overlooking the North Vancouver harbour, my class began with gentle Qi Gong breathing exercises (coordinated breathing and moving meditation). With soothing background music playing, our instructor took us through gentle warm-up exercises that included the swaying and wiggling of our limbs. Vibration helps to invite relaxation and letting go. 
We moved fluidly into standing Pilates exercises that included cross-body movements to fire up the core and challenge our balance. We were encouraged to locate and target the deep muscles and connective tissues in our shoulders, back, belly, hips and pelvic floor. With mindfulness, we tightened our core muscles, and breathed.
"If you are looking for six-packs," our instructor joked, "you are in the wrong place. This class is about finding your secret muscles." We all laughed but we knew she's right. With every exercise, our core awakened.
By the time we transitioned to mat exercises, I was connected to my core muscles and focused on slowing down, breathing deeply, and building strength and stamina from the inside out. I was in the moment, deeply in my body, appreciating each breath. 
We finished up with yoga stretches and shavasana (also called Corpse Pose which involves lying on the yoga mat often at the end of a class for relaxation and meditation). As the class packed up to leave, everyone looked more relaxed and buoyant than when we first arrived. Some of the regulars find the class so beneficial they attend twice a week. Judging from how quickly the course fills up (especially right now with limited class sizes), it's a good idea to sign up early. 
Pilates Fusion at NVRC
Pilates Fusion is a cross-discipline class designed for improving core stability and joint mobility. The highly qualified instructors at NVRC blend Pilates mat and standing exercises, Tai Chi and Qi Gong moves, plus yoga stretches. The workout flows from one exercise to the next, incorporating breathwork and inner awareness. 
The many benefits of Pilates Fusion include:
Combines moves from a variety of disciplines to tone and strengthen the body, mind and spirit.
Challenges your muscles in different ways to improve overall conditioning, functional strength, balance, core strength, agility and endurance.
Improves posture and prevents injuries.
Helps to reduce stress and restore inner balance.
Improves self-confidence!
All levels are welcome at NVRC. Variations are provided for different levels of practice. No Pilates experience required. Co-ed, 16+. Bring your own mat. 
This is a registered course with different dates and times available. Book online here or by calling 604-987-7529. 
A safe return to indoor workouts
The NVRC has reopened many of its fitness facilities with health guidelines that continue to evolve with the latest provincial health guidelines. 
New fitness class protocols for public health and safety include:
All fitness classes now require advance booking. 
Anyone feeling unwell must not enter the facility (e.g., fever, chills, sore throat, cough, shortness of breath, headache, new loss of taste or smell).
Pack a full water bottle - water fountains are closed.
Arrive in your workout gear - change rooms and showers are closed (only washrooms are available).
Arrive just before class and leave promptly after class.
Use hand sanitizer (provided) upon entry and exit. Follow safe physical distancing of 2 m apart.
Participants are asked to please wear a mask in common spaces on their way to and from activities.
Answers to frequently asked questions, registration, safety protocols and fitness centre etiquette are available here.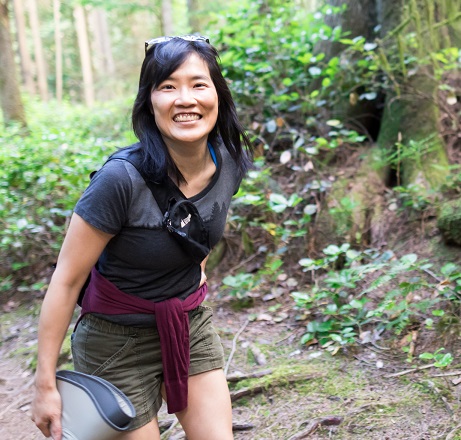 Wiley H.
A long-time North Vancouver resident, Wiley works as a technical writer and is the current newsletter editor for the North Shore Writers' Association. She spends her free time reading, hiking and discovering new things to try at North Vancouver Recreation & Culture!