Fall always feels like New Year's to me.  It's likely connected to going back-to-school as a kid, looking forward to new activities and meeting new friends. The lethargy of those hot August days gives way to a renewed energy once the air turns crisp and the leaves start to turn. I feel like being active again.
This fall I'm giving thought to how I want to approach my fitness routine over the coming months. The pandemic changed my perspective on exercising indoors, so I've spent the past year focusing on outside activities, like hiking and pickleball. 
Now, as activities open up and the rainy season arrives, I'm ready to move indoors again. I'm confident that NVRC has all the appropriate protocols in place, my dilemma is deciding whether I want to go with a book a visit fitness classes, where I can use my NVRC fitness membership and go to as many classes each week as I want or sign-up for a multi-week, registered program.  There are benefits to both.
Maintaining My Routine with Registered Fitness Programs
Continuity appeals to me. I'm more likely to stick with a regular routine if I am familiar with the instructor and other participants.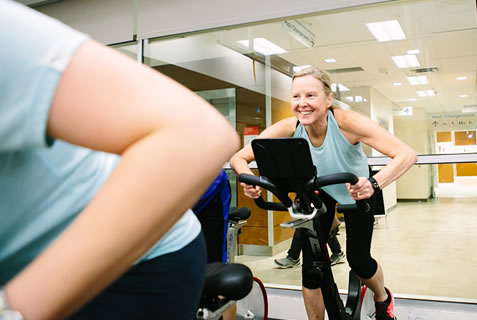 That's the beauty of signing-up for a multi-week Registered Fitness Program at NVRC.  I get to know the people and the routine. I like the sense of community too.
A set day and time means I can plan my schedule around the fitness program, and attending regular sessions means my skill and fitness will progress as I gain improved confidence and understanding of the exercise techniques and routines. 
"Registered fitness programs are great for people who would like to learn a new fitness activity or want to improve in a particular discipline," said NVRC's Fitness and Active Living Supervisor, Janelle Eisler-Carr. "Some classes also require specialized equipment, so having more interaction with the instructor helps with learning the techniques and staying safe."
Book-A-Visit Fitness Classes Provide Variety 
I like the flexibility of Book-A-Visit fitness classes. It's been a while since I've done any kind of fitness class and I'm not sure what kind of activity I want to start with. One of the benefits of doing Book-A-Visit fitness classes is that I can try different activities until I find one I want to stick with. NVRC offers 120+ different fitness classes each week including Cardio (levels 1-3), Stretch/Yoga Fusion, Health Management and Rehab, Spin, Step, Strength/Boot Camp, Aquafit, Masters Swim and Trail Trekkers walks and hikes. With so many times, options and locations for Book-A-Visit fitness classes, I can always find something that suits my schedule. It also fits with my budget. I pay $34.99 per month for my fitness membership and get to take as many fitness classes as I want.
I also like the idea of trying out different instructors. For me, it's important to feel connected and comfortable with the people I'm working- out with. With different styles and music, I like to try different classes.  It doesn't take more than one or two sessions before I know if it's a good fit for me or not.
"Book-A-Visit fitness classes provide a chance for individuals to try-out and find the right fitness class for their personal physical activity goals," said Janelle Eisler-Carr. You can book a visit for fitness classes starting at 9am on the Monday, one week before the session. You can do this online or by calling 604-987-7529.
A combo approach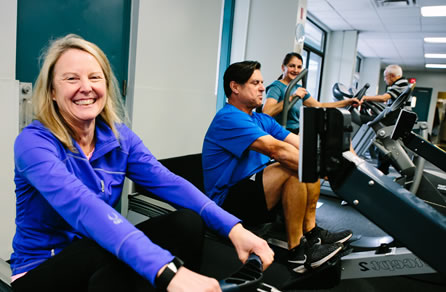 As I consider the many options available for fun and fitness at NVRC, I've decided that I don't need to decide. I can do it all. My plan is to book a Muscle Fusion Class, because I've done it before and really like the workout. I will also do Book-A-Visit spin classes when I have time. If I decide this works well for me, I can sign-up for a multi-week registered fitness program later if I want.
I appreciate the flexibility of my NVRC membership and the confidence knowing I can focus on fitness in a safe and welcoming environment.  For me, feeling comfortable is the first step in any fitness routine.
P.S. My fitness membership also gives me unlimited access to fitness centres, public swim and skates, lane swimming and squash and racquetball court bookings. So I'll never be bored!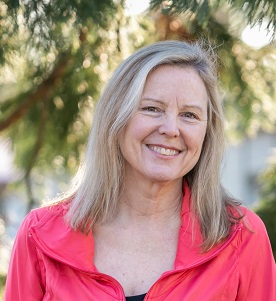 Michelle Perrault
A North Shore girl at heart, Michelle has fond memories of Saturday night skates at the NVRC ice rink (now Harry Jerome) and swimming lessons at William Griffin (now Delbrook) pool. More recently, she enjoys hiking and biking the trails of Mount Fromme and the Seymour watershed. She lives in Lynn Valley with her two adult children, two dogs and wonderful friends and neighbours.