Paul Thompson is a regular at Harry Jerome pool, but you have to get there early to catch him at it.  He starts at 6:00am, swimming in the Masters Program at Harry Jerome Pool.  Paul feels swimming helps keep him healthy, strong and mentally sharp.  
 "Any form of exercise offers health benefits," Paul said.  "I like swimming because it is low impact and aerobic and you come out feeling refreshed."
Now sixty-five, Paul has been swimming since he was a child.  He passed on his love of the sport to his children and his eldest daughter Katie shares his passion for the pool.  She was the one who suggested he join her in the morning Masters Swim Program.  
"Swimming is a great way for us to connect," he said.  "We often go for coffee afterwards."
On days when he can't go to the Masters swim, Paul stops by the Delbrook pool to swim laps on his way home from work.  He enjoys the social aspects of swimming as well as the physical benefits and finds it a great way to unwind after a challenging day as an orthopaedic surgeon.  He speaks highly of the NVRC aquatic staff and has appreciated the opportunity to meet other swimmers, learn about their backgrounds and motivation for hitting the pool.
"People swim Masters for many reasons.  Some want to improve their skills, some are training for upcoming competitions, and the majority of us enjoy it for the group fitness experience," Paul explained.  "Our coach Khosro is amazing.  He adapts his approach to support different skill levels and coaches us all to improve. I have found all the NVRC aquatic staff to be great."  
Paul appreciates the flexible schedules and variety of programs available through NVRC facilities.  He feels swimming is an inclusive activity that is good for all ages and abilities and appreciates the great job NVRC staff do to make everyone feel welcome and safe.
Chlorine Memories and Mermaid Mirth
Judy McTaggart swims for fun and fitness
The smell of chlorine conjures up great memories for Judy McTaggart (pictured below), who has been swimming for most of her sixty-one years.  She grew up in the East Kootenays and spent most of her summer days at the local outdoor pool.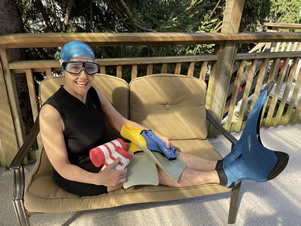 "We didn't have goggles back then," Judy said.  "After swimming, my eyes would burn from the chlorine.  My mother would take me home, put a cold cloth over them and make me hot chocolate.  That's a good memory for me."
A recent retiree, Judy has been a regular at Delbrook Pool since March.  She lives close to the recreation facility and often rides her bike there.  With the change rooms closed due to COVID, this means riding home in her wet bathing suit, which doesn't seem to bother her.
"Good thing it's only ten minutes," she laughs.  
Judy loves the rhythm of the front crawl and butterfly strokes and appreciates the peace and quiet of the pool.  Many know her as the "Mermaid Lady" due to the large mono-fin she often swims with for fun.
"I thought the mermaid fin would be a fun way to change things up during COVID," Judy said.  "It certainly gets attention.  I usually only wear it for a few lengths, but it feels great.  Some days I can do a full length underwater."
Judy highly recommends the pool for anyone wanting to get active.  She likes the NVRC online booking system and feels it motivates her to keep coming back.
"There are so many ways to enjoy the water," Judy explains.  "At Delbrook there is the little river where you can just walk against the resistance of the water, or there is the slow lane where I see people do water running.  There is something for everyone, you just need to get started."
While Judy swims regularly for fun and exercise, the pool is so much more than that for her.  "I like the workout, the smells and the peacefulness under water.  I always feel refreshed and rejuvenated when I get out of the pool."
Swimming and Socializing 
Ron Andrews Pool has it all for Shirley Macdonald
Ninety-year-old Shirley Macdonald has been swimming at Ron Andrews Pool since it opened in 1975.  Before that, she swam in Deep Cove.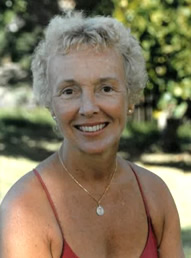 Shirley really likes to swim. 
"I love swimming," she said.  It's great exercise and gentle movement.  I also love talking to the lifeguards and other swimmers."
Monday to Friday Shirley starts her day with an early morning swim.  Her favourite stroke is back stroke but she also likes sidestroke and breast stroke.  She swims 20 lengths each day, and every fifth length is backstroke.
When the pool was shutdown in March 2020 due to COVID-19, Shirley walked and swam at Cates Park.  She's always loved swimming in the ocean and was a member of the Vancouver Water Ski Club many years ago.
"Swimming and watersports have been a big part of my life," Shirley said.  "My own children learned to swim at Harry Jerome Pool."
She was thrilled when Ron Andrews opened again in September 2020 and she could get back to her old routine.  "I felt very safe," she said.  "Everything was sanitized and I had no concerns related to COVID.  It didn't bother me to have to shower and change on the pool deck because the change rooms were closed.  It was just nice to be socializing again after being isolated for so long."
Shirley is very grateful to all the staff for their hard work to keep the pool safe, clean and open.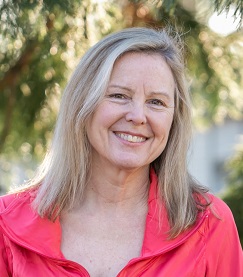 Michelle Perrault
A North Shore girl at heart, Michelle has fond memories of Saturday night skates at the NVRC ice rink (now Harry Jerome) and swimming lessons at William Griffin (now Delbrook) pool. More recently, she enjoys hiking and biking the trails of Mount Fromme and the Seymour watershed. She lives in Lynn Valley with her two adult children, two dogs and wonderful friends and neighbours.