From a small detail adorning a retaining wall on a private lot, to the full-on magnificence of a mural beautifying a building at Capilano University, I have new appreciation for public art in our community.  According to my friend Tammy Mulder, there is beauty everywhere.  All you have to do is look.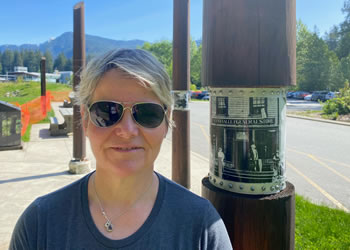 "During COVID I decided to explore different neighbourhoods on my walks to and from work each day, Tammy said.  "I discovered art all over the place.  It's amazing how much creativity there is on display in our community."
Tammy is a nurse at Lions Gate Hospital, currently working as a discharge care coordinator in the Emergency Department.  Like most frontline health care workers, Tammy's days are long and stressful as she tries to get people out of the hospital as quickly as possible and make sure they have the support they need in the community.
"It's full-on all day at work," she said.  I need the walk home to unwind.  I live in Lynn Valley and try to take different routes each day.  The art I encounter is so uplifting.  By the time I'm home the stress of the day is gone."
Encouraging exploration
Tammy started to photograph the art she encountered and posted it on Instagram to share with her friends.  She wanted to help others benefit from the beauty in our community, and perhaps inspire them to get out and see for themselves.  She has shared images of public art in community spaces, whimsical art, in private gardens and alleyways, and mysterious art that moves around, showing up unexpectedly in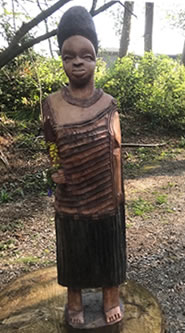 new locations.  One of her favourite pieces is a wood sculpture of a black woman.  Tammy has encountered her in many different places, most recently near Brooksbank School.
"I never know what I might find.  That's part of the fun," Tammy said.  "These are such difficult times.  I hope the photos I share inspire others to seek out the beauty in our community. It's also a great reason to get out for a walk and explore new neighbourhoods."
All Kinds of Art on the North Shore
North Vancouver Recreation and Culture has information and resources on its website to make it easy to experience the wide variety of public art on the North Shore.  This includes information on North Vancouver's Public Art Program, which is committed to creating and maintaining art that is free and accessible for all.  
Original, one-of-a-kind art pieces reflect North Vancouver's unique culture, heritage and natural environment.  These are categorized in three program streams:  Civic – which incorporates public art into municipal buildings, parks and infrastructure projects; Developer – which incorporates works of art into exterior architectural features, landscape elements and public spaces; and Community Public Art – aimed at encouraging community participation for small-scale permanent or temporary public art projects.
Another amazing resource for those interested in arts and culture in our community is North Van Arts, founded in 1969 as the North Vancouver Community Arts Council.  This grassroots organization is committed to enabling emerging and professional artists in all disciplines.  
Among the wealth of information available on their website, North Van Arts has also created the North Shore Culture Compass, in collaboration with the City of North Vancouver, the District of North Vancouver, the District of West Vancouver, the Squamish Nation and the Tsleil-Waututh Nation. This amazing online resource provides locations and information to enable residents and visitors to connect with the artists, heritage and stories that make the North Shore so vibrant.
Culture and Cardio
As Tammy has demonstrated through the photos she shares, we are so fortunate to live in a such an amazing area.  Our natural setting, along with the wide range of free public art, located across the North Shore, provides a great reason to get out and get active while experiencing the creativity and culture that makes our community unique.
Check out the online resources below, then pick your route to walk, hike, run or ride to discover the art and beauty on the North Shore. 
North Vancouver 's public art collection
Self-guided public art tours
North Vancouver's downloadable public art map for your smartphone
Culture Compass North & West Vancouver Public Art + all things cultural on the North Shore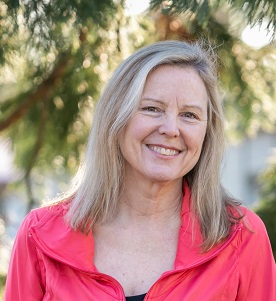 Michelle Perrault
A North Shore girl at heart, Michelle has fond memories of Saturday night skates at the NVRC ice rink (now Harry Jerome) and swimming lessons at William Griffin (now Delbrook) pool. More recently, she enjoys hiking and biking the trails of Mount Fromme and the Seymour watershed. She lives in Lynn Valley with her two adult children, two dogs and wonderful friends and neighbours.