Combining dance, pilates and yoga moves into an intense, no-impact workout 
Barre studios have been cropping up all over town, as more people are discovering the hot new workout that combines elements of ballet, yoga and core conditioning to sculpt and tone the body. Curious to see what all the fuss is about, I went to check out a class at John Braithwaite Community Recreation Centre.
What is barre class?
Barre fitness is inspired by ballet, pilates and yoga. Exercises borrow heavily from all three disciplines. A ballet "barre" is used during class to help students stretch, reach, lift and balance. 
 
Barre fitness classes have been aptly described as "hard on muscles, kind on joints".
Barre fitness at John Braithwaite Community Centre
Walking into the dance studio at John Braithwaite is always an uplifting affair. Natural light always seems to be shining in from the south-facing windows to light up the honey-coloured wood floors and brighten the mirror-lined walls. 
 
The class I dropped into was a Monday night class. Being a newbie, I introduced myself and immediately fessed up that I have no background in dance. 
"That's absolutely no problem!" came the encouraging reply from the instructor. A class participant who was sharing the same portable, adjustable barre with me added, "You don't need any dance experience to follow along."
Everyone picked up a pair of small weights (2 to 3 pounds), a small ball, mat and sliders. Shoes are not needed unless you have foot stability issues. Most of us were barefoot or in grippy socks.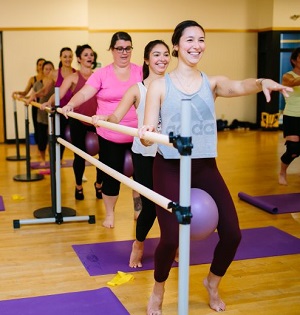 When music filled the room, our instructor led the class was through an easy warmup of pliés (gentle squats), curtsies, leg lifts, and arm raises using the small weights. Gradually, we built up reps, moving in all directions with each exercise. We got deep into the leg and buttock muscles, as we balanced, pushed and lifted. The free weights challenged our coordination with exercises that targeted biceps, triceps, chest and back muscles. Our class finished with floor exercises on the mat that incorporated pilates-type resistance movements and yoga stretches.
By the end of the hour, all the muscles in my body, especially the deep core ones, had gotten a thorough going over. Leaving the class, I felt taller, stronger and mysteriously confident. And, who doesn't love that?
Benefits of barre workouts
The literature on barre workouts extol many health and fitness benefits, including:
Increased strength, definition and balance – muscle groups are targeted from all angles in barre class exercises which also use weights and high reps. Isometric contractions involved in the micro-movements using small weights enable you to hold a posture and benefit from continuously engaging the muscles.
Improved flexibility – the stretching exercises help to improve overall range of motion for everyday tasks and help reduce risk of injury
Better posture – core muscles are engaged throughout the entire class
Combines strength training and cardio – burn fat and build muscle at the same tie
Weight loss – exercises targets large muscle groups like thighs and glutes, which burn more calories and raise your metabolic rate
Increase bone health – as muscles get stronger, the constant tension and resistance help strengthen bones and ward off osteoporosis 
Great complement to high-impact activities like running – all exercises are no-impact 
NVRC barre programs 
Private barre studio memberships can get pretty costly. Fortunately, NVRC offers reasonably priced programs as part of its commitment to making fitness and recreation accessible to everyone in our community. 
New classes start in September (2019) at the John Braithwaite Community Centre.  There are still spots left in the
Friday morning program
10:00-11:30am at John Braithwaite Community Centre. All fitness levels welcome!   Register soon to avoid disappointment.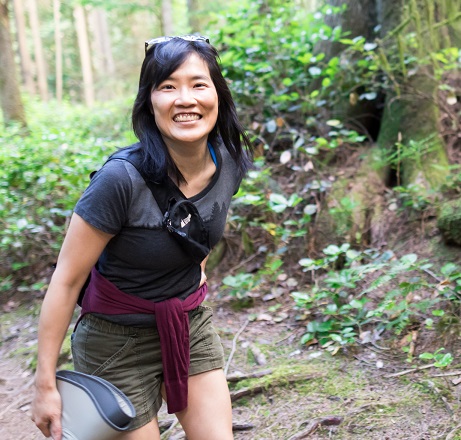 Wiley H.
Wiley is a long-time North Vancouver resident. She works as a technical writer and is the current newsletter editor for the North Shore Writers' Association. She spends her free time feeding her twin passions of creative writing and hiking. She recently discovered a potential third passion - the pottery studio at the Delbrook Community Recreation Centre.