Disclaimer: I am not a mental health professional. This piece is based on my experience, but one I feel is hardly unique. I write in the hope of reaching others who might also be feeling blue and in need of some help to get back on our feet. If you are experiencing severe physical or mental health challenges, please contact your doctor or reach out to one of the resources listed at the end of this blog.
This blog goes out to anyone feeling blue this holiday season. You are not alone – far from. These are tough times for just about everyone, as we struggle through natural disasters, missing loved ones, an ongoing pandemic and the human and inhuman toll it has taken on the world. If you are feeling under the weather, here are a few self-care tips that might help get you through.
Feeling less than festive
I've been told I have a happy disposition. My friends and family characterize me as "cheerful" or "good-natured." At this time of the year when the holiday lights are twinkling and there is goodwill in the air, I usually feel pretty good. But not this year.
Recently, I lost a beloved parent. On top of personal grief, I feel besieged by news of daily disasters and tragedies. I have been feeling low, slow, and not ready to celebrate the holidays. I know I'm not alone. The bright lights and holiday cheer can feel jarring to those of us who have experienced loss around the holidays. As well, the world has changed in ways that can feel catastrophic and out of control. There is a collective sense of loss and grief, so that it feels disingenuous to say "Look on the bright side of things." What bright side? 
It turns out the bright side largely depends on us.
For weeks, I have been experiencing what could be called the "holiday blues," such as:
Feeling out of step with the season – not feeling festive or celebratory
Sleep problems – not sleeping deeply and waking up tired
Appetite changes – not feeling hungry or overeating
Drinking too much and engaging in distracting activities to numb feelings
Avoiding social situations – ignoring social events and hiding at home
After a month or more of feeling sad and lethargic, then low and more lethargic, I recognize the need to break this negative loop or risk having it become my new baseline. Slowly, bit by bit, I have been practicing mindfulness and climbing back up – and returning to the bright beauty that still sparkles all around. 
Tips for self-care
There is no one magical cure to lift ourselves out of grief. Instead, what's helped me has been quiet reflection, spending one-on-one time with people who matter to me, and turning my focus back to the things that bring me joy and balance. 
Here are some ideas that I hope will resonate for you:
Acknowledge and accept
The first step is always to acknowledge and accept where you are without undue judgment. Realize that grieving is a non-linear process and that good mental health is a lifelong challenge.
Gratitude 
Reflect on all the positives in your life every day. For me, I am grateful to live in a safe country, to have a dry roof over my head, for family and true friends, and for the front-line workers who brave danger and difficulty to bring us emergency and essential services and smiles. 
Crying is cathartic
A good cry can release a lot of stress, sadness and anguish. "Tears don't mean you're weak; they mean you've been strong for too long." – Unknown
Limit alcohol 
Alcohol is a depressant and can magnify negative feelings and interfere with deep sleep. 
Sleep well  
Turn off screens one hour before bed and go to bed at the same time every night. 
Eat well  
While it's fun to indulge in holiday goodies, remember your body needs good nutrition and fiber to feel good.
Daily walk 
Exercise elevates mood and tires out the body for good sleep. Bundle up and go for a walk every day. Take in the fresh air and notice the care of your neigbhours to decorate their homes.
Community
Sometimes all it takes is a wave to a stranger and a wave back to remember we are all in this together. Talk to your neighbours. Call a friend or family member – near or far – and share your day, your experiences, your humanity.
Novelty
Be curious. Learn a new language. Pick up a new book. Our local public library has amazing free resources (see my previous blog: Love Your Public Library). 

Find a new activity for some unexpected fun and surprise. The NVRC is an excellent resource to find your next passion – from dance and fitness, to visual arts and music. View the drop-ins and registered program available at NVRC.

Get help when you need it
It's okay to feel blue from time to time, but if it's all the time you may need professional help. Remember that depression will affect 1 in 5 Canadians in their lifetimes, and is nothing to be ashamed of. 

If you are in deep distress, please reach out for help. There are 24/7 services in our community:
•    Youth ages 12-24 and their caregivers
•    All ages
To my beloved community, I wish you a safe and colourful holiday season. For anyone feeling like me right now, keep in mind that blue is a beautiful colour but it is only one of the colours in a rainbow. Hang in there. You are not alone.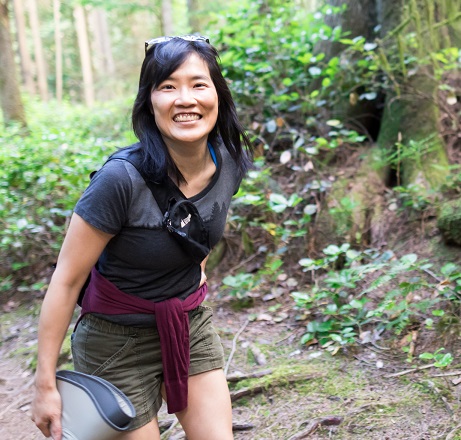 Wiley Ho.
A long-time North Vancouver resident, Wiley works as a technical writer and is the current newsletter editor for the North Shore Writers' Association. She spends her free time reading, hiking and discovering new things to try at North Vancouver Recreation & Culture!