What is the true history of this country? And, once we understand it, how do we move towards reconciliation? These are valuable questions to keep top of mind for the new National Day for Truth and Reconciliation on September 30. Read on for resources on how to mark this important day.
"Reconciliation is about forging and maintaining respectful relationships. 
There are no shortcuts." – Justice Murray Sinclair
National Day for Truth and Reconciliation 
September 30 has been known as Orange Shirt Day. The inspiration for the day is based on the experience of the campaign's founder Phyllis Jack Webstad from the Stswecem'c Xgat'tem First Nation (Canoe Creek Indian Band). In 1973, at six years old Phyllis went to a residential school in Williams Lake, BC. Her clothes were immediately and permanently taken away from her, including a new orange shirt her grandmother had given her. The orange shirt has come to symbolize how the residential school system has stripped away the Indigenous identities of its students.
Over the course of more than a century, some 150,000 Indigenous children were taken from their families and forced to attend church-run residential schools, where many suffered physical and sexual abuse, malnutrition and neglect. More than 4,000 children are believed to have died. The recent discovery of unmarked graves on the sites of former residential schools provides a stark reminder of the devastating impacts of the residential school system, which reverberate through generations and communities throughout this country today. 
This summer, the federal government announced September 30 as the new national day to commemorate the history of Canada's residential schools and to honour the children who were lost, the survivors, families and communities who continue to grieve. The creation of this new national statutory day responds to Call to Action #80 from Canada's Truth and Reconciliation Commission, which recommends a statutory holiday to "honour Survivors, their families, and communities, and ensure that public commemoration of the history and legacy of residential schools remains a vital component of the reconciliation process."
Many public services will remain open on September 30 but at reduced levels. Most schools and Crown corporations will be closed. New ways to commemorate this new national day are still being worked out, as different levels of government work with Indigenous leaders and communities. Meanwhile, the day provides a space for every individual to reflect on how we can advance our own understanding of Canada's true history and how to move forward. 
NVRC's commitment to Truth and Reconciliation 
Deeply committed to the value of inclusivity in its mission to build healthy individuals, families and communities, North Vancouver Recreation & Culture (NVRC) honours First Nations, Métis, and Inuit peoples and acknowledges its privilege to operate on the unceded territories of the Coast Salish Peoples and the sḵwx̱wú7mesh (Squamish) and sel̓íl̓witulh (Tsleil-Waututh) Nations. 
NVRC is encouraging everyone to mark the National Day for Truth and Reconciliation by learning about the intergenerational impacts of residential schools and colonization on First Nations, Métis and Inuit peoples. NVRC will be honouring the day by operating with reduced levels of programming and reduced hours which is consistent with all other statutory holidays.  NVRC is also committed to providing resources and education opportunities to staff and community members and will be offering orange ribbons to staff and customers to wear. 
NVRC programming staff are also engaging children in art programs to create special hearts with messages of support and love to honour First Nations, Metis and Inuit peoples. These hearts will be laminated and placed in NVRC facility gardens, along pathways and on facility windows to acknowledge National Truth and Reconciliation Day.
This year NVRC is presenting a number of Indigenous-led workshops for staff and providing staff with links to resources regarding Indigenous histories, cultures, and Truth and Reconciliation. 
Personal commitment
As a first-generation immigrant living on the unceded territories of the sḵwx̱wú7mesh (Squamish) and sel̓íl̓witulh (Tsleil-Waututh) Nations, I sometimes feel unsettled. Grateful on the one hand, guilty on the other. These are common and natural feelings in our current discourse – still at the beginning of the Truth and Reconciliation process. It is a long and challenging process to be sure, but one I believe is vital for community healing and belonging, so that we may all one day live in a truly inclusive community. 
How to proceed? It begins with personal reflection and continual practice. Truth and Reconciliation requires learning, unlearning, and listening with humility. In particular, it is vital that settlers or non-Indigenous peoples undertake this work with open hearts and minds. We need to do our homework and engage in challenging and sometimes uncomfortable conversations. That is how we advance our understanding and empathy. This can be hard work because it involves emotional labour, so let's remember to be compassionate with ourselves and each other as we journey towards Truth and Reconciliation.
Free resources for learning
Here are a few helpful resources for learning more about Indigenous peoples and Truth and Reconciliation.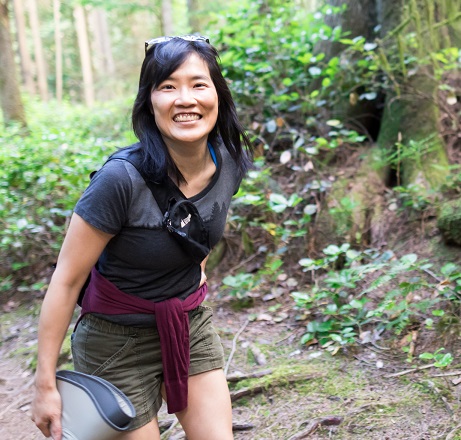 Wiley Ho.
A long-time North Vancouver resident, Wiley works as a technical writer and is the current newsletter editor for the North Shore Writers' Association. She spends her free time reading, hiking and discovering new things to try at North Vancouver Recreation & Culture!