As the world navigates through a global pandemic, we are experiencing a collective sense of loss and increasing fatigue. We are depleted right now. Hope is on the horizon, but how do we replenish ourselves to keep going? Play, it turns out, is an important way to restore our energy and sense of wonder. Here are some tips to (re)introduce play and bring lightness back into our lives.
Why we're feeling so exhausted
It's a major understatement to say 2020 has been a tough year. Ongoing stress due to the global pandemic is depleting our "surge capacities", the buffer of extra energy that we need in times of emergency. As the pandemic drags on month after month, many of us are experiencing classic symptoms of burnout – anxiety, irritability, depression. We are missing our former way of life, especially our ability to connect to family, friends and community (our support system). Psychologists have termed this missing and longing for our previous way of living "ambiguous grief." 
More than ever, we need to be kind to ourselves and to find ways to replenish our energies so we can keep going. So, how do we do this?
First, we must accept ourselves and the current situation without blame, because we have no roadmap for what we are all going through. We need to be compassionate with ourselves and with each other. We can practice gratitude, eat well, exercise regularly, and sleep enough. 
Also, play. 
Why play is needed more than ever
"Those who rarely play become brittle in the face of stress or lose the healing capacity for humor." - Stuart Brown, MD.
Research shows that unstructured play, which is defined as spending time doing something you enjoy, without a schedule or need to be productive, is critical to how we restore our energy, resiliency, and creativity. It is also how we fight depression and stress-related illnesses. Play improves our mood, immune function, and personal relationships. 
For busy people, unstructured play might feel like a waste of time. Paradoxically, the research shows, after periods of unstructured play, we have more energy and feel more positive and creative in our daily lives. 
Unstructured play for kids
A lot has been written about the benefits of unstructured play for children, including physical literacy and self-confidence. Here is a link to two previous blogs on The Value of Unstructured Play and Leaving them to it.
Unstructured play for grown-up kids
No matter our current age, we are all kids at heart. As part of our self-care kit, it is essential for us to incorporate play into our days. Play invites levity, joy and light back into our lives. 
Play comes in many variations and it depends on personal interest. A good starting point is to ask yourself: What activity brings me real joy? Honour that and you will find play. 
Here are a just a few ideas to cultivate play:
Daydream – this can also be called recharging the imagination. Turn off your devices. Gaze out the window. Drift. Notice.
Dance – Clear a space in your living room, bedroom, den … and start your favourite playlist. Shake and move and wiggle. Dance to please only yourself.
Doodle – you don't need to be an artist. Let your mind and pencil wander. Here is a wonderful story on the power of a daily doodle practice: Drawing on the good, even in bad times (CBC News).
Go on an aimless walk – no agenda, no destination. Just one foot in front of the other. Smell. Listen. Appreciate. 
Sit by a tree – this is also called forest bathing and is very calming for the nervous system. Sit in a forest or by a single tree. Notice your surroundings. 
Play with your food – skip the recipes and create a new dish from scratch. Trust your instincts and skills!
Be bored – research show big benefits to boredom, including a break for our frequently over-stimulated nervous system. Boredom stimulates natural curiosity and creativity. Yoga and relaxation techniques don't count! To tap into true boredom, do something that requires no concentration (e.g. sit with your eyes closed, swim laps, walk a familiar route) and let your mind wander. 
Play with your pet or watch an animal – animals are spontaneous and surprising.
Do what you love – Immerse yourself in what you love. Forget about being productive or goal-oriented. Lose track of time.
Play is a very important aspect of mental health, especially now. As the darker months of winter loom ahead, we need to find ways to recharge our energy. Play is a natural resource and endlessly renewing. Be silly. Be bored. Be playful. The light will return again. 
Sources:
Elemental: Your Surge Capacity is Depleted - It's why you feel awful
The National Institute for Play 
Interview with Dr. Stuart Brown on the power of play
Time magazine: Benefits of Boredom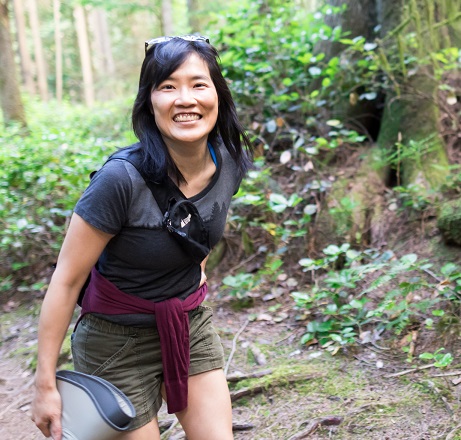 Wiley Ho.
A long-time North Vancouver resident, Wiley works as a technical writer and is the current newsletter editor for the North Shore Writers' Association. She spends her free time reading, hiking and discovering new things to try at North Vancouver Recreation & Culture!