Stories from our community.
Bette Davis once said: "Getting old ain't for sissies." Well if she were still alive today I think the Hollywood star would agree neither is social distancing.  Just ask 86 year-old Delji Dimock who is spending time each day reaching out to seniors living in isolation since the COVID-19 crisis began.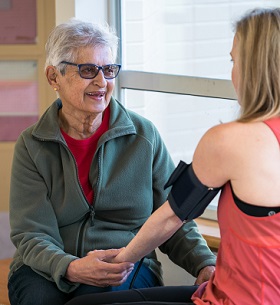 Delji (pictured on left) is one of several volunteers who are calling members of the Lynn Valley Seniors' Association to see how they are faring during these difficult times.
"For the most part people seem to be managing okay, although there are a few who are quite frightened," Delji said.  "Technology helps. Many are FaceTiming or Skyping with family and connecting online with friends.  One woman said she's watching animal videos to cheer her up, another went out on her balcony to play the flute and thinks she heard someone across the way playing Oh Canada on the trumpet."
While each of the seniors Delji calls all have their own approach and preference to coping with their voluntary self-isolation, they all agree that it's necessary.  "No one wants to get sick," she explained.
No time to take chances
Delji has been a member of the Lynn Valley Seniors' Association since 2003, where she attends events and activities based at Mollie Nye house on Lynn Valley Road.  The association has more than 150 members, who come together to walk, stretch, eat, sew, and a variety of other organized activities, including bus trips.  Since the order for social distancing was issued in March, most of them are confined to their homes and all the activities that brought them together have been cancelled.
"It's hard not knowing how long this is going to last, but no one wants to take any chances," Delji said.  "Some people are doing their own exercises at home to stay fit, others are going for walks by themselves.  Their adult children are dropping off groceries on the doorstep and then leaving.  It can be quite lonely for some.  That's why I like to call and check in."
Work-life balance?
Of course, elders aren't the only ones struggling with social distancing.  Just ask any parent, now working at home alongside young children.  With school cancelled, parks closed and the inability to have play dates with other children, life can be a little crazy.  With my own children grown, I take perverse pleasure watching these innovative adults come-up with strategies to keep their kids happy while attempting to maintain their own sanity.
One of my favourites is Kait Lilley (pictured above with her kids), who has four kids under the age of 13. Nothing seems to phase her, and the kids seem to be pretty content so far (although I heard a suspicious wail coming from inside the bike trailer where her youngest was safely enclosed while Kaitlin peddled them both up the street, as the other kids rode alongside.)  Every day I see Kait and her crew as they head out on their bikes and other adventures.
"This time is such a strange mix of wonderful and painful," said Kait.  "We are beyond exhausted, but somehow when it's just us six, we are discovering new depths of love and grace for each other. We appreciate the simple things more. And if we get outside every day, appreciate what we do have, and breathe in the fresh air we can do the hard things" 
Another local mum caught my attention recently when I saw her out early one morning, crouched down on the sidewalk.  Curious, I went out to see what she was up to and discovered a beautiful shamrock, drawn with sidewalk chalk.  An arrow pointed down the street and before long I realized I was being led on a beautiful "Shamrock Walk" through the neighbourhood, ending with a colourful rainbow and a pot of gold, drawn on her driveway.  When asked, she said she wanted to do something fun and encourage kids to go for a walk with their parents.  It worked – there were kids and parents walking past the house all day, following those shamrocks and enjoying the sunshine.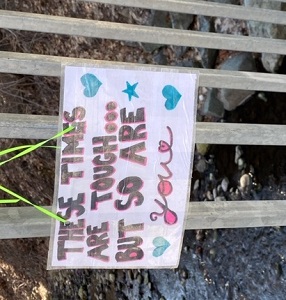 It's the little things
I also appreciate messages of encouragement posted in windows and other places, that I notice on my daily walks.  A friend sent me photos of a footbridge in her neighbourhood where kids had put up posters to inspire passersby to stay the course.  These colourful signs promoted positivity, a welcome change to the worry that surrounds us all. They included: "You Can Do This", Take a Deep Breath," and my personal favourite:  "Dude, Just Chill!"
I'm sure everyone has moments of melancholy as we maintain a safe distance from people who are important to us.  I have been known to rush out onto my back deck when I see a friend or neighbour walking by – hollering hello, desperate for a brief connection as they pass by.  Later, when I glance in the mirror, I am especially grateful for the physical distance of these interactions.  Limited social contact has clearly reduced the attention I give to my personal grooming (good from far, far from good, as my father used to say). 
All too often these interactions focus on only one topic of discussion – COVID-19.  What a shame to waste an opportunity to connect by obsessing on the reason for our isolation.  While it is completely understandable, I am aware of how it contributes to my anxiety.  So, after one of these "COVID conversations" with my aunt one evening, we decided to try and bring something new and uplifting to our daily chats.
At first I found this difficult, I rarely leave home so any new material needs to be close at hand.  However, when I started to pay attention, I realized there were bright spots in every day and I didn't even have to look that hard.  This is when I started to notice the shamrocks and the laughing children, and to learn about the good work my neighbour Delji is doing to reach out to others, and even find joy in washing my hair and donning a clean pair of jeans.
But, my favourite time of the day is 7:00pm.  It's when I'm reminded again that I'm not alone, and that I have so much to be grateful for.  The banging of pots and pans tells me my neighbours are close and we are united in our appreciation for everyone who works in health care, grocery stores, emergency services, law enforcement and all the other essential services that are keeping our crazy world going these days. Not a sissy among them.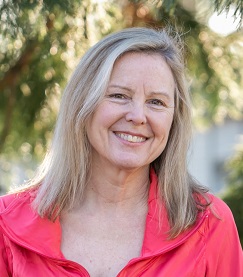 Michelle Perrault
A North Shore girl at heart, Michelle has fond memories of Saturday night skates at the NVRC ice rink (now Harry Jerome) and swimming lessons at William Griffin (now Delbrook) pool. More recently, she enjoys hiking and biking the trails of Mount Fromme and the Seymour watershed. She lives in Lynn Valley with her two adult children, two dogs and wonderful friends and neighbours.