How exercising with my daughter improved my fitness and my spirits.
My 22-year-old daughter and I were at an activity impasse.  We knew we needed to do something, preferably an activity that did not involve Netflix, junk food or alcohol.  As we emerged from a year of family tragedy we were spending too much time on the couch in front of the TV, at the kitchen island eating and/or drinking and in our rooms on our iPads.  We needed to get moving but wanted something we could do together.  We needed each other as much as we needed exercise.
What to do
Snow covered the ground of our Lynn Valley neighbourhood, so walking was out of the question. While we rationalized the benefits of waiting until spring, a friend dropped by with a NVRC leisure guide.  "Do you want to sign-up for something?" I asked my daughter, nodding at the guide offering hundreds of options to get us out of the house.  "Sure," she responded.  "Preferably something with lots of cardio and no talking."  I agreed. Talking could be exhausting. So we signed up for a Spin class.
We were joined by two friends, both of whom were also looking for something to do.  We all enrolled in a Tuesday night Spin/Core class at Delbrook Community Recreation Centre.  
The first class
I walked into the first class with significant anxiety, climbed onto a bike and looked blankly at our bubbly instructor, Christine.  "First time spinning?" She asked.  I nodded, embarrassed that my lack of experience was already evident.  "Let me show you how to set-up the bike."  And just like that, I was a spinner.  
I didn't always love the music, and there were many times when it felt like too much work, but I'd look over at my beautiful daughter and be inspired.  We were in this together and if she could keep spinning without complaint then I could bloody well keep on peddling.  Ok, sometimes I'd sneak the tension down a little on my bike.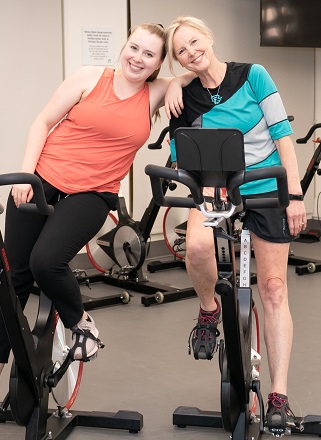 Our buddy system
The "buddy system" worked wonders for our motivation.  When one of us was starting to waffle, drawn more to the couch and a cozy blanket than an hour of spinning, the other would offer encouragement. 
"Come on mum, it will give you an excuse to shower later," Cassie would laugh, reminding me that my personal hygiene had taken a bit of a nose dive along with my spirits. "Come on Cassie," I'd tease the following week as she came home after a tiring day at work.  You can take out your frustrations on the bike instead of me tonight."  You can see where not talking in class worked well for us.
Within a few weeks we stopped coming up with excuses and focused on how many more "K's" we would ride this week, what level we would bump the bike up to, or the benefits of bar over ball when it came to the post-ride core strengthening.  Our friends joined in the banter as we all carpooled together each week and it became a social outing as well as exercise.
Enjoying the benefits
Spin class offered us benefits on many levels.  It got us out of the house, gave us something to share, other than grief, and provided a physical outlet that helped strengthen us inside and out.  Our friends enjoyed it as well and we all felt better after class.  Later, when we were home, showered and ready to relax, we didn't feel guilty flaking out on the couch, watching a show and sharing a snack.  We'd earned it.
With our fitness and spirits improving, we both felt a little more in control of our lives.  When the first session ended we signed-up for the next one.  We both agreed that spinning was a great way for us to spend healthy time together.  
View more information on NVRC spin classes and other fitness programs.
Michelle Perrault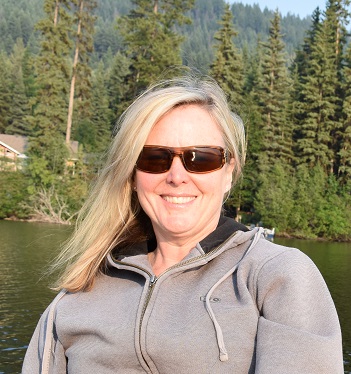 A North Shore girl at heart, Michelle has fond memories of Saturday night skates at the NVRC ice rink (now Harry Jerome) and swimming lessons at William Griffin (now Delbrook) pool. More recently, she enjoys hiking and biking the trails of Mount Fromme and the Seymour watershed. She lives in Lynn Valley with her two adult children, two dogs and wonderful friends and neighbours.