The holiday season leaves me longing for the past – people, traditions and activities that brought joy and comfort. This year, I'm not only missing those special people who are no longer here, but I'm also sadly aware of those who are, but must remain distant due to COVID-19.
So, as I often do in times of sadness or stress, I turn to food.  Recipes in particular.  I pulled out my favourites, some in cookbooks handed down from my dad, others collected over the years and shoved into folders and binders. 
As I flipped through the books and pieces of paper I realized that many of the people I was missing were hidden in the pages.  Some were scrawled into margins, with notes about individual preferences or a special occasion, others were revealed in beautiful cursive writing explaining how to prepare a particular dish.  I found loved ones long gone, who live on in memories of meals we shared together.
Comfort food
A flood of memories brought back special people, celebrations and tragedies all connected by the common thread of food.  I came across the Festive Cookbook, a yellowed, coil-bound book produced as a fundraiser for my grandmother's church.  Recipes requiring maraschino cherries and marshmallows reminded me of Christmas dinner's at my Aunty Marge's.  The table groaned under elegant creations prepared by her and other relatives.  A clever strategy was required for a child hoping to navigate her way through the buffet, loading up on the "good stuff" while carefully avoiding her mother's eye and the dreaded jelly salad that trembled menacingly in the middle of the table.
Appetizer recipes reminded me of my girlfriends with whom, in pre-COVID days, I would often gather on a Friday evening sharing food along with some good wine and great stories.  These are the same women who are the first to quietly drop off a special meal or hot muffins in times of trouble, offering their support in the tangible, welcome form of comfort food.
Coping with stress and anxiety
Of course, turning to food in times of trial is not always a good strategy.  At our most vulnerable we can make poor choices that will not serve us well in the long run.  My daughter and I have benefitted from the guidance and support of Kristin Ames, a nutrition coach, personal trainer and health coach based in North Vancouver.  Kristin has changed our perspectives on food and fitness, helping us make healthier choices by understanding what works for us.
"Emotional eating is one of the biggest challenges people face over the holidays," Kristin said.  "It's also incredibly common, especially for those who are experiencing stress and anxiety.  I encourage people to keep moving, don't skip your workouts. COVID has made this more challenging, with so many activities unavailable for now.  But you can still get outside and breathe fresh air.  This helps emotionally and physically."
I have taken Kristin's advice to heart and spend time hiking the local Lynn Valley trails every day.  I know it has made a huge difference to how I feel.  But, with no Christmas parties to attend that means no party outfit to fit into… I thought maybe I might cut myself a little snacking slack for the season.
Kristin laughed at that idea.  "Too many people give-up in December," she said.  "They figure they'll start over again in January when they'll drink water and eat salads.  It doesn't work.  A healthy, sustainable diet isn't about giving up what you love, it's about finding a balance that works for you."
She suggested figuring out my "non-negotiables", the things I'm not willing to change or give up.  I like candied yams, but I love pumpkin pie. So, maybe I can skip the yams and enjoy a bigger piece of pie (or two…).  I also liked her suggestion to socialize around activities rather than food – which is also COVID-friendly.  I cherish walks in the forest with friends where we can stay connected and safe.
 "Abandoning exercise and healthy eating sets you up for a downward spiral," she explained.  "When you feel things slipping out of control it's easier to give-up altogether.  Instead, I encourage people to pick the nights during the season where you give yourself permission to indulge.  Mark them on the calendar and enjoy!  The rest of the time, eat normally and keep moving."
Ingredients for a healthy life
Kristin confessed her weakness for shortbread, which reminded me of a carefully folded piece of paper in my recipe file.  It features my husband's goofy scrawl documenting his mother's special shortbread recipe.  I make it every year.  It's a tradition I hold dear.
I also came across my mum's Nuts 'n Bolts recipe.  Happy tears flowed as I recalled the beautiful Christmas baskets she brought each year, containing homemade treats along with a new novel to enjoy over the holidays.   These recipes were like magic, bringing loved ones into my kitchen again, of course they are always in my heart.
Friends and family, and the food I so strongly associate with them, have sustained me over the years, and their love and support continue to be essential ingredients in my life. But, as cherished as some of the recipes are, maybe I don't need to make them all every year.  Especially during this crazy pandemic when there are fewer people to share with.  
I started to make a shopping list so I could start baking and get this season started.  Perhaps some of those recipes could be modified and we might start a few new healthier traditions that my kids will look back on some day with love and remembrance.  But the shortbread is sacred.  That's a non-negotiable.
Gramma Laura's Shortbread 
Pre-heat oven to 350 degrees
3 cups of flour
½ cup of corn starch
1 cup icing sugar
1 pound of butter
Cream butter, add sugar
Sift flour and cornstarch together, then add to creamed butter & sugar
Whip until fluffy
Rollout gently, cut cookies (stars are nice)
Bake at 350 degrees for 10 – 12 minutes, or until edges start to turn golden
Gramma Audrey's Nuts 'n Bolts
Pre-heat oven to 200 degrees
Mix together: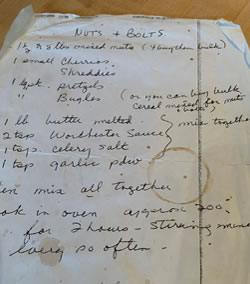 Approximately two pounds of mixed nuts
1 small box each of Cheerios, Chex or Shreddies,
1 large bag of pretzels
1 large box of Bugles
Mix together:
1 pound of butter, melt then add:
2 teaspoons of Worchester Sauce
1 teaspoon of celery salt
1 teaspoon of garlic powder
Toss the nut/cereal mixture with the melted butter mixture
Pour mix into two large roasting pans
Bake in oven, stirring often for approximately two hours
Let cool before eating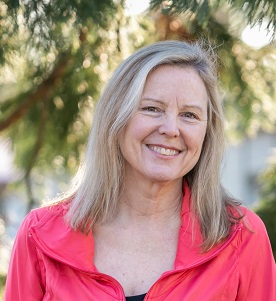 Michelle Perrault
A North Shore girl at heart, Michelle has fond memories of Saturday night skates at the NVRC ice rink (now Harry Jerome) and swimming lessons at William Griffin (now Delbrook) pool. More recently, she enjoys hiking and biking the trails of Mount Fromme and the Seymour watershed. She lives in Lynn Valley with her two adult children, two dogs and wonderful friends and neighbours.