Calling all storytellers and story lovers!
Come out and enjoy an evening of story and writing at The Story Box, a new initiative by North Vancouver Recreation & Culture's inaugural Writer in Residence Jackie Bateman. Each Wednesday evening at Delbrook Community Recreation Centre until December 11th, 2019 (excluding November 27) writers will read stories, share writing knowledge and stretch their storytelling muscles.
For the love of story
On a dark and stormy night, tucked into a small corner of the Delbrook Centre, a magic spell befalls a small group of storytellers and imaginers. The air is electric with feeling, sights, sounds and smells. The story participants, assembled at a horseshoe-shaped table, are transported beyond the Delbrook Arts Room as they take magical journeys to beautiful places and to difficult and strange spaces. The words tumble forth to create new worlds, where brightly cloaked travelers visit from faraway lands, weaving stories of intrigue and mystery, drama and love, harrowing and hilarious tales of adventure and misadventure. 
But first, there are snacks!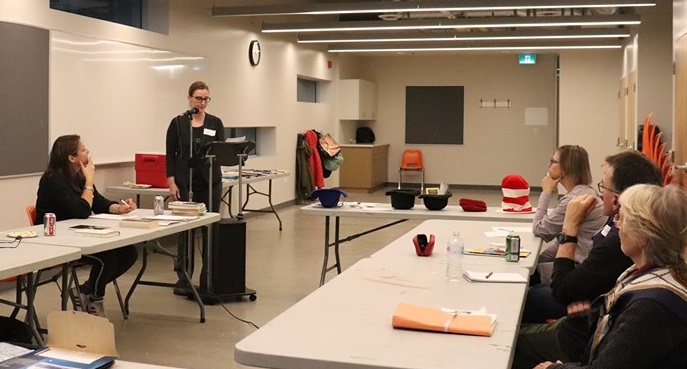 Sushi, mingling, writing, craft
Spearheaded by Jackie Bateman, The Story Box is a free forum to bring together a community of local writers and story lovers - you don't have to be a writer to come out and enjoy the evening. 
Drinks, sushi, chips and other goodies are on offer at the start of each session, as people drop in and mingle. Then, Jackie introduces herself and welcomes the group to the evening, a safe space for the exchange of stories and the sharing of the craft of writing. 
Each session is a mash-up of open mic, writers' workshop, community social and a general good time. Participants are encouraged to read short excerpts of their writing, poetry, works in progress and, if they wish, receive friendly feedback from the group. 
Short 7-minute writing exercises using spontaneous writing prompts and themes are sprinkled throughout the session, which help the writers exercise their imaginations and expand their comfort zones. 
As a writer, I love workshops and appreciate gatherings like The Story Box, where writers can come together to share our writing knowledge (and frustrations), workshop ideas or works in progress and geek out on craft. Writing can be a lonely activity, so it's invaluable to connect with others and find community (and it's free!).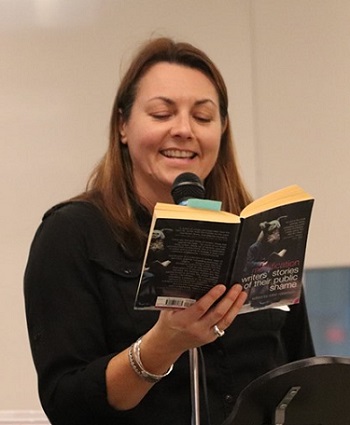 About North Vancouver Recreation & Culture's Writer in Residence 
An acclaimed author, copywriters, screenwriter and self-professed bookworm, Jackie Bateman lives and writes in North Vancouver. She is the author of the Lizzy trilogy, an award-winning thriller series, and has won numerous awards for her short fiction. Jackie is currently working on several new projects, including a YA series, a screenplay and a novel. 
North Vancouver is very fortunate to have Jackie bring her creativity and generosity to the community through The Story Box!
In the words of our Writer in Residence - Q & A with Jackie Bateman
How do you feel about being NVRC's first artist in residence (for the literary arts)? 
Jackie Bateman (JB):
I'm thrilled for this opportunity. It has been wonderful to start with a fresh sheet and let the residency grow into itself. I've been given a beautiful space to work in. I have lots of ideas, and they keep on coming as I talk to more and more storytellers in the community. North Vancouver folk are warm and creative, and have been so responsive to the workshop. 
What's your goal for The Story Box?
JB: The aim is to get storytellers together in a welcoming environment where everyone feels comfortable with each other - and good about themselves. Writing is an isolating thing, and writers are sensitive souls. When a group like this comes together to talk about their work, their fears, and their ideas, something magic happens. Last week I was feeling in a scruffy mood, and wore woolly socks and some weird trousers with stripes down the side, and I thought well, no one will care because we're all writers and have better things to think about than fashion. At least, I hope everyone else agreed with the sentiment. (Yes)
Who should come out to The Story Box?
JB: Anyone who loves a story. We've had a range of people coming so far, including novelists, poets, playwrights, short story writers, screenwriters, and improv artists. One man faked his own death by choking on a writing prop (it was a piece of coral). Some people come and listen, and don't partake in the readings, and that's okay too. There is no pressure or judgement. Negativity is a punishable offence. 
Where do you see the future of storytelling? i.e. what's "hot" and what's missing in our literary canon? 
JB: Overall, the future of storytelling continues to be great ideas and great writing. That can only be achieved with hard work, writing and reading, and more writing and reading. Trends are hard to predict, and best avoided. On a societal level, I think people's attention spans are diminishing, and short novels seem to be making a comeback. But then again, there was 'The Goldfinch' and Elena Ferrante's Neapolitan Novels. Books that sit somewhere between commercial and literary are hot right now. 'Eleanor Oliphant is Completely Fine' is a great example. What's missing in our literary canyon? Risk. I think the big publishers will only achieve great diversity when they stop being so safe in their choices. Lists are often run by what's been done before, to ensure dependable marketing. Open the doors and let the wild and wondrous in. Please. I want to discover new worlds when I read a book – not a world that I've seen before.
What's your current writing project?
JB: I'm working on a new novel about a young woman in jail for murder. It's a dark and winding dual narrative between her and the mother, who is blamed for her daughter's shortcomings and ostracized in her town. I work on multiple projects at a time, and have several screenplays on the go, including one set in Kenya where I grew up. Writing for screen really helps with my prose. The concise, visual language is a compelling exercise in restraint. 
Who, What, When, Where, Why and How?
The Story Box is held Wednesday nights in the Arts & Crafts Studio on the upper floor of the Delbrook Community Recreation Centre from 5:30 – 8:00pm until December 11th (excluding November 27). All story writers and lovers are welcome, all levels. Just bring your favourite pen and let your imagination loose!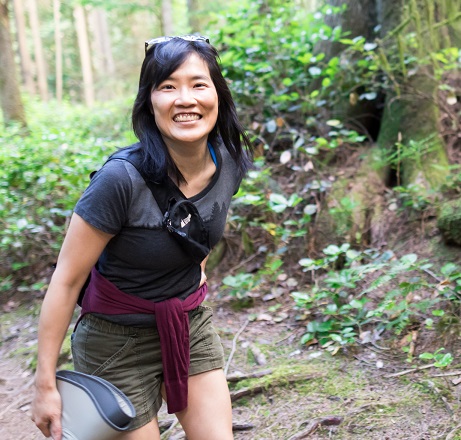 Wiley H.
Wiley is a long-time North Vancouver resident. She works as a technical writer and is the current newsletter editor for the North Shore Writers' Association. She spends her free time feeding her twin passions of creative writing and hiking. She recently discovered a potential third passion - the pottery studio at the Delbrook Community Recreation Centre.