I knew I was in for a good experience as soon as I reached out to Trail Trekkers guide (and founder) Barbara Pichler. Not only did Barbara give me a mountain of useful information about the different outings Trail Trekkers offers, from intermediate walks to challenging hikes, she also gave me her cell number. "Call me if you have any more questions – or even if you're just stuck in traffic. If I know you're coming, we'll wait for you." Such is the caring community of Trail Trekkers.
Meet Barbara the intrepid founder and guide
Barbara started Trail Trekkers with North Vancouver Recreation & Culture in 1989. It took a while for the group to catch on, but now it is a year-round program that will celebrate its 30th anniversary this September. The group offers hikes every Monday evening, Wednesday and Friday morning – plus Thursday evening for July.
An avid athlete and outdoorswoman, Barbara has been involved in sports for most of her life. She has been a ski instructor, fitness instructor and cardiovascular-rehabilitation specialist. Her love of sports and staying active is inspiring. Despite various injuries over the years, including a broken ankle, she has always returned to fitness and exercise. In 2000 she completed the Knee Knacker race in 7h10m; and, in 2013 she took part in the Tough Mudder obstacle race.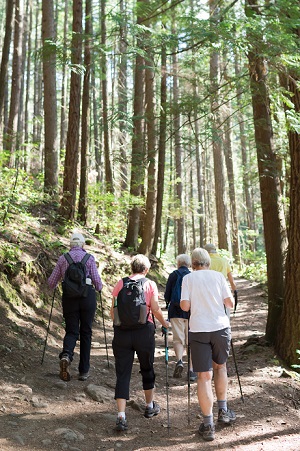 Communing with nature, connecting to community
On a sunny Wednesday morning in June, I joined the Trail Trekkers for an intermediate hike to Cypress Falls in West Vancouver. From the outset, I could tell it was a caring and fun-loving group. As we gathered in the parking lot, the regulars greeted each other with smiles and hugs. The atmosphere was that of a group of old friends going for a walk in the woods. I later found out that some have been hiking together for over two decades and made enduring friendships through the club. 
It didn't take long for our group of 16 to get hiking through the beautiful forested trails. Within minutes, I could feel my muscles working and my brain relaxing. Fellow hikers around me chatted about what was going on in their lives, sharing experiences, venting frustrations and exchanging stories. At one point someone noticed that one of the regulars was absent and made a note to call the person after the hike. It struck me that the weekly hiking had facilitated a caring group of friends. By sharing a common activity, they had created a strong community, supporting each other through life's ups and downs. 
Barbara enjoys entertaining the hikers with curious tidbits of information. When somebody sneezed, Barbara called out "Gesundheit!" and then "That means To Your Health! Do you know how that started?" Dramatic pause, "To ward off the Black Plague!" Along with her humour, Barbara generously shares her deep knowledge of the mountains, trails and equipment.
Our group was largely self-paced, with faster hikers moving ahead and others following at various speeds. From the middle of the pack, Barbara kept tabs on everyone and checked in with the group during water breaks. The comfortable chatter continued throughout the hike that took us to a picturesque waterfall, through gorgeous forest and, before I knew it, we had completed our roughly 6 km loop. In just two hours, I got a great workout in the restorative woods alongside some fascinating characters. I thoroughly enjoyed the exercise and the companionship. And, as it wasn't yet noon, I had the rest of the day for other things!
12 reasons why you should try hiking with Trail Trekkers
There are plenty of reasons to join Trail Trekkers. Here are just a few:
New trails – discover interesting new trails (planned routes are mostly loops for variety in scenery)
Can't get lost – Trail Trekkers guides are experienced leaders who are familiar with the trails
Bear-safe – large groups and the sound of conversation are a great deterrent against bear encounters
Safety – Trail Trekker guides have first aid training and know mountain safety
Friendship – go with a friend or meet new friends 
Information exchange – hiking is a natural medium for conversation and the exchange of ideas
Keep in shape – hikes last about 2 hours with a typical distance of 6-7 km (about 10,000 steps). The uphills strengthen the cardiovascular system and the downhills help improve coordination and balance
Outdoor exercise – get your fill of fresh air and natural Vitamin D
Mood-lifting – rambling through forested trails with other hikers leads to a natural high!
Enjoy your community – Trail Trekkers are welcoming and inclusive 
Sleep better – a vigorous outdoor workout facilitates deep rest
Flexible schedule – Morning and evening hikes available 3 times a week.
Go ahead, join the Trail Trekkers, and take a hike!
More about Trail Trekkers
Established in 1989, Trail Trekkers is a walking/hiking group that explores the trails of the North Shore. The outings are led by experienced leaders and are free for anyone with a North Vancouver Recreation & Culture Fitness Membership.  Non-members can pay a fitness membership drop-in fee. There are different days and levels of difficulty to choose from, ranging from intermediate walks to challenging hikes. For more information, visit Trail Trekkers.
Wiley H.
Wiley is a long-time North Vancouver resident. She works as a technical writer and is the current newsletter editor for the North Shore Writers' Association. She spends her free time feeding her twin passions of creative writing and hiking. She recently discovered a potential third passion - the pottery studio at the Delbrook Community Recreation Centre.