In June I went on a Wednesday morning hike with the Trail Trekkers and had a great time, ambling along the woodsy trails of Cypress Falls Provincial Park with over a dozen other hiking aficionados. With long summer evenings to enjoy, I recently joined them for an evening hike and discovered Trail Trekkers' Adventure Mondays!
Monday evening hikes
Trail Trekkers offers several hiking levels to choose from, ranging from easy to challenging. According to Barbara Pichler (founding Trail Trekkers leader) and Sharon Cocomile (trail guide), Monday evenings are their "Adventure Nights". The outings chosen are a little bit off the beaten track with routes designed for variety, views and a good workout. This means prior hiking experience and healthy joints are necessary. Of the thirteen in our group, all were regular hikers.
The Big Cedar
Our destination for the evening was The Big Cedar on the east side of Mount Fromme. Starting off at 6:30 pm we had 3 hours to complete the hike in the light. This meant a fairly brisk pace along rugged trails that took us into the backcountry, past the mountain biking trails. 
Starting at the top of Coleman Street, we entered a beautiful mixed forest of fir, hemlock and cedar. The trail is shared with mountain bikers, so once in a while there was a holler from Barbra or Sharon: "To the side - bike coming!" Since being on two feet is nimbler than balancing on a bike, the etiquette of Trail Trekkers is to yield to mountain bikers, which the cyclists greatly appreciate.
After about 20 minutes, we left the main trails and made our way through a less groomed track that was more of a taped route – hence, Adventure Mondays! Sidestepping muddy, slippery sections we picked our way towards the first of two giant cedars. This one had been logged but there remains an enormous bulbous trunk that looks suitable for a Hobbit house.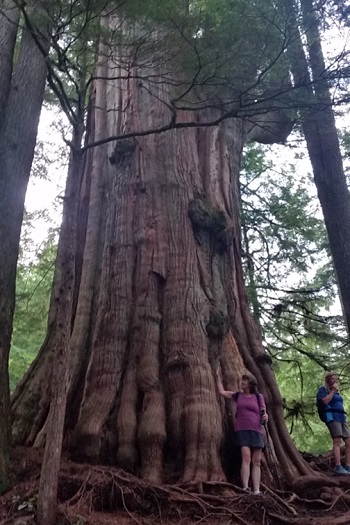 First of the giant cedars
About an hour and a half into our hike we came to The Big Cedar and looked up, way up. A living giant that is approximately 600 years old, it would take about eight of us holding hands to hug this tree. It is magnificent. Gazing up at it and breathing the oxygen-rich air gives you a sense of awe and calm. This feeling of well-being and connectedness is why being in nature is so essential for our health. Not only does it protect us from stress, it boosts our mood and immunity from disease. No wonder it's called Nature Therapy!
Water crossing adventure
After our forest bath, we zigzagged our way down the rocky trail towards the sound of rushing water. It was time to cross Lynn Creek and finish our loop. Despite it being mid-July, the creek waters were shin-deep and caution had to be taken over the mossy rocks. A few in our group removed socks before entering the water but soggy shoes were unavoidable. The water had a refreshing and invigorating effect on all of us. The group laughed over strategies for best "least-wet" feet, and took a few minutes on the other side of the creek to wring out footwear. 
Crossing Lynn Creek
Connecting to community and communing with nature
Our return trip took us up through Lynn Headwaters trail to the park entrance, up the staircase to join the Baden Powell Trail and back out to where we started. As we walked back to our cars and said our goodnights, we were accompanied by a golden full moon.
In just over three hours, we'd gotten a great workout and connected with community and nature. I can scarcely think of a better way to spend a gorgeous summer evening. 
Trail Trekkers – Evening Outings
Trail Trekkers offers evening outings on Mondays year-round. These are perfect for those who have hiking experience and work during the day. Adventure Mondays will challenge you with some elevation changes and steep sections. Make sure to dress for the weather and bring water and a flashlight!
For upcoming hikes, click here. Reservations are not required, as hikes are drop-in. If you are wondering about the suitability of a particular hike, please contact a trail guide in advance.
More about Trail Trekkers
Established in 1989, Trail Trekkers is a walking/hiking group that explores the trails of the North Shore. The outings are led by experienced leaders and are free for anyone with a North Vancouver Recreation & Culture Fitness Membership.  Non-members can pay a fitness membership drop-in fee. 
For more information, visit Trail Trekkers.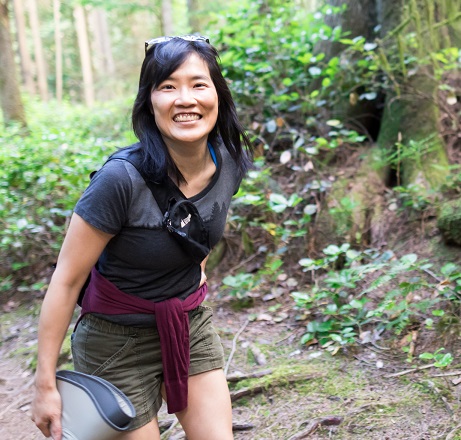 Wiley H.
Wiley is a long-time North Vancouver resident. She works as a technical writer and is the current newsletter editor for the North Shore Writers' Association. She spends her free time feeding her twin passions of creative writing and hiking. She recently discovered a potential third passion - the pottery studio at the Delbrook Community Recreation Centre.