Music and community feed the soul at Live and Local on July 12, 2019.
It's TGIF Day (thank goodness it's Friday), and like most other working folks I can't wait to get home, kick off my heels, pull on my overalls and liberate my toes to the prickle of summer grass. The plan of action: to attend two of the Live and Local Concert Series, with my wingman Rick. I have invited my friend Rick as he is both a muso (avid music fan) and a born and bred Vancouverite with all kinds of inside information about local bands and music. 
Why community?
Like most people, I have a deep yearning for community and connection. I run the North Van trails regularly, go to yoga classes at the Delbrook Community Recreation Centre, hike and stay healthy. But I am also cognizant of my mental health and well-being. The feeling that I belong to my neighbourhood is important to me. I love the Live and Local Concert Series, because not only do I get to lose myself in music, I get to belong.
Concert #1 - Deep Cove, Panorama Park 
Rick and I start in The Cove. Finding a spot on the lawn, we watch the community slowly gather in a collective end-of-week sigh. I take in the stunning vista from Panorama Park. Steep mountains rise straight out of the blue sea. I gaze dreamily at the boats on the water, and hikers gathered in the distance on Quarry Rock. A spectacular backdrop for the stage. Big City Soul band members are tuning up doing gear and sound checks.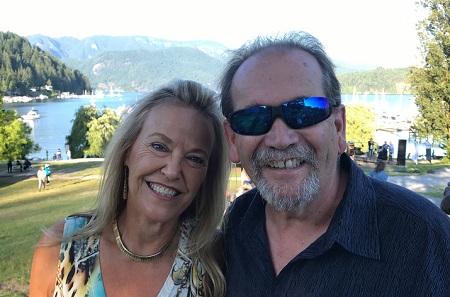 Families and friends trickle in with their picnics and blankets. Some have prepared home fare, others, after a busy day, have popped into one of Gallant Avenue's eateries for local food. Children run across the grass, swing from the jungle gym, and an impromptu soccer game has started stage left. I know I am in the heart of a community, a gathering of all ages and abilities aided by plenty of accessible wheelchair and stroller entry points and paths. Joani Bye and Terry Raible (pictured left) of Big City Soul start to belt out an R&B cover accompanied by three brass (sax, trombone and trumpet) a rhythm guitar, electric piano and drums. 
On the one side of us, spread out on a blanket and eating pizza is Kim and her two children. "We live in Deep Cove, and for the past four years, we are regulars at the summer concerts.  It's my Friday night decompression and time to hang out with my kids" she says. The shadows lengthen across the grass, and I notice people are dancing in front of the stage. It's time to head out to the next concert.
Concert #2, Lynn Valley Village
Cayla Brooke's cool jazz notes and distinctive voice fills-up the plaza at  Lynn Valley Village - a perfect community venue. Families sit at long tables outside local restaurants such as Papa Joe's and Valley Sushi, behind an audience seated on 'bring your own' chairs.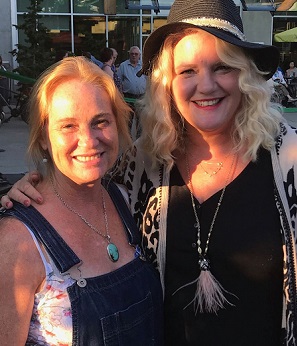 Rick chooses a patio where he grabs us a table overlooking the activity. I mosey over to the sound engineers, Dan and Dave to find out more about Cayla Brookes (pictured her on the right with blogger Julie) and her band. Dan is incredibly knowledgeable and tells me the names of all the band members: Bill Sample on keyboard, Norm Fisher on brass, Buff Allen on drums and Andreas Schuld on guitar.  
On my way back to my waiting table, I stop to watch a little girl in pink twirling by herself to the music and a young boy playing in front of the stage with his remote-controlled toy car.  I chat with a few people in the audience. Jane does the 20-minute walk with her dalmatian dog from her home to the village every Friday night in summer. "All the kids pet my dog, and it feels festive to be here," she says.
Feeling gratitude
We sit at our table, enjoying the music, recognizing a couple of covers, 'Somewhere Over the Rainbow" and "Summer Time" and chatting to our server. Cayla Brooke's voice is so soulful it brings tears to my eyes. I look out over the plaza, drinking in the warmth of the evening, the soft chatter and laughter of the locals enjoying music, food, family and friends. And, life is good!
View the full Live & Local Concerts & Culture Series schedule.
Julie Coghlan-Smith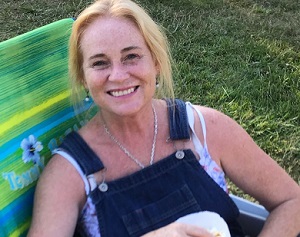 Julie Coghlan-Smith is a North Vancouver resident and active NVRC fitness member. She is a film and video producer and writer. Originally from South Africa, one of her daily gratitudes is being able to put on her running shoes and safely head onto the North Shore trails, the only care in the world, the occasional bear.