While the North Shore may be famous for gnarly mountain biking, it's also a great destination for more mellow bike rides. Here are my picks for three great bike rides on the North Shore. 
There's something for everyone: An easy family-friendly ramble along an urban trail. A moderate car-free paved route into the forest.  And a more difficult ride along one of the North Shore's most scenic roads.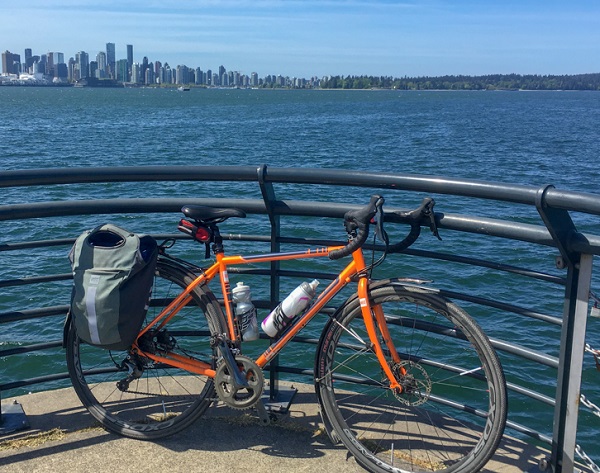 North Shore Spirit Trail (easy, family-friendly)
If you're looking for an easy and mostly flat bike route, head to the Spirit Trail. This greenway is great for cyclists of all abilities. Eventually, it will stretch all the way across the North Shore from Horseshoe Bay to Deep Cove. But for now, the completed section from Ambleside to Park & Tilford Gardens makes a great bike trip.
Be sure to keep an eye out for public art and interesting historical information signs along the way. And don't forget to stop for a snack at Lonsdale Quay.
You can start your ride anywhere along the Spirit Trail, and turn around when you get tired. The route is mostly off-street shared bike and pedestrian paths. There is only one big hill in the Moodyville section at the eastern end.
Distance: Up to 26 km
Difficulty: Easy and mostly flat with low traffic
Time: 45 min-2 hours
Start Points: Ambleside Park, Lonsdale Quay or Park & Tilford Gardens
Path Types: off-street bike/pedestrian paths, on-street shared lanes in quiet areas
Read our more detailed blog article on the Biking the North Shore Spirit Trail.
Seymour Valley Trailway (moderate)
If you want to escape the city and cruise through the forest, head to the Seymour Valley Trailway. This paved trail is open to walkers, cyclists, and rollerbladers. It heads deep into the Seymour River Valley. 
You don't have to ride the full 24 km round trip to the dam to enjoy this ride: there are several picnic areas along the way that make great turn-around points. The trail ends at a viewpoint just below the Seymour Dam. The nearby Seymour Salmon Hatchery is another interesting stop.
More adventurous riders can also incorporate some trails and gravel roads into their route. I recommend taking the Old Growth Trail to the hatchery just before the 10km mark instead of continuing on the paved road. It winds through some beautiful coastal rainforest. 
If you want to make a loop, cross the Bear Island Bridge near the hatchery. Then take the Spur 4 gravel road, Fisherman's Trail and Twin Bridges Trail back to the parking lot. (Beware, there are some steeper hills and loose gravel on these trails.) Plan your route with the Lower Seymour Conservation Reserve map before you go.
Distance: Up to 24 km
Difficulty: Moderate with a few rolling hills and no traffic
Time: 2-4 hours
Start Point: Lower Seymour Conservation Reserve Rice Lake Parking Lot
Path Types: off-street paved, shared bike-pedestrian path; gravel roads and trails
Horseshoe Bay via Marine Drive (more difficult)
The ride to Horseshoe Bay is a classic North Shore bike ride. The route takes you along gently rolling Marine Drive. It curves through neighbourhoods, cruises past ocean views and climbs a few short hills. 
You can even add a bit of multi-sport action to your day by stopping for a short hike at Lighthouse Park. Once you arrive at Horseshoe Bay, grab some fish and chips or an ice cream cone to eat in the park overlooking the ocean. If you have time, make a detour west on Marine Drive to visit Whytecliff Park. It adds just three extra kilometers to your trip and lots of pretty scenery.
The start of this ride follows the Spirit Trail and quiet Bellevue Road. But after Dundarave, you'll be on narrow Marine Drive, sharing space with cars. There is no bike lane but its a very popular route with cyclists so drivers are usually very courteous.
Distance: 30km return
Difficulty: Challenging with a few steep hills and moderate traffic
Time: 2-4 hours
Start Point: Ambleside Park
Path Types: Shared roads, sometimes with no shoulder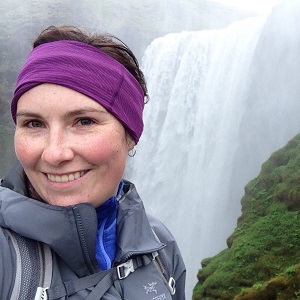 Taryn E.
Taryn Eyton is a Vancouver-based hiker, adventure traveller and blogger. You can find her on the trails of Vancouver's North Shore on weeknights and camping in the backcountry of Southwestern B.C. on weekends. Follow Taryn's adventures at HappiestOutdoors.ca.