North Vancouver is widely regarded as one of the safest, cleanest and most beautiful places to live in Canada. It's also one of the most family-friendly cities in British Columbia, and that's why, for this post, I decided to poll 25 families to get their perspective on what makes North Van so special.
Here are the most popular answers (in no particular order):
Perfect parks
North Vancouver is bursting with stunning parks. No matter where you are in the city, you're not far from a beautiful park, whether you're looking for a playground, a waterside walk or a stroll through the forest - in fact, in many parks you can find all of these features. From Princess to Mahon to Waterfront, North Van parks are some of the very best anywhere.
Location, location, location
North Vancouver is an ideal location for many families because it offers easy access to downtown (the seabus gets you there in about fifteen minutes and it's a lovely ride with a heck of a view), as well as quick access to mountains, trails, and the water. From nature to shopping to the core of Vancouver, North Van's accessibility is second to none. 
Fabulous food
Whether it's Italian, Indian, Korean, Mexican, Seafood, Vegan fare or anything else your tastebuds long for, there are myriad restaurants to indulge your inner foodie in North Vancouver. Try the world-class comfort food purveyed by Burgoo, grab some Chinese from the legendary Capilano Heights, delight in the sushi and noodle bowls served at the popular Hachi Hanna, or simply take a stroll down Lonsdale for endless multicultural fare.
Community Centres
With thirteen community recreation centres, North Vancouver offers an endless array of programs, courses, and community activities. That's a lot of locations, which ensures that no matter where you are in the city, a family-friendly community centre is within arm's reach.   Visit North Vancouver Recreation & Culture's website for more info on your local centres.
The Lonsdale Quay
With a sparkling waterfront view, a plethora of shops and a fantastic food court, this local gem is the perfect alternative to your average shopping mall.
Families are everywhere
Being such a family-friendly city, it stands to reason that North Vancouver would be packed with families. Parents love that they only have to step out their front door to connect with other parents and kids. This means more community engagement, and that makes for a healthier community. 
Trails galore!
Hiking is one of the best ways for families to get exercise and connect with nature, turning their focus away from the screens that tend to dominate daily modern life. North Vancouver is packed with beautiful trails for families to explore. To name only a few of many, Baden Powell Trail, Kennedy Falls and Quarry Rock are favourite spots. Visit North Vancouver Recreation & Culture's website for more info walking and hiking opportunities.
Community events
The Teddy Bear Picnic in St. Andrew's Park, Slide the City (when Lonsdale avenue transforms into a giant waterslide), and Family Movie Nights in The Plaza are just a few examples of the family-friendly events North Vancouver offers. What's more, North Vancouver Recreation & Culture has its finger on the pulse of North Van happenings, providing a community events calendar and an informative weekly events newsletter  to keep residents in the know.   Sign up now!
Good people
According to the families I polled, and in my opinion as well, North Vancouver boasts some of the friendliest people around. There's a lot of kindness and understanding, and a very wholesome community vibe that residents take pride in maintaining by connecting with each other, practicing acceptance and prioritizing equality. 
Diversity
North Vancouver is very rich in culture, full of families with a great many ethnicities and backgrounds. This diversity is one of the things that makes North Van so special and interesting, and it helps us educate our children and ourselves on the importance of accepting and learning about other cultures. 
What's YOUR favourite thing about North Vancouver? Let us know why you think North Van is amazing!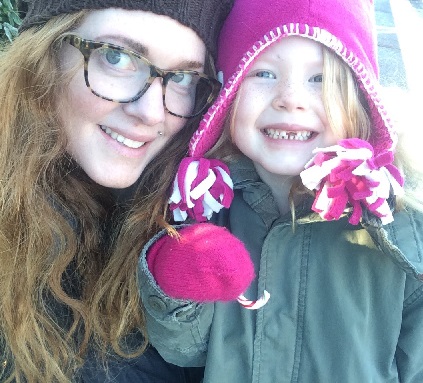 Stephanie E.
Stephanie  is a professional writer and photographer residing in North Vancouver with her husband and five-year-old daughter. She grew up in Ontario, but considers British Columbia to be her true home. Having attended the journalism program at George Brown college in Toronto, Stephanie's writing career has included music journalism works with the likes of Canadian Musician Magazine and Professional Sound Magazine, and she has written blogs and content/copywriting for various fashion, beauty and lifestyle publications and brands around the world.
Stephanie owns The Imperative Image, an affordable photography service for professionals. As a wellness advocate and a proud North Shore resident, Stephanie is thrilled to contribute to the NVRC Active Living Blog.