Retired social worker Linda moved to North Vancouver just over 10 years ago before her twin granddaughters were born. When she is not busy with her granddaughters, she enjoys volunteering in the community. Linda has been a volunteer host for the North Vancouver Recreation and Culture Commission since May when the new Delbrook Community Recreation Centre first opened.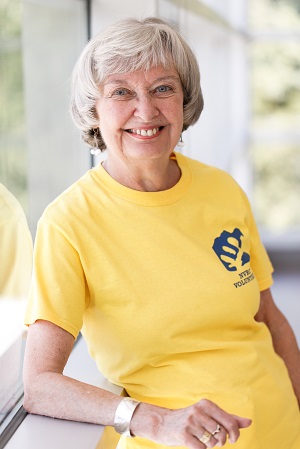 Volunteering helps to connect
When Linda first moved from Victoria she volunteered at many different places to get connected with her new home and to meet people in her area. She has met many new friends volunteering and has experienced many new and positive things.  Linda explained that one of her favourite things about volunteering is connecting with people in  her community. Being new to North Van, she described how wonderful it was to meet like-minded people through volunteering.  
Learning new things
She's learned a lot, but one of the key things she has learned volunteering here at the NVRC is the value of Public Art. After all the pieces at Delbrook were explained to her she was astonished by the story and the beauty of them. While Linda is leading tours she always stops for an extra moment or two to talk about the three beautiful pieces of art we are lucky to have at Delbrook. 
Words of encouragement
Linda encourages everyone in the community to volunteer and to keep an eye out for volunteer opportunities with North Vancouver Recreation & Culture. 
We are thrilled Linda has chosen to volunteer with NVRC and share her passion and energy with us.
Volunteering with North Vancouver Recreation & Culture (NVRC)
NVRC provides a variety of volunteer opportunities for people of all ages.  If you are looking to become involved in your community and have a positive and meaningful experience, consider volunteering! It is a great way to meet new people, gain valuable work experience, develop skills and have fun.
Our volunteers must be 14 years of age or older  and successfully complete the application process.  Aquatics volunteers must be at least 15 years and must have completed the Water Safety Instructor (WSI) course.  
Interested in volunteering?  Apply now.