The warmer weather spells good news for fitness class enthusiasts. With most indoor classes suspended due to provincial public health orders, NVRC is working hard to bring outdoor classes to the community, including cardio and stretch classes, as well as specialized health management programs. Read on!
Outdoor fitness membership classes 
In compliance with current provincial public health guidelines, each class is capped at 10 participants with physical distancing of 2.5m. Pre-booking is required for each class (no drop-ins). From Cardio to Muscle Fusion to Stretch, it's all happening outside! Book-a-visit fitness membership class here: Fitness Classes Booking Page.
Outdoor fitness registered courses (series)
NVRC is pleased to be able to offer outdoor fitness courses to meet a wide range of needs and off-peak schedules, including:
An insider view at outdoor programming during a pandemic 
"I love my work and consider it a privilege to help my community, and this year is no exception; however, it's been a bit of challenge," says Janelle Eisler-Carr, Fitness and Active Living Supervisor at NVRC. For months, Janelle and other NVRC staff have been busy finetuning the many logistics behind outdoor fitness classes.
Janelle explains, "NVRC works closely with the City of North Vancouver and the District of North Vancouver to book outdoor spaces. Special consideration is given to find locations that are easily accessible by all modes of transportation, that are clean and safe, protected from rain, quiet and not too public, and don't interfere with general public use. With the closure of many indoor facilities, NVRC works with private clubs and other organizations also looking for outdoor space."
"We've had to get creative and think outside the box," laughs Janelle. "We want to avoid having to cancel classes if it rains, so we've considered all different covered spaces from bleachers and stadiums to plazas with shade."  For instance, who would have guessed that the large overhang at Delbrook Community Recreation Centre would make a perfect spot for outdoor fitness classes? 
"Our patrons have been incredible, adapting and changing with us," Janelle says and adds, "if you feel comfortable to come out, NVRC invites you to join us outdoors!"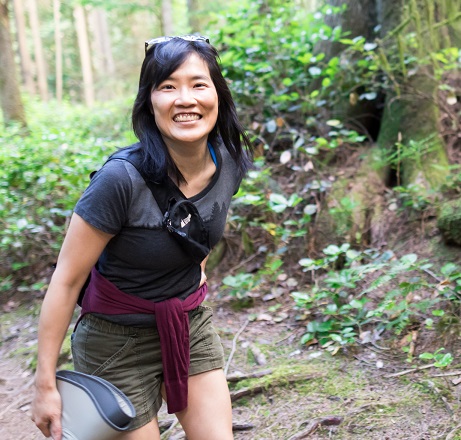 Wiley Ho.
A long-time North Vancouver resident, Wiley works as a technical writer and is the current newsletter editor for the North Shore Writers' Association. She spends her free time reading, hiking and discovering new things to try at North Vancouver Recreation & Culture!