"It is wonderful to see our community and clients return to the pool and to each other," says Karen Schofield, the Facility and Program Supervisor at Harry Jerome Community Recreation Centre. After the unexpected six-month closure due to the pandemic, North Vancouver Recreation & Culture (NVRC) pools at Harry Jerome and Ron Andrews reopened on September 8th to great excitement. "We've worked hard to put in place all the safety requirements and protocols," Karen says, "and we are so pleased to be back open."
Rising to the challenge
Karen Schofield is no stranger to rough waters. She has met her share of operational challenges over her long career with NVRC where she is the Facility and Program Supervisor for the pool and arena facilities at Harry Jerome. "I've been here 44 years," says Karen. "By far, this year has been the most challenging. We've all had to dig deep into our experience to figure out how to respond to the pandemic and solve problems." 
Karen and her staff, along with the entire NVRC aquatics team, spent hours pouring through the layers of heath and safety requirements from multiple authorities, including the Provincial Health Office, WorkSafe BC and BC Parks and Recreation Association. Not only did the pool reopening plan need to meet all health and safety guidelines, it also had to be fiscally responsible, in light of the reduced number of people allowed in the facility at any one time. 
Karen says that developing the pool reopening plan was the result of true teamwork.  "When you've worked for a well-oiled machine like the NVRC for as long as I have and then something like this happens, you realize there is always so much more to learn and our team has the ability to rise to the challenge," she says.  
The new safety plans and protocols (see below) which include pre-booking swim visits and maintaining physical distancing, are in place and swimmers are adjusting well.  
Reopening to joy
The doors to Harry Jerome and Ron Andrews reopened on September 8th to great fanfare. 
"At 6am there was a lineup of 18 swimmers (physically distanced) waiting to come in," says Karen, chuckling. "We were all so excited." There was joyous chatter as regulars reconnected and caught up. It was a happy reunion and Karen was reminded of the importance of public spaces for the community to be able to come together. "It's not just about fitness," she says, "it's also about the community being able to connect with each other."
In addition to the overall safety plans now in place, Karen's team recently designed a special plan for a community member with multiple sclerosis to access the pool safely and more easily. "I believe the (pool) staff are lifesavers who provide the public with mental and spiritual wellness. We try and keep people healthy by making the pool available to all levels of fitness and mobility."
Community pools are truly inclusive places for everyone, from beginners to masters swimmers to people with injuries or mobility issues. The buoyancy of exercising in water provides relief and freedom to those suffering from chronic illness. Highly trained and qualified lifeguards enable every level of swimmer to use the pool safely. 
For the many benefits of swimming and aquatic therapy, see our previous blogs:
Why I Love Swimming
The Miracle of Aquatic Rehab
Peter & Hege's Story
New pool protocols for public health and safety 
Here are the new pool facility protocols, which have been designed to keep everyone as safe as possible:
Book a visit (no drop-ins) online here or by calling 604-987-7529. The 45-minute sessions allow for 15 minutes of sanitizing between sessions.
Pack a full water bottle if needed - water fountains remain closed.
Leave your valuables at home - no lockers are available at this time.
Arrive clean and in your swimsuit - change rooms and showers are not available (only washrooms available).
Arrive no earlier than 10 minutes before your scheduled time, and wait at the check-in sign at the designated entrance. A staff member will greet then allow you access to the facility.  
Remove shoes at the entrance to the pool – please keep your shoes with your belongings in the designated areas.
Use hand sanitizer (provided) upon entry and exit. Follow safe physical distancing of 6 feet apart.
During this phase of restart, the hot tub, steam room, sauna, diving boards, slides, rope swing, wave machine and swimming equipment (e.g., kickboards and noodles) are not available. 
No spectators allowed, including during lessons and rentals.
Leave promptly after your registered time so the facility can be sanitized for the next group.
For information on aquatic activities are available, please visit our swimming and aquatics page.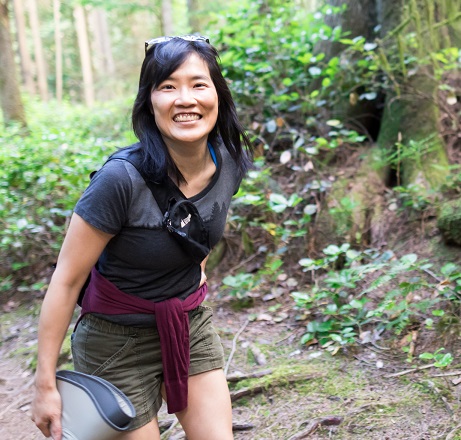 Wiley H.
A long-time North Vancouver resident, Wiley works as a technical writer and is the current newsletter editor for the North Shore Writers' Association. She spends her free time reading, hiking and discovering new things to try at North Vancouver Recreation & Culture!