Ever considered crafting something beautiful out of wood? A lidded box? A carved spoon? Handmade furniture? Whether you're just starting out or would like to brush up your skills, check out the fabulous Community Woodworking Studio in Lower Lonsdale! A variety of classes, from beginner to advanced, is offered at the custom-designed studio space.
A workshop of possibility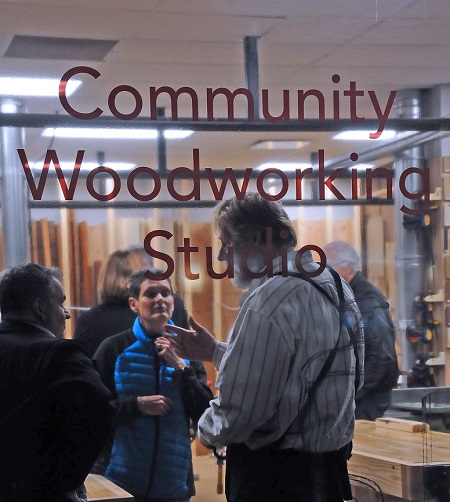 Entering the Community Woodworking Studio is a sensory treat. It's a beautiful studio that just celebrated its first anniversary in November 2019. Floor to ceiling windows let natural light into the large room, lined with quality woodworking tools, lumber, custom-built shelving and workbenches. The bright scent of freshly milled lumber rides the air with breezy jazz playing in the background. 
I've dropped into a Level 1 class on a Saturday morning. The class is full at six students, which is the maximum enrollment per class. This ensures everyone gets a lot of guidance and attention from the instructor, Jeremy Tomlinson aka The Urban Woodworker. Although it's a beginner course, a lot is covered in just 18 hours (six sessions). Students learn to develop an understanding of wood characteristics (how to appraise, select and mill lumber), design, project planning and woodworking methods. 
Safety around woodworking equipment is always number one and makes up the bulk of the first session. The students appear eager and a little nervous. "Perfectly normal", explains Jeremy. For newcomers to woodworking, the prospect of working around unfamiliar power tools can be intimidating. "In fact, my students ought to be nervous but in control of the woodworking machines. It's exactly right to be focused and mindful of the risks – always."
Jeremy likes to remind the students of "Rule number one: wood always wins." This helps to prepare them for the inevitable surprises along the way.  Students are guided in their choice of a first woodworking project. Typical projects include trays, stools, boxes and side tables.
They learn basic skills for furniture making and how to safely operate power tools, such as the jointer, planer and table saw. Students are taught to think through how they will execute each cut before they actually do it, constantly being reminded to be mindful and focused, through to the finish they wish to use at the end of the project.
It's exciting to think that in a few weeks, their learning will culminate in a handcrafted creation they can bring home. It's the ultimate in learning by doing.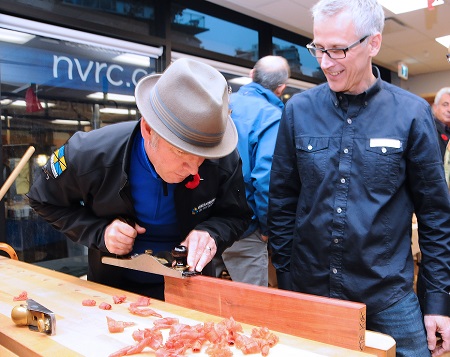 Meet the Urban Woodworker 
Newcomers are welcomed into the studio by Jeremy (pictured here on theright), a professional woodworker, wood turner and impassioned teacher. He is the driving force behind Urban Woodworker and the Community Woodworking Studio in North Vancouver, the result of a unique collaboration with the City of North Vancouver and the NVRC. 
It's obvious from his energy and enthusiasm when he discusses woodworking that he loves sharing what he knows. Though he's taught woodworking for over a decade, he still leaps from student to student, happily answering basic questions about wood selection, demonstrating proper technique, and troubleshooting designs.    
 
A beguiling craft
Jeremy is pleased that the NVRC woodworking courses are well-subscribed. His classes are often full with waitlists. Jeremy attributes the popularity in woodworking to the maker movement and an increased appreciation for the manual and authentic experience of working with one's hands. As Jeremy puts it, "In a world where so many careers involve information or service that cannot be held or touched, the discovery of the deeply satisfying and authentic experience of woodworking is profound." He describes woodworking as a "full-body experience that is meditative, relaxing, invigorating and opens you up to a whole new world." Judging from the students who seem utterly absorbed in their projects, I'd say he's right. 
Woodworking is not a quick study, but it is one that often enchants the woodworker for a lifetime. Each piece of wood has its own personality. Imperfections in the wood, like knots, burls and coloured striations can add surprise, challenge and unexpected beauty to a final product. Each project presents new puzzles to solve and onward it goes.
Today's woodworkers
Over the dozen years he has been teaching woodworking, Jeremy says his students have spanned all ages and genders. He says the idea that woodworking is a male-dominated pursuit is a myth. Weekday classes include young mothers enjoying some self-time while the kids are in school, retirees, and people with flexible work schedules. Evening and weekend classes tend to be more people who work during the day. 
Jeremy enjoys teaching anyone who is interested in woodworking. He says the best students are those who are curious to learn, like to explore, and be part of a fun community.
Upcoming courses 
Choose from a variety of woodworking classes from the basics to intensive and self-guided drop-ins. Click here for a full listing. 
Classes take place at the newly custom-outfitted Community Woodworking Studio at 135 West 1st Street (across the plaza from John Braithwaite Community Centre).
Registration for the winter session begins on November 20, 2019 and can be done online or by calling 604-987-7529.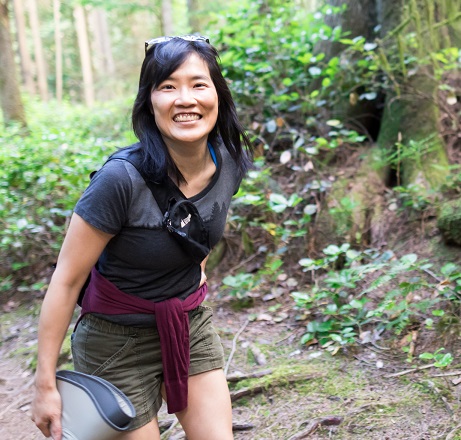 Wiley H.
Wiley is a long-time North Vancouver resident. She works as a technical writer and is the current newsletter editor for the North Shore Writers' Association. She spends her free time feeding her twin passions of creative writing and hiking. She recently discovered a potential third passion - the pottery studio at the Delbrook Community Recreation Centre.