As someone who has never been interested in art, mostly because of my lack of personal skill, walking into the new Delbrook Community Recreation Centre the first day of my practicum was eye opening. I have lived on the North Shore my entire life and I had no idea how much public art there is here. Now that I am working at the NVRC I get to see the beauty of public art every day. 
Delbrook is the home to three new public art pieces in North Vancouver, each one telling a different story and sparking my curiosity. I have always loved to learn so my first day when I went on a tour of the magnificent facility I was looking to learn all it has to offer. 
The first piece of public art that I saw when I walked into the facility was "Close to Nature's Heart". This leaf skeleton stretching across the entire main floor depicts the names of real streets in the Delbrook area. I like this piece of art because it is more than just something you look at. It tells a story of the neighbourhood and has some functionality to it. People can walk down the veins of the leaf and meet people at the end of the road. I also think this is something kids will have a fun time playing with. I learned that this simple looking piece of art took a lot more work than one may have previously thought. Artist Mia Weinburg used a cement skim coating process to create the beautiful pattern and colour. She also had to complete the interior during the construction of the facility. 
Every day I walk into the new Delbrook facility and look up at the "Hydrosphere" hanging high above the reception desk. Artist Michelle Gutlove embedded minerals in the hand blown and kiln fired glass that when lit from below, reflects on the wall with patterns of light.  Each day this art piece looks a little bit different. I believe this piece is very representative of the North Shore as well as the facility it now calls home. Delbrook is a beautiful building that every way you look you can see glass and a little bit of the outdoors. The "Hydrosphere" is an exquisite glass art piece that is an abstract representation of the water cycle in the Pacific North West. As a North Vancouver resident, I appreciate the rain and the water that surrounds me all year and this piece of public art brings the outdoors inside. This artwork is also a great conversation starter. When patrons notice it they immediately start commenting and asking questions. 
The final piece of public at the new Delbrook is the Salmon Cycle. This interactive water sculpture will be entertaining to all. This piece celebrates the salmon habitat in Mosquito Creek. As I learned in my grade 3 class, salmon have adapted to using ladders to navigate through rivers and streams, Artist Bruce Voyce takes it one step further and envisions what it would be like if salmon could ride bicycles. Everyone is encouraged to turn the bike wheel and see the water move from the sculpture, into the garden bed.  
Public art is something all us North Vancouver residents should explore this summer. This way we can play an active role in our communities and learn a bit more about recreation and culture. I am sure a lot of us have even looked at art in the community and not known it was public art. I think the first step to this journey is to stop by the stunning new Delbrook Recreation Centre. You never know, you might be as inspired as me. 
P.S. I also found out that NVRC published a full colour Public Art Map and guide to over 150 public art pieces in North Van!  You can pick up a copy at any NVRC Community Recreation Centre or visit their website to learn more about public art.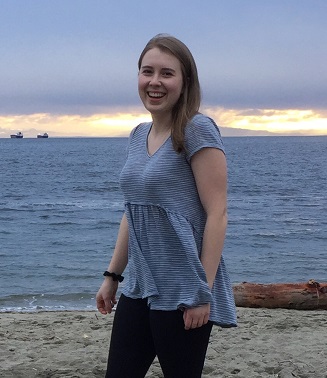 Cassie B. 
A native of North Vancouver, Cassie is in her final year of the Communications Program at Capilano University. While completing her degree, she has been working for 93.7 JRfm and 102.7 THE PEAK radio stations and been an active volunteer in her community.  Cassie loves living in Lynn Valley, surrounded by nature yet close to the City.