What I love most about improv is how truly collaborative it is. I get to share the stage with a troupe of very skilled performers who I also get to call my friends. We bring our own ideas, energy and talents to the table and support each other when we are performing scenes or playing games. 
It isn't just that though. We also get to build a unique show with the help of people in the audience. 
I will often tell the audience at the beginning of a show, "The more that you give us, the more that we can give you," because it couldn't be more true. 
It is a privilege to have an audience member give us a suggestion, that first building block, and be able to show them what directions we can take that. It's something that will only happen that one time, for us and for them. It's special.
It's that connection to the people on and off stage that makes performing improv so satisfying and fulfilling for me. Now having the opportunities to do so in my own community just makes it all the better.
Greg is part of The Radical Improv Company  based in Vancouver.  See their upcoming show at Centennial Theatre on Friday, Sept. 29 at 7:30pm. Buy your tickets now!   
He will also be performing in a the free Radical Improv Family Show  during North Shore Culture Days at Centennial Theatre on Sunday, Oct. 1 at 4:00pm.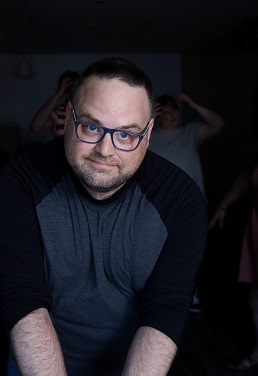 Gregory Milne studied and performed for several seasons with Second Storey Theatre in his native Port Coquitlam. After relocating to his new home in North Vancouver with his beautiful wife, he founded improv comedy group The Radical, who perform several times a month throughout Greater Vancouver.