My fondest memories from my youth include music and song. 
As a child, family sing-a-longs were a frequent form of entertainment. My cousin and I would shout out song requests as my aunt played guitar and my mother played accordion.  As I grew older, I harmonized to popular tunes coming across radio airwaves while I carried out my daily routines. I joined choirs, sang within a small group, and performed as a soloist at weddings and funerals. Unfortunately, as my responsibilities in life increased and fatigue levels rose my singing became restricted to the car and shower. Singing became a solitary experience and I longed to share it with others.
Last year, I joined a non auditioning community choir, Burstin' with Broadway, led by Dominique Hogan. My love for singing was rejuvenated and my sense of belonging was met. There is something powerful about singing with others. It creates an emotional bond during the time we share together. I am constantly amazed by the energy and encouragement we give to one another as we raise our voices together, smile at one another, and move our bodies to the rhythm of the music.  I love to sing with others but that is not the only reason why I love to sing. 
Here are ten reasons why I love to sing: 
I love to sing because it lifts my spirit. It makes me happy and alive. Nothing picks up my mood and shifts my perspective better than an uplifting song.  It is a musical affirmation reminding me that all will be well in my soul and in the world. 
I love to sing because it allows me to convey a wide range of moods and emotions.
I love to sing because it is therapeutic.  When my heart is heavy or conflicted, I sing my own words about my woes in order to listen and understand my internal struggles. 
I love to sing because it enables me to consciously connect with my breath. I take in more oxygen and my body is energized. 
I love to sing because it engages my entire body as I tap my foot, clap my hands, and sway to the beat.
I love to sing because it allows me to play with sound and rhythms, particularly during vocal improvisations. 
I love to sing because it reinforces values and beliefs shared among member of affiliated groups and organizations.
I love to sing because it activates my imagination. I envision layers of textures and colours when I hear vocal tones coming from my voice and the voice of others. 
I love to sing because it makes me feel as though I am part of something bigger than myself. I am part of a lineage of human voices sharing their stories of struggles and triumphs through song.  
I love to sing...just because...I do. 
If you love to sing, but are currently singing alone, I encourage you to join a choir or a group of singers in your community. Let your voice be heard and join the chorus of voices echoing throughout the ages.   For more information on Laurie's Choir visit the Burstin' with Broadway website.
 
Guest blogger Laurie Damer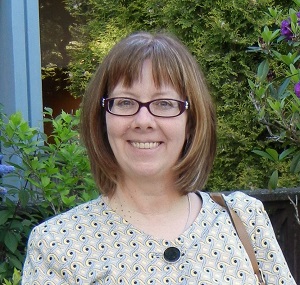 Laurie Damer is thrilled to be in her second year with the Bursting with Broadway Choir.
When not singing, Laurie loves to create mixed media art pieces, write poetry, and share her aloha spirit with others through Hawaiian hula dance.