NOTE:  This blog article was written by Ryan as part of a special Youth Blogging Project with Seymour Heights Elementary School.
Seymour
Skiing in North Vancouver is great, some of my favourite memories were made on the mountain. In North Van there are three mountains, Grouse, Seymour and Cypress.
Mount Seymour has the smallest ski area but it is still fun. Seymour also has a ton of terrain parks and is the best mountain for beginners because of the Magic Carpet and the Lodge Chair. The Magic Carpet is on all mountains, it is a black escalator like mat moving up the hill and it goes slow enough so little children can ride it. It is like a miniature chairlift on the ground. Mount Seymour is really family friendly and great for a fun ski trip Finally, Mount Seymour is here I learned to ski because it is so close it is almost like a backyard for me.
Cypress
Cypress Mountain is a lot bigger than the other ones. It has more skiing and great après ski. Cypress is actually a bowl and has two main chairs, the Eagle Chair and Lion Chair. There is also a Sky Chair which takes you to the top of the mountain to unlock a whole new range of expert runs and a few intermediate runs. Cypress also has a great learning area for toddlers and younger kids. There is a tiny Magic Carpet along with lessons. Cypress is my favourite mountain because I go with friends all the time and just free roam. My personal favourite run is Top Gun because it goes from the very top to the bottom of the skiing area with tons of great terrain.
Mountain Community
I have never skied at Grouse Mountain before. I have only been ice skating and hiking but I hear the skiing is good because some of my friends go there. Skiing in North Vancouver is really fun because of the community and hospitality. You can see people you know, ski, and eat and other mountain activities like tubing, snowshoeing, snowboarding and alpine overnight camping. Finally, I love skiing in North Van because I feel free and happy when I'm skiing, I have many great memories and I can ski with family and friends.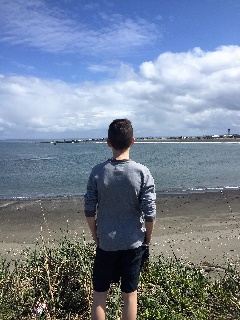 Ryan 
Ryan is twelve years old, he plays soccer, is on a track team and skis. He lives in North Vancouver and goes to Seymour Heights Elementary. When he is not skiing or doing any activity above he is either with his friends, out doing something active or just doing something fun with his family.