Ashley Coupal's ballet dream came true in February when she learned she is one of six winners of the 2021 Prix de Lausanne. The prestigious international ballet competition accepts only the best young ballet dancers around the world. Winners receive a one-year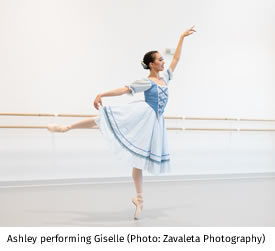 apprenticeship scholarship to a top ballet company, which can kickstart a young dancer's career. "I feel like I'm living a dream," Ashley says.
It's a well-earned dream. Since she was little, Ashley has watched the Prix de Lausanne competition with her family at home. Three years ago, she applied to the competition but was not accepted. Last fall she tried again and was invited to submit videos featuring elements of her classwork, technique, and artistry. Ashley made the finals. Ordinarily, the final competition would be held in person in Lausanne, Switzerland; however, due to the global pandemic, finalists this year had to submit two dance videos (classical and contemporary). For her classical piece, Ashley chose Giselle. Her gorgeous performance can be viewed here.
At eighteen years of age, Ashley's tenacity and discipline are both remarkable and necessary. When asked what keeps her going day after day, Ashley answers, "Something in me tells me never to give up." She calls that something konjo. "It is part of my heritage. The Japanese word konjo roughly means a feeling of fearless determination. It is my mantra for everything because life is full of obstacles. I ask myself why am I doing this? Do I love doing this? If there is even a tiny bit of me that says I really want this, then that will take me through."
Early steps
Growing up in North Vancouver, Ashley says her parents kept her and her sister busy with different extracurricular activities. She remembers taking swimming classes at Harry Jerome's Harry's Academy, piano, Japanese school, volleyball and soccer. "My parents let us try different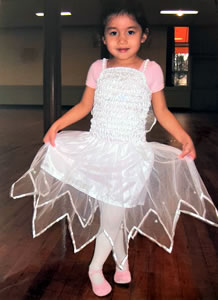 things to see what passion would spark. For me, dancing and music were always a given," says Ashley, adding with a laugh, "They told me I was bopping in my diaper as soon as I could stand." 
Ashley began dance lessons when she was three at the Pink Petal Ballet preschooler program at the Harry Jerome Community Recreation Centre. One of her fondest memories of being in Miss Alix (Hawley)'s class was jumping from lily pad to lily pad. She also remembers learning how to plié and hold her arms "like a flower." Ashley has loved ballet ever since. 
By age six, she was serious about ballet. She studied with ballet teachers and dancers, and attended North Vancouver's VJPD, and the Goh Ballet Academy in Vancouver. Ashley went to Holy Trinity Elementary and then Carson Graham Secondary, where she took part in the Peak Performers Program. Ashley credits the program for affording her the flexibility to attend classes in the morning and pursue her dance in the afternoon. "Sometimes I'd have to miss weeks of school (due to travel and competitions) but I managed to continue school remotely and keep my grades up." 
Life of a ballerina
Since 2019 Ashley has been based in Orlando, Florida.  She joined Orlando Ballet as a Trainee, and was promoted to their Second Company last year. Her days are long, typically starting at 9am with technique classes until lunchtime, followed by rehearsals that don't finish until around 5pm. After foot icing (to ease the swelling of being on one's toes all day), a bath, and a nutritious meal, her evenings are taken up with schoolwork and stretching. Then early to bed so she can start again in the morning. 
In recent months, Ashley's company has performed The Nutcracker and Sleeping Beauty to limited-capacity audiences. Covid-testing is required every week and the dancers must stay within their own company bubbles and masked during rehearsals. Despite the restrictions, Ashley says she feels blessed and grateful to be able to dance with others, "Dancers are a very dedicated people." Currently, they are rehearsing Peter Pan. "With its magical theme, it feels perfect for me right now," says Ashley. 
While she enjoys Florida's humid heat and the great people she has met, Ashley says, "I do miss North Vancouver. Nothing beats the beauty – there is a freshness in North Vancouver that I miss." 
Ashley will get to come home in May to graduate with the Carson Graham Class of 2021 and enjoy family and friends in North Vancouver, before heading off on the next leg of her ballet journey. In July, she will be moving to London to join the English National Ballet as a company apprentice.
Biggest inspiration
When asked about her biggest source of inspiration, Ashley names her mother, Rio, who happens to be one of NVRC's longest standing yoga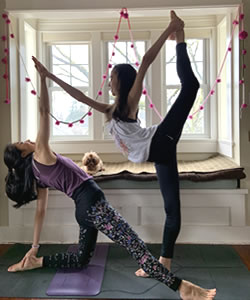 instructors! Ashley says her mom is one of the hardest working people she knows, as well as one of the most balanced. Ashley heeds her mother's advice to remember to rest and take care of herself. "So much of ballet requires self-management and self-motivation," says Ashley, who admires these qualities in her mother. "I'm so happy to have yoga mom."  
Passion gets you through 
The rigours of being a ballerina are both physical and mental. Besides constantly pushing the body to its limits, there are the chronic stresses of live performance and heavy competition for key roles. 
In spite of the hardships, Ashley can't get enough of her artform. "Ballet is a joy. When I perform, I want to leave the audience with something joyous to remember. Why would I give up on that?" 
When asked what advice she might have for other aspiring dancers, Ashley says, "Stay tenacious. Have your goal in mind. If it's something you absolutely love, grasp onto it and don't let go. Everything happens for a reason. In moments of failure, you can find more layers and more meaning as an artist. You don't know what you'll find."
Ashley's short and long-term vision involve her passion for ballet. She looks forward to traveling the world with ballet: "I love to provide art to the public. It's something we need more of. I want to represent Canada and North Vancouver across the globe. That inspires and motivates me. And, after I retire, I still want to be involved in ballet. Maybe I can return to North Vancouver and teach and share my knowledge with others."
Wherever Ashley goes to pursue her passion, her community in North Vancouver couldn't be prouder of her – or more inspired.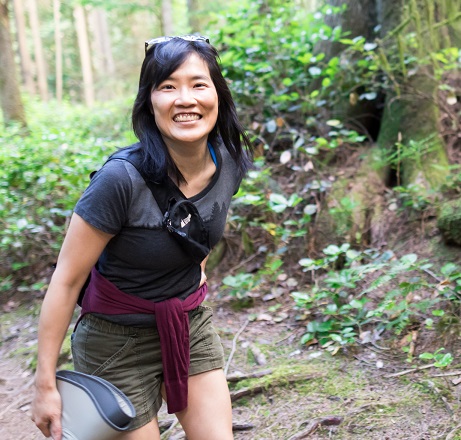 Wiley Ho.
A long-time North Vancouver resident, Wiley works as a technical writer and is the current newsletter editor for the North Shore Writers' Association. She spends her free time reading, hiking and discovering new things to try at North Vancouver Recreation & Culture!