For those of us living in the Northern Hemisphere, the winter solstice represents the shortest day or the longest night of the year – and the official start of winter. Landing between December 20 and 23 each year, the winter solstice this year will be Tuesday, December 21st. Cultures around the world have long celebrated the winter solstice – with fire, light, ceremony, and special foods. Read on for numerous ways to mark the occasion and celebrate winter. 
Fascinating solstice traditions from around the world
In a culturally diverse country like Canada, I am grateful to be able to live in a community that values diversity, equity and inclusivity. Not only is it vital that we appreciate one another's traditions, it is also enriching to learn about the different ways we celebrate this time of year. 
While Christmas remains the dominant celebration for most people around the winter solstice, there are many other traditions that are honoured in December. The following are some interesting (and by no means exhaustive) ways to usher the return of light. 
Indigenous traditions
When the sun is at its lowest level across the sky is also a time for rest, reflection, renewal, and recognition that winter has arrived. First Nations, Inuit, and Métis peoples celebrate with quiet observance, storytelling, song, dance, and special ceremony. While practices differ from community to community, the winter solstice is recognized as a time to go inward with intention and care for ourselves and our families, to reconnect to the natural world and prepare for the longer days ahead.
Festivals in East Asia
To mark the end of the harvest season, traditional customs are honoured in East Asia, including the sharing of special foods with family. Since the Han Dynasty (206 BC – 220 AD), the Dong Zhi festival is celebrated with tangyuan, a special soup of glutinous rice balls to symbolize family unity. In Korea, the solstice is marked by making a red bean porridge and cakes with sticky rice. In Japan, the Toji celebration features eating kabocha winter squash and taking a hot bath scented with yuzu citrus fruit.  
Shab-e Yalda 
On the longest night of the year, Iranians all over the world celebrate the triumph of light (as represented by Mithra the Sun God) over darkness. Family and friends gather over festive foods, including pomegranate and nuts, and poetry readings (especially the work of 14th century Persian poet Hafez). Some stay up all night until the sun rises. 
St. Lucia's Day
Scandinavians honour St. Lucia, one of the earliest Christian martyrs who was killed around the solstice, with a traditional festival of lights. Feasts and fires are lit as an homage to St. Lucia, to ward off bad spirits on the darkest night of the year. 
Saturnalia
Ancient Romans celebrated the solstice with a dedication to Saturn, the god of agriculture and time. This pagan festival was often a weeklong party in the middle of December and everyone indulged in drinking, feasting, and gifting. Many of these traditions have carried on to current-day Christmas celebrations.
Free local events and festivals
If you are looking for some bright ways to light up the darkest night of the year, here are a few family-friendly suggestions nearby: 
28th Annual Winter Solstice Lantern Festival on Tuesday, December 21st from 6:00 – 10:00pm (live and virtual). Make a lantern and join a procession in Yaletown, Granville Island, or Strathcona. Lantern-making tutorials
Park and Tilford Hi-Light Festival - Take a stroll through the outdoor gardens lit up with more than 150,000 lights through December, at 333 Brooksbank Avenue. 
Dundarave Festival of Lights Forest of Miracles – Walk the beachside stroll of decorated trees and find your favourite among a lineup of 130 trees: website
Christmas lights displays around Metro Vancouver: Go for a driving or walking tour
Public ice-skating at The Shipyards, at the foot of Lonsdale Avenue, under the retractable roof over 12,000 square feet of ice. Grab your skates (limited rentals available on-site.) While this activity is not usually associated with the solstice, the flash of skates on the shiny ice might just spark some extra light.
However way you celebrate around the winter solstice, here is to a safe, peaceful, and contented new season ahead.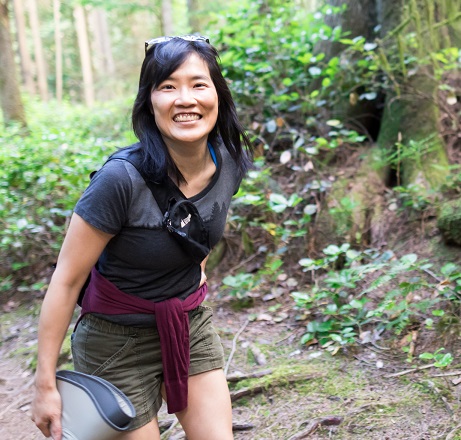 Wiley Ho.
A long-time North Vancouver resident, Wiley works as a technical writer and is the current newsletter editor for the North Shore Writers' Association. She spends her free time reading, hiking and discovering new things to try at North Vancouver Recreation & Culture!