With over 150 drop-in fitness classes to choose from every week, there are always new ones to discover. For instance, what is Muscle Fusion? The class is described as "A total body muscle conditioning class. Steps, tubing or hand weights may be used." Being on the lookout for interesting and different fitness routines, I decided to try it out!
A welcoming, inclusive class
I dropped into a 09:40 Wednesday morning session at Delbrook. Arriving a few minutes early, I struck up a conversation with a regular participant, a spry senior with snowy white hair and an energetic smile. I told her it was my first class. She looked me over and joked, "You shouldn't have too much trouble. But, if you do, just follow my lead!" This older woman embodied my ideal for ageing well – fit, strong, open and good-humoured.
The door to the gym opened for us and we were soon joined by about a dozen other class goers. Our instructor, Louise, bounded in, welcomed everyone, started up some classic rock music and launched right into class with an energetic warmup. 
Cardio, core and weights
It didn't take long to understand why the class is called Muscle Fusion. The majority of the class involves the use of hand weights for upper body strengthening in combination with an aerobics-style workout – dance steps, calisthenics and occasional punching and kicking moves borrowed from boxing. 
"Choose the weights you want – change them up. Go high impact or low." Louise called out intermittently to remind us it's a self-paced class. "Remember, you're the boss!" 
Louise's energy was infectious as she let out regular whoops to keep our momentum up. When the going got tough she regaled us with funny anecdotes. "Did you hear the news about the runaway emu? They emu farmer wasn't home so they interviewed his neighbour who was out walking his goat!"
Louise guided us through a choreography of combined upper and lower body exercises that involved stepping, jogging, jumping jacks and lunges. Working with hand-held weights and moving around the room required concentration to keep rhythm to the music. I could feel my balance and coordination being challenged as much as my muscles. When I messed up, I looked up to find others laughing at themselves too. Class participants spanned varying ages, body sizes and fitness levels. It felt good to be part of a little community in pursuit of the same goal: fitness and fun.
A massive sweat
The class begins with a dynamic warmup (10 minutes) followed by cardio and weights (40 minutes) and cool down with stretching (10 minutes). 
The fast-paced hour flew by for me. Judging from the smiles and high fives around me, I'd guess that everyone got a big boost of endorphins. By the end of the class, I was good and sweaty, feeling fantastic and ready to tackle the rest of the day.
Challenge yourself to a Muscle Fusion class! To find a drop-in fitness class, visit the NVRC website and search Drop-In Schedules by location. Weights and fitness equipment are included. Bring your own mat, water bottle and towel.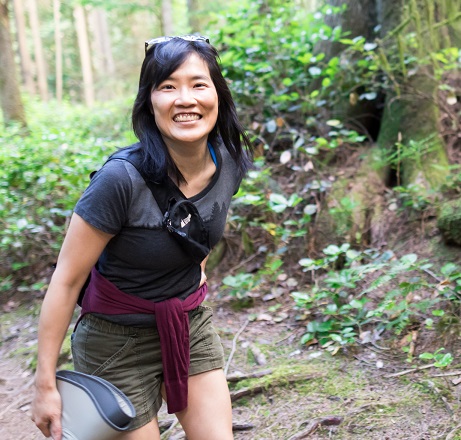 Wiley H.
Wiley is a long-time North Vancouver resident. She works as a technical writer and is the current newsletter editor for the North Shore Writers' Association. She spends her free time feeding her twin passions of creative writing and hiking. She recently discovered a potential third passion - the pottery studio at the Delbrook Community Recreation Centre.