How a female war vet continues to stay active and inspire others.
Jaye Edwards recently celebrated her 100th birthday with her workout buddies at the Joint Rehab Program at Harry Jerome Community Recreation Centre. It was a great celebration, featuring a big chocolate cake, a beautiful card and gifts from her rec centre friends.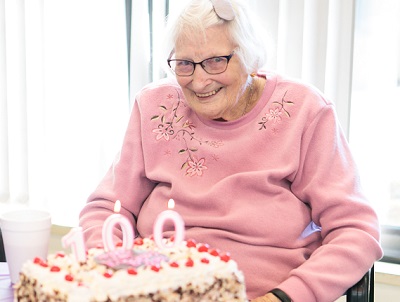 "Jaye is a true inspiration to us," said Daniel Lemieux, one of Jaye's close friends and co-participants in the program.  "She is a very brave, strong lady with a profound background and I am incredibly proud to be her friend."
One of the few surviving female war veterans from WWII, Jaye has an abundance of fascinating experiences to share about her life and her commitment to fitness. Here is her story…
Jaye's joint rehab program journey
Nearly 12 years ago after undergoing a knee replacement, Jaye made the conscious decision to join the Joint Rehab Program at North Vancouver Recreation and Culture (NVRC) to help strengthen her hip and knee joints. 
Since then, she has never looked back. Jaye works on the rowing machine which helps strengthen both her upper body and legs. She works out for less than 20 minutes a day at a very moderate rate of exercise. "I really enjoy my workouts," says Jaye. "They help me maintain both my physical and mental health. I also get to meet lots of people while working out." 
Jaye's fitness trainers
Jaye praises her fitness instructors, Rob Wynen and Sean Choi from Harry Jerome, for keeping her on track with her fitness goals and providing the motivation to continue on her fitness journey.
Rob Wynen, who also supervises the Fitness Centre at Harry Jerome is clearly impressed by Jaye. "Our focus is to maintain the function in her non-replaced knee and rehabilitate her replaced knee.  At 100 years old, Jaye is still a keen program participant. Jaye is also a great role model to the "younger" participants - it is hard to complain about your aging body when you are working next to someone over 100 years old!" 
"My goal with Jaye," Rob added, "is to keep her as independent as possible and to ensure she still enjoys her routine, while maintaining her muscle and cardio strength."
Community and independence
"I look forward to my training and chats with friends who I consider my family," says Jaye. "The companionship makes attending the Joint Rehab Program all the more enjoyable." 
Not only has Jaye achieved fitness success in the Joint Rehab Program, she understands and appreciates the power of community and social wellness. Over time Jaye has cemented some great friendships. She attends Tuesday and Thursday classes where she meets up with a group of 15 participants who have now become friends. Together, they often have a "cuppa" coffee and some great conversations after their workout together. They tell jokes and discuss politics, weather, religion, etc. In other words, they are a thriving social network. 
Like many seniors on the North Shore, Jaye lives on her own. She enjoys her independence and still gets back and forth to rehab on her own (using a walker), and shops for groceries in various malls.
Reflecting on Jaye's phenomenal life
Jaye is no stranger to hard work. In the Second World War, she played an instrumental role as one of 168 female pilots who flew bombers and Spitfires from factories to the frontline, repositioning the planes for army officials. She said that female pilots had to learn about the different types of aircrafts, their engine sizes and how to fly the planes.  Once they were given flying instructions, they had to get in and fly the plane without a co-pilot or any other training.   "I am proud of what I was able to do to help Great Britain in the war against Germany," says Jaye.
Today, Jaye is one of three surviving female pilots from the Second World War. CBC recently ran a story about her riveting life. For more, check out: 'You just lived for the moment': Meet one of the last surviving female pilots who served in Second World War'.
Jaye is still interested to travel. "I recently went back to England and also visited Africa. While I was in England, I was allowed to fly in the back seat of a Spitfire and take the controls over the English Channel."
Jaye has made several appearances on different TV and radio programs featuring her unusual life experiences. Her next gig is to be flown to Ottawa to visit the Canadian Air Museum at Rockcliffe.
All of us at NVRC wish Jaye a happy centennial birthday and salutes both her inspiring life and exemplary lifestyle! Her friends at Harry Jerome look forward to her continuing workouts together!
For more on the various rehabilitation programs offered by NVRC, please visit: