If you're still wracking your brains for holiday gift ideas for people on your list, consider giving "Presents of Presence" this year – and skip the madness of last-minute Christmas shopping!
Your presence is the best present
I've been struggling with holiday shopping this year. I can't think of anything to get for my family and friends who seem to have everything they need. Indeed, most of us are so blessed to have so much. 
For me, the spirit of the Christmas season is connecting with those dearest to us, as well as showing compassion to our fellow man. 
So, instead of buying more stuff for people who don't need it, I've decided to give gifts of shared experience this season. I can't think of a better present to give (or receive) than an invitation to have a memorable experience with people I love. I'm calling it my Presents of Presence, gifts that prioritize shared experiences over material things, representing my care for the receiver and a desire to create meaningful memories with them. 
Here are just a few suggestions for giving Presents of Presence.
Invitation to attend a local concert or play together
Nothing says you love someone more than your desire to spend time with them. How about picking a local show to attend together in the new year? 

Besides supporting the theatre and culture scene on the North Shore, you will create a shared memory with loved ones. Check out upcoming shows, concerts and plays for all ages at these great venues right here in our community:
​Centennial Theatre
Presentation House Theatre 
North Vancouver Community Players
Deep Cove Community Theatre 
Kay Meek Arts Centre

Invitation for a special homemade meal
We all know that food made with love tastes best. Why not create a special invitation for a home-cooked meal prepared by your own loving hands? 

You don't have to be a gourmet chef for others to appreciate your food. For instance, though I'm far from being a great cook, I know my friends love it when I make the effort to cook for them.  

Offering a lending hand
Everyone appreciates the precious gift of time, especially families with young children or people undergoing medical treatment. How about offering an evening of free babysitting? Or driving someone to their doctor's appointment and waiting with them? Being there for people in need of support is a gift of deep compassion and care.
Donating to someone's favourite charity or helping out a holiday event
Pay your good fortune forward with generosity and kindness. Consider donating to a favourite charity on behalf of someone on your list. You can also check with local non-profit organizations to see if they need any volunteers for their holiday events.
Signing up for a new activity to try together 
With the new year just around the corner, how about registering for a fun new activity to try with someone you love? How about taking a painting class together? Woodworking? African drumming? Ukulele? Belly dancing? Pickleball? 

NVRC offers an incredible array of affordable programs and drop-ins to try. Check the latest Leisure Guide and Drop-in Schedules.
Wrap your presents of presence with a bow
Create a unique gift voucher and inscribe your personalized invitation on it. Or choose from hundreds of free templates in MS Word (open Word, go to File, New and search for a holiday template). 
You can even wrap your Presents of Presence for under the tree. Have fun, be creative, and enjoy the time you'll save by not shopping!
Happy Holidays
I wish everyone a joyous and meaningful holiday season!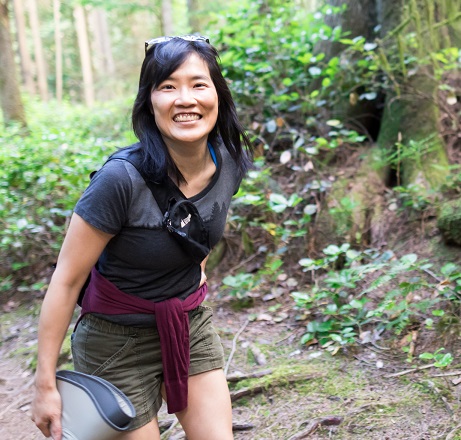 Wiley H.
Wiley is a long-time North Vancouver resident. She works as a technical writer and is the current newsletter editor for the North Shore Writers' Association. She spends her free time feeding her twin passions of creative writing and hiking. She recently discovered a potential third passion - the pottery studio at the Delbrook Community Recreation Centre.