Blogger Michelle Perrault revisits a teenage dream.
The first time I ever held hands with a boy was at the Saturday night teen skate at Lonsdale RecCentre (now Harry Jerome).  However, Peter's clammy clasp was nothing compared to the thrill I felt when the Zamboni Guy (ZG) wheeled out onto the ice and transformed our clumsy tracks into a glistening, smooth surface.  I thought he was magic.
The truth is, I'd had eyes for ZG since the day my friend Gail dragged me to the rink to check-out the Midget A hockey player she had a crush on.  For me, Steve's puffed-up performance was nothing compared to ZG's moves on the ice.
That was more than 40 years ago, but I had a chance to revisit this unrequited teenage dream recently, when I interviewed Ray Miller, an Auxiliary Arena Maintenance Worker for North Vancouver Recreation & Culture  (NVRC).   A modern-day Zamboni Guy, Ray's role goes far beyond sweeping the ice.  But, it still seemed like magic when he talked about his job.
"There is a meditative quality to making a nice sheet of ice," Ray explained.  "I pick different starting positions but usually follow the same basic pattern.  It is very satisfying to do a good job.  And I like to do a good job." He smiled.
Celebrity status
Apparently I am not the only one who thinks Zamboni guys are cool.  One time, when he stopped to help at the scene of a car crash, Ray was surprised to be recognized by a young boy in one of the cars.
"Hey, Mom!  It's the Zamboni Guy!"  The boy's excitement at seeing his on-ice hero overcame any issues caused by the crash.  Ray determined all was well and carried on to work.
His duties at the Harry Jerome Arena extend beyond the ice, which is why Ray tries to arrive early for his shifts.  He checks the schedule, plans his day and then focuses on logistics and priorities to ensure everything is set-up and ready to go.  This includes all aspects of arena operations. 
"I'm part-time, so I try to find smaller projects that the others don't have time to do, like extra "spudding" the corners" (ZB talk for chipping out the ice chunks).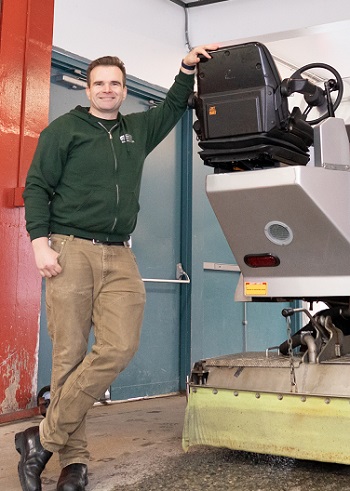 Focus on safety
Safety is a priority at all NVRC facilities, and as a certified Refrigeration Operator, Ray is responsible for monitoring and maintaining the arena during his shifts.  Both Karen Magnussen and Harry Jerome arenas use ammonia-based refrigeration systems and regular plant readings are required to ensure the refrigeration plant is operating safely and to identify any issues before they become a safety concern.  
"Safety is paramount and I'm responsible for the plant.  I can't leave until my replacement shows up," Ray explained.
His arena experience began in 1997 when Ray was hired by the District of Sechelt.  He started at NVRC in 2005, where Ray worked part time while focussing on a career in Project Management.  A diagnosis of Multiple Sclerosis in 2003 didn't slow him down, until recently, when he decided to take a break from full time of project management and pick-up more shifts at the arena.
"Staying healthy is very important to me," Ray said.  Stress takes a toll on your emotional and physical wellbeing, I feel good about the work I do for NVRC, so I feel better."
Healthy mind and body
In addition to being a first-rate Zamboni Guy, Ray has many other interests and activities to keep his mind and body healthy.  He started running on a treadmill at NVRC in 2006 and has competed in over 51 races so far, including five full marathons, ten triathlons and 2 iron man events.  Ray is also active with Toastmasters and is currently developing a podcast, along with other writing interests.
"I've been described as a curious 'bugger', and I suppose that's true," Ray laughed.  "I like learning new things and exploring new ideas."
Ray tried to teach me the mechanics of the Zamboni, explaining how it scrapes the ice with the blade, uses an auger to move the "snow" into the storage compartment and drops down the conditioner (a tool, apparently, not the stuff I put in my hair), before spraying just the right amount of hot water to smooth the surface.  The pride in his work is evident in the tone of his voice.
However, Ray lost me when he explained that "Zamboni" was the brand name for a piece of equipment called an Ice Resurfacer. I was crushed.  Ice Resurfacer Guy?  No magic in that!  Zamboni Guy is way cooler.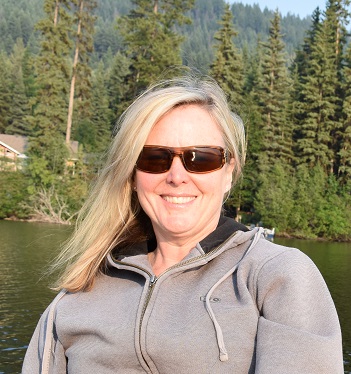 Michelle Perrault
A North Shore girl at heart, Michelle has fond memories of Saturday night skates at the NVRC ice rink (now Harry Jerome) and swimming lessons at William Griffin (now Delbrook) pool. More recently, she enjoys hiking and biking the trails of Mount Fromme and the Seymour watershed. She lives in Lynn Valley with her two adult children, two dogs and wonderful friends and neighbours.