Keep Calm and Play with Clay.
"Clay is shaped into a bowl, but it is the empty space that makes it useful." 
― Lao Tsu
Pottery as play
Clay is fun. You can throw it on a wheel, mould it into endless shapes, pinch it into pots, or fashion it into sculpture. You can make useful things (mugs and bowls) or whimsical ones (garden ornaments like mushrooms and birds). There is really no limit to what you can make from clay and it is extremely satisfying to make something you can use or gift to others.
 
I've been playing with clay for a number of years, but I am still a beginner. It is a beguiling art form that takes years, possibly a lifetime, to master. I am often at the whim and mercy of little lumps of mud. Often what emerges from the mud is not what I intended when I started out. It can be frustrating and humbling, but the process is always fruitful, and I emerge from every session at the pottery studio refreshed and invigorated. These are some of the benefits I've encountered playing with clay:
Improved tactility in my hands
Greater self-expression
Inner calm
Letting go of perfection
Laughter and surprise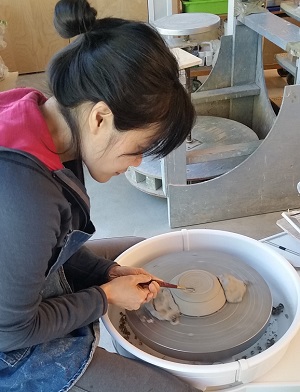 Tuning out and tuning in
Pottery is a form of meditation. It is elemental and stills the mind. It has a way of making the world recede until your whole attention is centred on the lump of clay in your hands, in the now. Three-hour classes glide by as the stresses of the day melt away.
The clay medium is both inviting and challenging. It feels good in the hands and often has a mind of its own, so it requires your full attention and attentiveness. It forces you to slow down and notice what you're doing and how you're feeling. It is grounding in a way that reconnects you to you. After a few hours, people feel lighter than when they first began. 
Community
Potters are a friendly bunch. The North Shore studios are full of potters of all ages. I have taken several excellent classes taught by Louisa Liebman at the Delbrook Community Recreation Centre. Louisa is a master potter who imparts her knowledge enthusiastically and encourages each student to stretch their skills and imagination. Besides learning all about ceramic art, students often get to enjoy tea and cookies in class.
North Vancouver Pottery Studios
Try your hand at pottery and be amazed at the transformation of clay into art, and at your own inner transformation. North Vancouver Recreation & Culture offers pottery lessons and memberships for adults, teens and kids at various locations in North Vancouver. Search programs and locations
here
. 
Wiley H.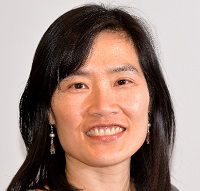 Wiley is a long-time North Vancouver resident. She works as a technical writer and is the current newsletter editor for the North Shore Writers' Association. She spends her free time feeding her twin passions of creative writing and hiking. She recently discovered a potential third passion - the pottery studio at the Delbrook Community Recreation Centre.