I must admit I've been feeling drained by all the ongoing difficulties in the world. And with fall just starting, I wanted to find a fitness class to re-energize me. I know exercise is good for stress management. Aerobic activity helps. Uplifting music helps. Being part of a community helps. Combine them all together? Zumba fitness class!
A safe return to indoor workouts
The NVRC has reopened its fitness facilities with new health guidelines. Indoor fitness classes have restarted to help the community stay healthy and fit into the wet season. Returning to more indoor time, I wanted to take a class that would inject zest and energy into my life. So, I registered for a Zumba class at John Braithwaite Community Centre.
After a summer of exercising outdoors, I was a bit apprehensive about moving indoors to work out. What I found on my return was very reassuring. 
Approaching the front doors of John Braithwaite Centre, there are prominent signs on the windows, markings on the sidewalk, and a sandwich board reminding everyone not to enter if they have any symptoms of illness and to maintain physical distancing of 2 metres apart. As soon as I enter the building, there is a hand sanitizing station that everyone must use before proceeding farther inside.  
Someone at reception greets me and directs me to the right place for my class. For additional safety, I am reminded to go straight to class and not linger in the common areas.  
My class is in a big gym designed for basketball and other sports. There is plenty of space for the dozen participants or so to spread out and maintain generous social distancing throughout the class. 
Getting a healthy dose of endorphins and community 
Before I even enter the gym, I feel the pulsing beat welcoming me to class. If energy was what I came for, here it is inviting me in.
 
I am nervous. This is my first Zumba class. I don't have a dance background. I don't have the moves. But none of that matters. The instructor can accommodate everyone from beginner to advanced. Looking around at the other women who are limbering up and laughing, it is clear we are all here for a dance party. 
As soon as the class starts, all eyes are on our instructor who leads us through fast-changing dance routines. Routines that have us stepping, kicking, pumping, shaking and shimmying our whole bodies. We move forwards, backwards, sideways, around, then reverse. Every muscle is engaged to move and groove. The music is invigorating – salsa, soul, pop, hip hop, Middle Eastern – everything with a funky beat to keep you going.
After a couple of minutes, I forget to be self-conscious. I am focused on following the moves of the instructor and keeping time to the sultry music. A few more minutes and my body loosens up, enjoying the freedom of wiggling and shaking and rolling. Just for the joy of it! I mess up and it doesn't matter. Keep going. Only the instructor is flawless and I just need to follow her lead. I find myself laughing, which feels as good as the dancing. 
By the time the hour is up, I am glowing – with sweat and endorphins! The class packs up quickly, calling out to each other, "See you next week!" As I leave the gym, I feel like all my muscles have been worked and I'm in a great mood. Not only did I get a fantastic workout, I also received a cheerful dose of community.
What is Zumba?
Zumba is an aerobic fitness class that combines dance moves with cardiovascular training. The class involves energizing music, like Latin dance, to get you moving in all directions. The instructor guides you with moves ranging from salsa and mambo to belly dancing and even martial arts moves. The result is a fast-moving, fat-burning and high-energy workout. 
The many benefits of Zumba fitness include:
A great aerobic workout. The Heart and Stroke Foundation recommends at least 150 min of moderate-to-vigorous-intensity aerobic activity per week in bouts of 10 min or more
Movement in all directions to strengthen different muscles and bones
A challenging workout for the brain. Novel routines and sequences challenge agility, balance and coordination
Fat-burning workout to boost the metabolism
A wonderful stress buster and mood-lifter!  
Try Zumba for yourself. View the schedule and register online, or call 604-987-7529.
New fitness class protocols for public health and safety 
 All fitness classes now require advance booking. Book online or call 604-987-7529
Anyone feeling unwell must not enter the facility (e.g., fever, chills, sore throat, cough, shortness of breath, headache, new loss of taste or smell)
Pack a full water bottle - water fountains are closed
Arrive in your workout gear - change rooms and showers are closed (only washrooms are available)
Arrive just before class and leave promptly after class
Use hand sanitizer (provided) upon entry and exit. Follow safe physical distancing of 2 m apart.
Answers to frequently asked questions, registration, safety protocols and fitness centre etiquette are available here.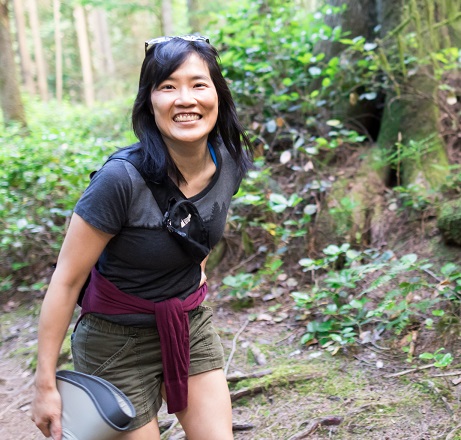 Wiley H.
A long-time North Vancouver resident, Wiley works as a technical writer and is the current newsletter editor for the North Shore Writers' Association. She spends her free time reading, hiking and discovering new things to try at North Vancouver Recreation & Culture!