Hiking for Fitness, Connecting for Wellness
Ophelia's story
Ophelia Sahakian is a regular with Trail Trekkers – NVRC's walking/hiking program that explores the trails of the North Shore two to three times every week. 
She started going on the walks and hikes almost four years ago. She says, "We Trail Trekkers walk and talk (about) our experiences, our frustrations and whatever happened to us that week. And we're all listening to each other. It's a great friendship. It's a great way to meet new people." She recently invited her trekking friends to celebrate her 70th birthday party.
Everyone is welcome
Every newcomer to Trail Trekkers is warmly welcomed into the group and instructed on trail and mountain safety, including what to wear and bring. The atmosphere is convivial and inclusive.
Of the trail leaders, Ophelia says: "They're very informative. They're very good. They really, really take care of you, especially the beginners. You can go as slow as you want or as fast as you want. They'll stay with you."
You feel safe
All hikes are guided by experienced leaders who know mountain safety are familiar with the trails. They also ensure the group hikes safely and stays together. No one is left behind.
"I can't say enough about the leaders," says Ophelia, "they are informative, kind and understanding." Shabnam adds, "They really look out for us."
Trail Trekkers offer several hiking options each week, ranging from easy walking (Ambleside Beach and Panorama Park) to intermediate (Black Mountain and Hollyburn Mountain).
Ophelia encourage everyone to try Trail Trekkers. She can remember not being in the best shape when she first started and was supported and encouraged from the start. She says, "When I started, I was near the back of the group during the hike and now I'm up front with the leaders. Also I find that my knees and back no longer hurt since I've been hiking." Gradually, every hiker gets stronger and faster.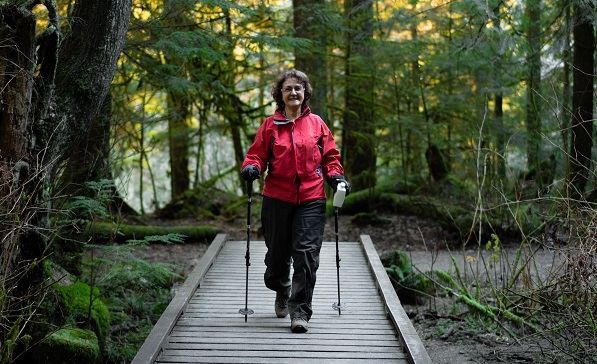 Building community 
Ophelia knows the power of connecting with others and staying well. She says, "Socially, Trail Trekkers is great for people, especially seniors who live alone. I learn so much when I meet new people. We socialize when we walk. I've made many, many friends."
The weekly meetups don't end right when the hikes are over. The Trail Trekkers go for coffee afterwards to continue their conversations and to share their week's happenings. Sometimes they plan and attend other outings together. From carpooling to supporting each other through life's ups and downs, the group looks out for one another. 
Ophelia says she feels better and more energetic today at 70 than she did at 50. "In addition to her hiking, she does yoga three times a week at Delbrook Community Recreation Centre.
Her mother was a great walker. She says, "Mother walked all over North Van and died of old age at 92". Having inherited her mother's love of walking, Ophelia plans to outlive her mother. 
NVRC congratulates Ophelia and all the Trail Trekkers for blazing an inspiring trail for all of us!
About NVRC Trail Trekkers
Established in 1989, Trail Trekkers is a walking/hiking group that explores the trails of the North Shore. The outings are led by experienced leaders and are free for those who have a NVRC fitness membership; non-members pay a drop-in fee. There are several days and levels of difficulty to choose from, ranging from easy walks to intermediate hikes. The group is inclusive and welcoming to newcomers! For more information, please visit here.