Our People
NVRC staff are passionate about their work and inspired to make a difference in our community. Many grew up with NVRC and have great memories of learning new skills, meeting new people and having fun.
Today, with over 900 staff and instructors and over 150 volunteers, NVRC's team works together to provide positive learning, playing and connecting experiences at our facilities and in all our recreation and culture programs.
For the Love of Art 
Andrea's story
Andrea Bruhns is passionate about the power of the arts to nurture self-awareness and personal healing. Whether it is drawing, painting, photography, pottery, quilting or woodworking, Andrea believes all art forms provide a "playground for creativity". Andrea teaches art exploration and mixed media to all age groups. She loves helping her students "let go" of their fear of judgement and discover their own voice and creative freedom. 
Born to Swim and Save Lives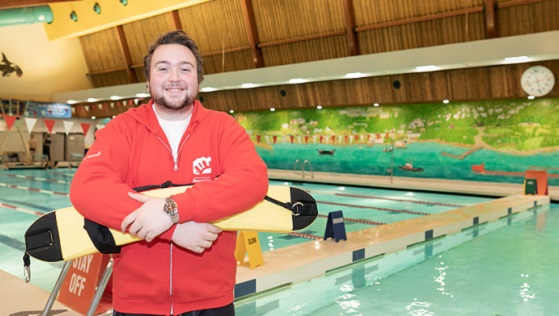 How Lifeguarding and Teaching Swimming Empowers
Jordy's story
Jordy McIntosh's future as a NVRC lifeguard began when he was six months old and took his first swim lesson in Ron Andrews pool.  Now Jordy is inspiring other kids to learn to swim and stay safe in and out of the pool.  Jordy remembers helping save a person's life early in his teens when he provided CPR to a woman who was not breathing.  He kept her alive until the paramedics arrived. He is grateful he had the skills and training to make a difference.  "It's very empowering to know how to save lives," he said.

Welcoming EveryBODY through Adaptive Yoga
Toni's Story
Toni van der Marel is passionate about making yoga and wellness accessible to everyone. She uses yoga to connect with the spiritual, emotional and physical wellbeing of the people who come to her adaptive yoga classes.  The results are inspiring. Toni's yoga classes are designed for individuals who are often reluctant to participate due to barriers or stigma.  Whether it's physical or mental challenges Toni and the NVRC want to people to see that adaptive yoga is different, it's safe and welcoming for everybody.

30+ Years of Service
Dawn's Story
After almost 30 years of working with North Vancouver Recreation & Culture (NVRC), Dawn Wimbles still loves her job.  She enjoys coming to work everyday, connecting with customers and listening to their stories.  She started her career as an instructor and lifeguard and now is the Front Office Supervisor at Parkgate Community Centre providing service, support and encouragement to community members at the centre.  
Our Volunteers
The NVRC would not be the same without our volunteers who bring boundless energy, talent, generosity and heart to our programs. From helping with kids camps and providing one-on-one support in programs, to special events and play activities, our volunteers love giving back to their community while meeting new people and gaining new experiences and leadership skills.
 
Inspiring by Example
Helping People Participate
Carolyne's Story
Carolyne understood the power of inspiring role models from a young age. She remembers looking up to her instructors and the volunteers in the skating, swimming and ballet classes she took at NVRC. Today she is giving back to her community through her volunteer work with NVRC summer camps and by providing one-on-one support in skating lessons.  Now she's become a role model and gained valuable new skills and insights. Carolyne  encourages everyone to volunteer in their community, saying, "Even the smallest contributions make the biggest differences." 

Getting more by giving back
Louise's story
"A community centre provides a safe and welcoming environment to get active, meet others and develop a sense of belonging.  That's why I volunteer," says Louise Thomas.  One of many examples she shares is meeting a recent newcomer to Canada who had a young family and was feeling socially isolated.  With encouragement from Louise, the young woman started volunteering with NVRC as a way to connect with her new community.  

Learning to Lead and Help Others 
Rob & Joey's Story
Twin brothers Rob and Joey give their enthusiastic account of how taking the NVRC Preteen Leadership Program and then volunteering for NVRC's summer camps have developed their personal skills and sense of community.
Our Commissioners
North Vancouver Recreation & Culture Commissioners are appointed by the City and District of North Vancouver.  Representing the best interests of North Vancouver residents, our Commissioners volunteer their time and energy to guide the Commission's policies and provide community oversight. 
2021 Recreation & Culture Commissioners
Franci Stratton, Chair 
Citizen Appointee
City of North Vancouver 
Herman Mah , Vice-Chair
Citizen Appointee
District of North Vancouver
Mary Carmichael 
Citizen Appointee
District of North Vancouver
John Moore
Citizen Appointee
District of North Vancouver
Dave Wilson
Citizen Appointee
District of North Vancouver
Holly Back
Councillor
City of North Vancouver
Angela Girard
Councillor
City of North Vancouver
Betty Forbes
Councillor
District of North Vancouver
Lisa Muri 
Councillor
District of North Vancouver
Cyndi Gerlach
Trustee
North Vancouver School District
Kate Smyth
Citizen Appointee
City of North Vancouver  
Heather Turner
Director of Recreation & Culture
North Vancouver Recreation & Culture Commission  
Our Programs
NVRC offers the North Shore's widest variety of indoor and outdoor recreation and arts and culture opportunities for all ages.  These programs are provided at our community recreation centres, Centennial Theatre, North Vancouver Tennis Centre and various indoor and outdoor community spaces. From registered programs to drop-in classes and special events, we provide opportunities to participate in:
Arts and Culture 
We offer hundreds of exciting visual and performing arts programs designed to help you discover the artist and performer within. 
Overcoming Challenges through Painting and Community 
Vern's Story
A lifelong lover of art and history, Vern Montgomery paints colourful and joyful scenes of local sites and happy people in them. Despite having survived a debilitating stroke which left him with limited speech and virtually no use of the right side of his body, Vern embraces life and loves expressing himself through his paintings. "I feel absolute joy to be alive and I'd like to share that feeling with everyone." 
Camps
NVRC camps are a fun, safe and meaningful way to spend the summer, school breaks and professional days.
Fitness
From boot camp to Zumba to weight training and pre and post-natal fitness, our registered fitness programs, drop-in classes and fitness centres help residents achieve their fitness goals.   
Yoga Strengthens Mother & Daughter Bond
Lois & Nancy's Story
For Lois and Nancy, their weekly yoga class has become a place where they connect with each other and their community.  The health benefits are far-reaching, as greater flexibility reduces Nancy's risk of injury on the soccer pitch and Lois' improved balance means she is less likely to fall.  This class, followed by lunch together is something they both look forward to.
General
NVRC offers great programs where community members can learn a new language, take a specialty cooking class, play bridge, or develop their leadership skills.  
Health Management 
Health management programs can help people get back in motion when dealing with a chronic condition or recovering from an injury, surgery or stroke.
From Tragedy to Triumph
Peter & Hege's story
In 2015 Peter suffered a stroke and had little hope of ever walking again. Through perseverance, the loving devotion of his wife Hege, and NVRC's life-changing Aquatic Stroke Rehab Program, Peter has gradually regained his mobility. The couple is able to enjoy life outside the house once again.  "I can't praise the Stroke Rehab staff and volunteer team enough." Hege is convinced that Peter will walk by himself again someday, saying, "If it's impossible, it just takes a little bit longer." 
Outdoor Recreation 
Our community loves the outdoors and NVRC offers outdoor play opportunities for kids and youth, hiking and walking programs and outdoor fitness classes so residents can stay active outside.
Hiking for Fitness, Connecting for Wellness
Ophelia's Story
"Trail Trekkers changed my life significantly…It's so good for keeping me sane." Ophelia, who recently celebrated her 70th birthday, says the success of the group lies in its strong community, "The goal is to walk – and we socialize while we walk –that's how we all form friendships. I learn so much when I meet new people." 
Sports
From badminton and tennis, to pickle ball, basketball and floor hockey, there are many learn to and recreational sport programs at our facilities.
Swimming & Skating
NVRC is the place to learn to swim and skate.  Our rinks and pools provide a wide range of aquatic and skating opportunities for community members of all ages.
Our Services
From personal training to our financial assistance program, NVRC provides a wide range of services to support our residents in their recreation, cultural and community pursuits.
Access & Inclusion
At NVRC, we value diversity, inclusion and providing access for everyone in the community.  We are committed to improving accessibility to our facilities, programs and services.   Our Access & Inclusion Team provides services and supports to ensure members of our community can participate in recreation and culture opportunities.
Breaking Down Financial Barriers
Our Leisure Access Counsellor Vida, is passionate about helping people who face financial barriers.   This is her story:
Building Programs for People with Diverse Abilities
Inclusion Works
Inclusion Works North Shore, is a group of families with adult children with disabilities. Together with community partners like NVRC, Inclusion Works North Shore is able to provide diverse programs and classes to support young adults with diversabilities. Now in its fifth year, the group has helped young adults grow and flourish. 
Cultural Services 
Our Cultural Services Team is keeping culture alive in our community through events and activities, arts and culture grants and North Vancouver's extensive public art program.  NVRC also supports cultural capacity building by offering opportunities for professional development, peer learning and community engagement.
Personal Training
Our highly trained and educated health and fitness staff provide a range of personal training services as well as fitness centre orientations and get started consutations.  
Training for the Special Olympics
George's Story
With multiple medals and countless hours of community service, George Doykov fills his life with friendship, fitness and adventure.  The 34 year-old Special Olympian recently  trained with NVRC's Fitness Centre Supervisor, Rob Wynen to build strength and shave time off his runs.  "Rob helps me out and I feel stronger since doing the personal training," said George.  
Rentals
Our staff manage thousands of rentals and bookings for the community each year including facilities, school and park fields, parks and community spaces.
Our Events
We bring the community together through the many special events we present, host and facilitate throughout the year. Our Community Events Team facilitates, supports and produces over 130 community events every year.
Live & Local Concerts & Culture Series
Live & Local brings together North Vancouver's most popular concert series (formerly the Friday Night Summer Concerts Series) and arts  events to deliver 33 exciting and free cultural experiences at five locations for families, residents and visitors all summer long.
North Van Strong Adventure Event
North Van Strong is an annual event for kids and youth in grades 3 - 10 that feature a two kilometer course with fun and challenging obstacles. The event supports young people getting active and having memorable experiences that will lead to a lifetime of active living.  
Centennial Theatre Events and Performances
For over 50 years, Centennial Theatre has been facilitating and presenting cultural and performing arts experiences that contribute to the cultural fabric of North Vancouver.  As the largest performing arts venue on the North Shore, Centennial Theatre strives to empower the community to be creative, connected and entertained. The theatre has also been the place where generations of residents have discovered their performer within, having taken their first steps on stage at Centennial Theatre.
Community Events
Our annula summer and fall community events calendar and weekly events email newsletter feature all the best free and low cost events in North Vancouver. 
Our Facilities
On behalf of the City & District of North Vancouver, we operate 10 community recreation centres, the North Vancouver Tennis Centre and Centennial Theatre.
We manage safe spaces and places where everyone is welcome to gather, learn, play, create and connect.   
We also bring recreation and culture outdoors through walking and hiking programs, outdoor fitness classes, children's camps and play activities in parks, community events and public art installations. 
Our Participation Statistics (2018)
2,172,100
visitors to our facilities
53,202
hours our facilities were open 
2,587
individuals assisted through our financial assistance program
8,734 
volunteer hours from 189 volunteers
3,500+ 
recreation and culture programs offered
576,558
recreation and culture program participants
21,667
active members (fitness, access, pool & play, personal training)
751,371
scans/visits from members
11,000+
audience members/participants at 33 Live & Local Concert & Culture events
100,000+
audience members at Centennial Theatre
13
new public art installations
35
arts & culture grants awarded
3,000+
room bookings and rentals
850+
park and school field bookings 
Our Future
Our NVRC team remains committed to our vision to help individuals, families and communities lead healthy, inspired and connected lives.  
We will continue to conduct research with residents, keep informed of industry trends and work collaboratively with others to ensure we proactively and intentionally respond to our community's indoor and outdoor recreation and culture needs.  
Our staff work closely with the City and District of North Vancouver and community service organizations on initiatives related to building healthy communities.   The near future includes new facilities in planning or development (Lions Gate Community Centre, Harry Jerome Community Recreation Centre and Lynn Creek Community Centre), more outdoor recreation services and a continued emphasis on reaching youth and those who are under-served and face barriers to participation.  
North Vancouver Recreation & Culture will continue to be an innovative leader in municipal recreation and culture as we serve our community now and in the future.
11 Ways to Connect with Us
We welcome you to get active and creative with us and to connect with the community.  Here's how to get started:
Come see us at our Community Recreation Centres, Tennis Centre or Theatre
Did you know?  We operate ten community recreation centres, one indoor tennis centre and Centennial Theatre.  Our staff will welcome you and fill you in on all the happenings at our facilities.

Drop-in for a swim, skate, fitness class or sport session
See all our drop-in schedules online.

Speak to our staff on the phone at 604-987-7529
Our call centre staff know almost everything! They can help answer all your questions and give you suggestions for programs and activities you may want to try.

Register for one of our thousands of programs
Art, painting, music lessons, dance, martial arts, sports, swimming, skating, fitness, yoga, parent participation, early years, school age, adult and seniors programs – there's lots to choose from!  View our leisure guide and see what sparks your interest. 

Attend one of our community events
Don't miss our Live & Local Concerts & Culture Series in five neighbourhoods every summer (over 30 free events!) and check our website for other NVRC and community events.  

Apply to Volunteer with NVRC 
We're always looking for more community members to join our volunteer team. Apply today at nvrc.ca/volunteer

Explore our website
There's so much to discover.  From our public art collection (over 150 artworks in North Vancouver) and what's on at Centennial Theatre to volunteering with NVRC and all our programs, services and facilities – you can start browsing now at nvrc.ca.

Sign up for our email newsletters 
Get the inside scoop on what's going on with our RecNews, ArtsNews, TennisNews and our weekly Community Events News. Sign up at nvrc.ca/newsletters.

Follow us on social media
Join our over 8,000 followers on Facebook plus our Twitter, Instagram and YouTube channels for cool pics, videos and stories about what's going on here at NVRC. 

Read our Active Living Blog 
Our blog features weekly articles on health, wellness, arts and culture, as well as profiles on our staff and community members. nvrc.ca/blog

Send us your ideas and feedback
We want to hear from you!  Call, visit or contact us online with your ideas, program suggestions and feedback. 604-987-PLAY(7529) ​
Our Community Story Brochure
Click here to view and download the pdf verions of Our Community Story.