From Tragedy to Triumph
Peter's & Hege's Story
Meet the lovebirds
Peter and Hege are an inspiring couple. They have been married for a long time and still adore each other. It's evident from the way they lean in close to link arms and how they tease each other that they are the best of friends. 
"She is my everything," Peter says. "Without her I would not be here."
Hege responds, "I love him to death. I will do anything for him."
Their steadfast love proved a formidable force when tragedy struck. In 2015, Peter suffered a stroke which rendered him bedridden. Many said he would never walk again. 
The dream to walk again
Hege refused to accept the prognosis of Peter being housebound for the rest of his life and Peter didn't give up. "When I first had the stroke, I didn't realize it would take such a long time to get back to the way I used to be."
They experienced shock and fought through depression. Through it all, Peter dreamed of being able to walk again. Hege set out to help him. 
NVRC's Stroke Rehab Program
Hege looked into NVRC's Stroke Rehab Program that runs three mornings a week in the Karen Magnussen Community Recreation Centre's pool. She knew if she could convince Peter to try the program just once his natural playfulness would win out. "I said, 'let's try it once and see if you like it.' I knew he'd like it." 
"It's given me purpose," Peter says of the program. "I see that there is hope rather than lying in bed all day long." He found inspiration in the recovery of other participants too. "It gave me confidence seeing the progress other people have made." 
"NVRC staff are absolutely incredible"
Peter and Hege are deeply grateful for the support of the NVRC staff and the many volunteers who support the program. "You always get help and you always get included…It's a big family."
Hege feels especially indebted to the instructors, Susan and Judy, who coached her on how to best help Peter, taking care to explain the different exercises and how each one benefits stroke rehabilitation. She recalls the staff patiently repeating instructions to Peter to help him understand how to do something. 
One day, Hege remembers, "all of a sudden, he just walked in the water. It was a miracle. I can't praise them enough, and I wish we had more of these programs because it would make a huge difference."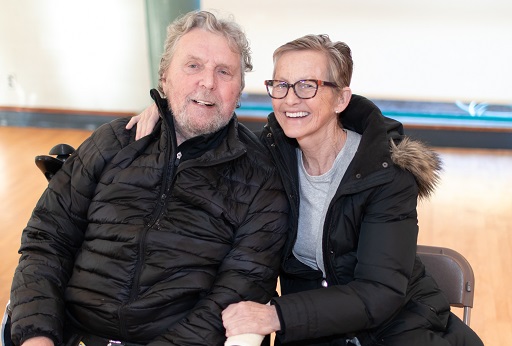 Success through perseverance
When Peter first started the NVRC Stroke Rehab Program, he had to be wheelchaired in and out of the pool. Today, just a year later, Peter is almost ready to walk himself out of the pool. At home he is able to walk around with the assistance of a walking stick. 
Hege says, "Our lives (have) changed…from being housebound…to him getting out of bed, being able to walk around and get out and meet people. Lunch. Dinner. It's opened up our world." 
The couple praises the NVRC for helping them make it happen. "(North Vancouver) Recreation & Culture has been fantastic. Without them we would not be here. Peter wouldn't be walking, he would be sitting in his wheelchair."
The impossible just takes a little longer
Through the many friends they've made at the Stroke Rehab Program, Peter and Hege came to realize they were not alone in their struggles. The support they received from other participants in the program gave them immense hope. They are grateful to the NVRC not just for a great program, but also for the community space where mutual support and healing can take place. 
And, they are optimistic about the future. 
"If it's difficult, it's going to take a little while. If it's impossible, it just takes a little longer." Hege says, looking at her husband. "Right, Peter?"
"Yes, dear," Peter replies with a mischievous grin. He had earlier confessed his goal: "to be able to walk. Actually, to do the Grouse Grind." 
With their combined grit and the passionate support of their stroke rehab community, anything seems possible.
Learn more about NVRC's aquatic stroke rehabilitation
The stroke rehabilitation program is specifically designed for anyone who has had a cerebral vascular accident. The focus is on developing a full range of movement for small and large muscle groups. The program has transformed people's lives, from improving range of motion to being able to walk again. To find out more, call 604-983-6557.