What is Physical Literacy?
Physical activity is a lot more fun when we're physically literate.
If we want children to be active for life, they need to develop physical literacy at a young age. This means learning the fundamental movement and decision-making skills that enable them to enjoy participation in sports throughout their life.  And... physical literacy can be learned and developed at any age.
Physical Literacy Defined: "Physical literacy is the motivation, confidence, physical competence, knowledge and understanding to value and take responsibility for engagement in physical activities for life."  - The International Physical Literacy Association, May 2014 .
This infographic demonstrates how basic movement skills open the door to a diverse range of sport and recreation activities.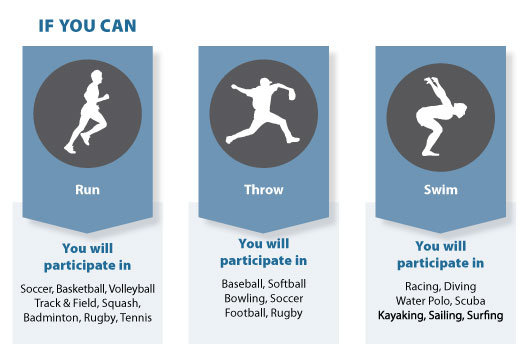 More on Physical Literacy
Physical literacy is a lifelong journey that people of all ages and abilities participate in
Physical literacy is holistic development (physical, cognitive, emotional & social)
There are key stages of development and it is important to progress through all the stages
A strong foundation of movement skills allows for future success by building confidence & competence
Skill diversity creates more opportunities to lead a healthy, active lifestyle. Build skills on land, in the water, on ice & snow, in the air and outdoors
Learn More
Visit these websites for more information and resources on physical literacy.